Like their creator, the paintings of Beverly McIver overflow with life, emotional depth, and humanity. A retrospective of more than 50 of the artist's works over the past 25 years — mostly oils and mixed media — will be on display at SECCA now through March 26.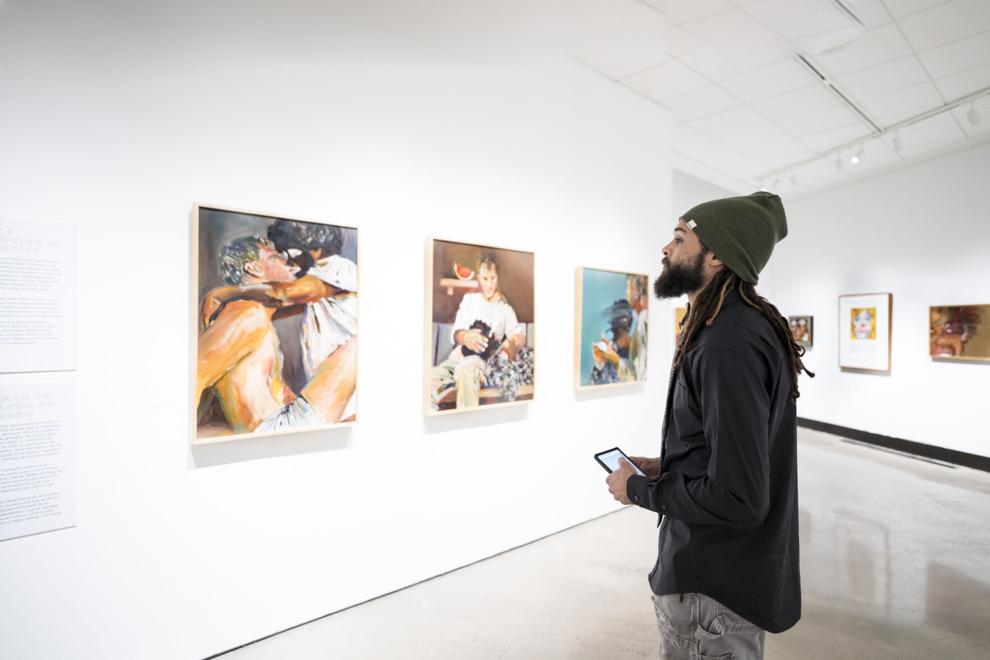 McIver, her longtime friend and curator Kim Boganey, and her gallerist Tonya Turner-Carroll were in Winston-Salem last week to join SECCA's staff, and other far-flung McIver fans in celebrating the opening of Beverly McIver: Full Circle, events that felt like more of a homecoming.
The exhibition describes the full range of human experience from lovemaking, caregiving, and dancing to death, dying, and grieving. McIver's vibrant colors announce all the feelings with vivid energy, drawing the viewer into the artist's most personal experiences.
The works encompass self-portraits, and portraits of loved ones and extended family, and portraits of others' loved ones, some even depicted in death. Some, like "Brown Girl Memory," in collaboration with an Italian artist, are fantastical creations, but most are expressive/realistic figural representations. 
McIver's deep and seemingly fearless visual self-revelations remind us that what is most personal is most universal. As the program notes say: "Her self-portraits explore expressions of individuality, stereotypes, and ways of masking identity, while portraits of family members provide glimpses of intimate moments, in good times as well as in illness and death."
Throughout her life, McIver has acted as caregiver for various family members, her mother, her elder sister Renee who has developmental disabilities and epilepsy, and her father. This prolonged service to the family coupled with the stress of a highly productive art career resulted in "The Depression Series," self-portraits that she painted at Yaddo, an artist retreat in Syracuse, N.Y., in 2017.
McIver didn't meet her father, Cardrew Davis, until she was 17. In his latter years, she took on the task of being his caregiver. At the height of COVID, they both contracted the illness. McIver survived, but her father did not.
While in Scottsdale, Ariz., in the late 1990s, McIver created an emotionally multi-layered series of paintings called "Mammy How I Love You: Loving in Black and White." Her experience of being among the 3% of African-American people in Scottsdale pushed her to rethink interracial relationships in particular and attraction in general. The few images from this series on display at SECCA are intimate, sensual, and show a powerful connection between the figures — McIver and a friend.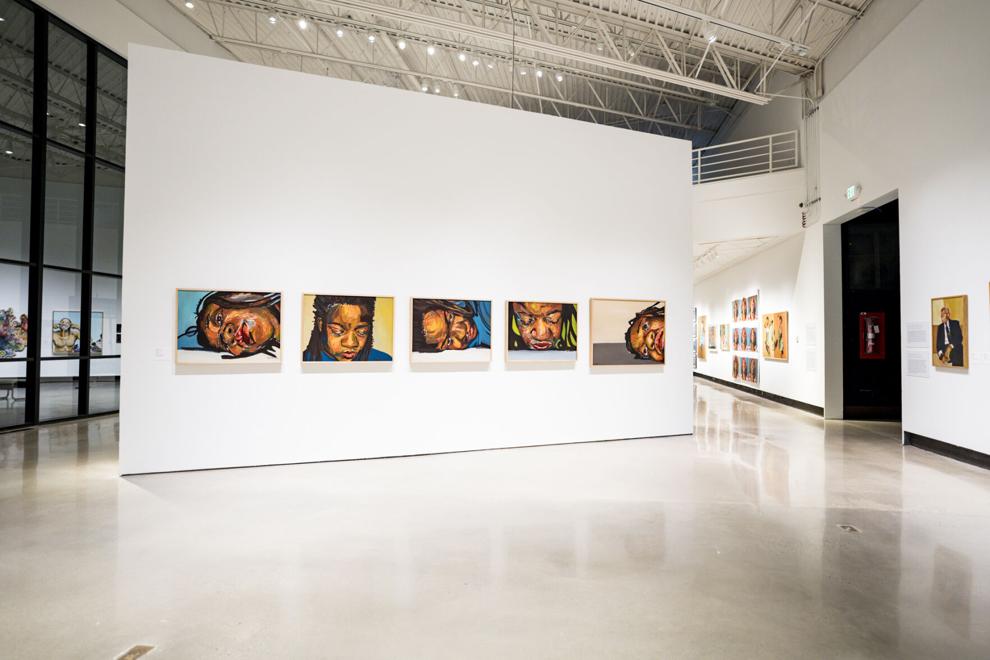 McIver sought self-expression in clown club while in high school in Greensboro. Her early self-portraits in clown makeup reflect her disappointment in not being admitted to Barnum and Bailey's clown school. She said, "The clowns were all white and all male."
McIver's mother worked throughout her life as a domestic worker in the homes of white people. Domestic work by Black women and their struggle to work and raise their families is a theme that runs through McIver's work. "Dora's Dance #3," in the SECCA show is a great example. It shows McIver dancing as Dora, a domestic worker whom McIver met at a nursing home in Hattiesburg, Miss. Dora and the woman she had worked for were in the same nursing home, separated by an unintentional but very real line between Black and white residents.
"All the Black ladies were on one side of the hall, and all of the white ladies were on the other," McIver said. "It was weird."
"Dora's Dance #3," McIver holds out the skirt of a vibrant blue dress and dances joyfully in blackface. Dancing plays a role in much of her work including another in this show, "Dancing for My Man." 
Asked if she considered herself a dancer, McIver said, "I dance privately in front of my mirror every morning. 
"When I was growing up, we couldn't dance or play cards. We stayed with my grandmother who was religious and strict."
McIver grew up in Greensboro, one of three daughters of a single mother, Ethel, who worked multiple domestic and factory jobs to make ends meet. 
The young artist was eager to leave home, go to school, and express herself — and to get out from under the shadow of some of the strong women in her life.
She received a bachelor's degree in Painting and Drawing from North Carolina Central University, Durham, in 1987, and an MFA degree in Painting and Drawing, from Pennsylvania State University, University Park, Penn., in 1992. 
It was at Penn State that she met one of her most important teachers, Elizabeth Lentz. Lentz's work is featured in a contiguous exhibit that shows the work of artists who have influenced McIver and some who have been influenced by her. Her teachers include Faith Ringgold and Richard Mayhew. Those who have studied with her include Mary Porterfield, Chris Santa Maria, Damian Stamer, and Lamar Whidbee.
McIver moved to Arizona in 1996 to be an art professor at Arizona State University, Tempe. She met Kim Boganey, who curated an emerging artist show of McIver's work in Scottsdale, Ariz., in 1998, and the two became fast friends and colleagues. Beverly McIver: Full Circle was organized by the Scottsdale Museum of Contemporary Art (SMoCA) and guest curated by Boganey, former director of Scottsdale Public Art. It was exhibited in Scottsdale before moving here last week, and it will move to the Gibbes Museum of Art in Charleston, S.C., when it closes here in March.
McIver was the SunTrust Endowed Professor of Art at N.C. Central in Durham from 2007 until she became Professor of the Practice of Visual Arts, at Duke University in Durham, in 2014 where she remains.
Throughout her impressive career, she has received numerous awards and residencies.
In 2017-18, a residency at American Academy in Rome, Rome, Italy, led to her collaboration with Castelli. While in Rome, she was featured in Beverly McIver e il colore nero, a documentary for Italian television. She received a Guggenheim Fellowship in 2001, which she used for several residencies and professional development.
McIver's work is in the collections of the National Portrait Gallery at the Smithsonian, the North Carolina Museum of Art, the Weatherspoon Art Museum, the Baltimore Museum of Art, the Nelson Fine Arts Center Art Museum at Arizona State University, and the Mint Museum, to name a few. In 2017, she received the lifetime achievement award from the Anyone Can Fly Foundation in a ceremony hosted by Faith Ringgold. McIver was named one of the "Top Ten in Painting" in Art in America in 2011.
Raising Renee — a feature-length documentary film produced in association with HBO by Academy Award-nominated and award-winning filmmakers Steven Ascher and Jeanne Jordan — tells the story of McIver's promise to care for Renee when their mother dies. The film played in festivals around the country, was nominated for an Emmy® for Outstanding Arts and Culture Programming, and is now available on Amazon Prime.
Lynn Felder is a freelance writer, poet, memoirist, and playwright, living in Winston-Salem. She is a member of the American Theatre Critics Association.