"Family" takes center stage in KLT's production of Proof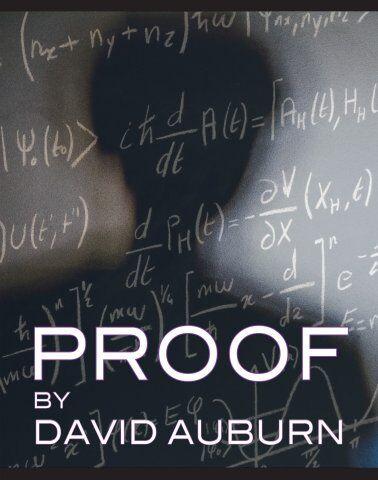 Kernersville Little Theatre (KLT) kicks off its 2022-23 "Welcome to the Family" season with a production of David Auburn's Proof, a Tony and Pulitzer Award-winning show that explores the intricacies of family love, betrayal, and the thin line between genius and insanity.
The captivating drama "looks at family dynamics over a generation," said Susan Proctor, the play's director. "It deals with dementia, sibling rivalry, young love, romance, and hope."
The show depicts life events of Catherine Hall who abandons plans for college and a promising future so she can care for her father, a brilliant but unstable mathematics professor. Following his death, Catherine struggles to find her place in the world. Her efforts are helped, or in some cases hindered, by her estranged sister, a burgeoning romance, and vivid memories of her father. Throughout the play, we watch Catherine move closer to purpose, love, and peace.
"The beauty of the play and the depth of the characters sparked my interest" said Proctor. "It is special to work with characters who are all deeply intelligent, flawed, and beautiful."
The show comes to life with a cast of local actors, most of whom are new to the KLT stage. Emily Ultan is excited to play Catherine, a role she said, "you can really sink your teeth into." She was part of KLT's Steel Magnolias production last year. Colin Archer, Ultan's real-life fiancé, will play Catherine's love interest, Hal, in his initial KLT show. Deanna Hennelly tackles her first KLT role as Catherine's sister, Claire, and the role of the father, Robert, will be performed by KLT newcomer Thomas Dort.
Unique to this production is an original musical score by composer Thom Proctor who has been writing music and making films for over twenty years. In addition to composing for both film and live theatre, he has credits as a sound designer, editor, writer, and performer. Proctor earned his master of fine arts degree in film music composition from the University of North Carolina School of the Arts in 2008, and currently lives in Austin, Texas.
Proof performances run Fridays and Saturdays from September 16-24 at 7:30 p.m., with 2 p.m. matinees on Sundays, September 18 and 25. The theater is at James Fitzpatrick Auditorium, 512 West Mountain Street, on the west end of the Kernersville Elementary School campus.
Tickets can be purchased online at www.KLTheatre.com. Prices are $18 for adults, $16 for students and age 60 or older, and $8 for kids. On the day of the show, tickets at the door are $20 for adults, $18 for students and age 60 or older, and $8 for kids. For more information, email office@KLTheatre.com or call (336) 993-6556.