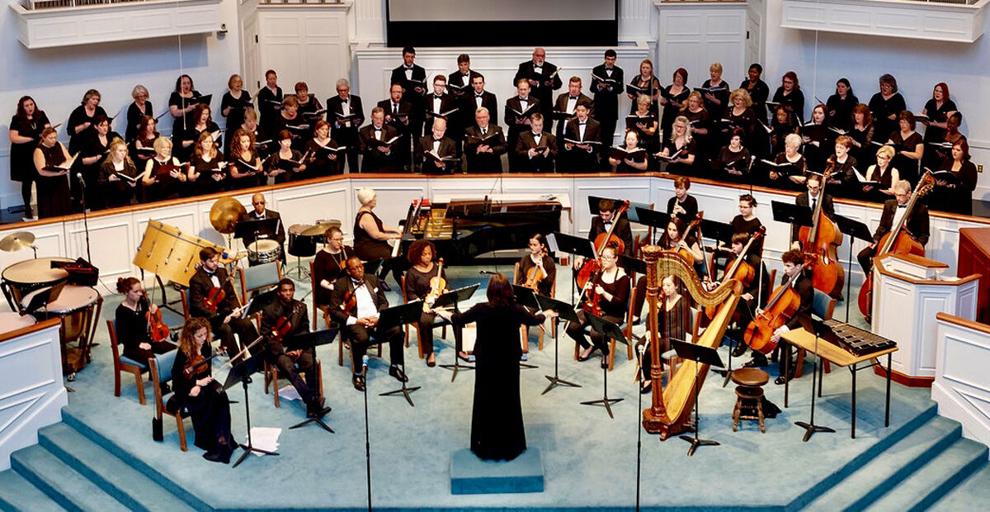 The Heart of the Triad Choral Society, proudly announces our much awaited return to the stage as a full choir! Over the past 2 years, HTCS has worked hard to navigate the protocols and restrictions of the Covid pandemic, which kept so many of the performing arts from even gathering at full strength, much less putting on a full performance. With both hard work and the amazing support of the members, the HTCS board and Artistic Director, Dr. Carol Earnhardt, the Heart of the Triad has persevered in having small ensemble performances for a number of functions and special events; Now for the first time since 2019, we get to take the stage in full force!
This week, The Heart of the Triad Choral Society will be performing two concerts, titled "A Season of Remembrance and Reflection." Our concerts will be Friday May 13 at 7 p.m. and Saturday May 14 at 7 p.m. and performed at Main Street United Methodist Church in Kernersville, North Carolina. As an exciting addition, we will be accompanied by Glenn High School Concert Choir (Friday) and North Davidson Chamber Singers & Treble Choir (Saturday). HTCS will be performing a selection of songs and each High School will perform their selection of songs. We will come together in the second portion of the concert to perform "Requiem" by John Rutter, and will be accompanied by an incredibly talented Chamber Orchestra. 
For so many reasons, this is a very meaningful concert for not only our HTCS members, but the community as a whole. As we remember those we have lost due to the pandemic and we reflect on what the world has experienced since 2020, we hope the message of the performance will uplift spirits, renew the soul, and strengthen the heart. John Rutter's "Requiem," speaks a message of hope and comfort to a weary and grieving soul. The unprecedented struggles that we have all experienced in the past two years have been overwhelming for most, and we very much look forward to these two nights of beginning to move beyond days of pain and allowing ourselves to reflect, remember, and hopefully, start a new path forward.
For both the Friday night and Saturday night performances, both concerts are free to attend and for the first time ever, both nights will be Live Streamed through our HTCS Facebook Page. This is an exciting new platform for HTCS and we do hope that those who can't physically attend, will be able to still enjoy the music from the comfort of home.
For more information on the Live Stream, visit our page at: www.facebook.com/HeartoftheTriadMusic/
Heart of the Triad Choral Society is a 501(c)(3) non-profit community choir made up of singers from all over the Piedmont Triad. Our season runs August - May with two major concerts as well as various events throughout the year. All who love to sing are welcome to join! No previous musical knowledge is necessary.