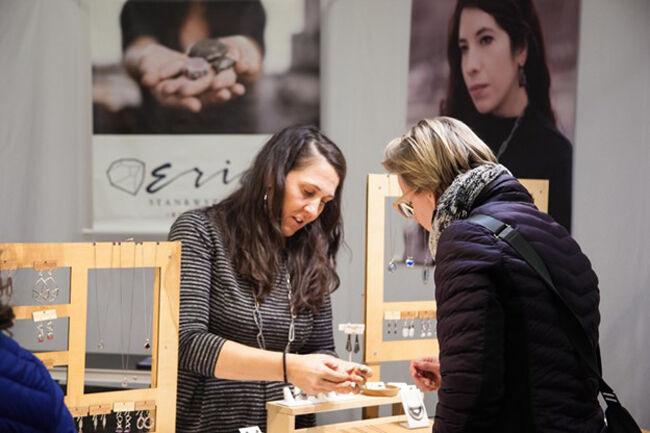 Piedmont Craftsmen's annual call to craft artists to apply for guild membership begins January 2023. Specific dates will be announced by their eNewsletter, Instagram, and Facebook accounts.  
Piedmont Craftsmen is 501(c )(3) premier craft guild founded in 1963 in Winston-Salem, NC. It was founded by craft artists and collectors to promote the value of fine craft and its makers. Central to the organization are its Guild Members, craft artists working at a high technical level in a craft medium. Craft medium categories include clay, fibers, metals, glass, printmaking, photography, wood, jewelry, and mixed-media. New members are inducted through an annual review process by a selection committee consisting of Piedmont Craftsmen Guild Members and arts professionals. 
Today, Piedmont Craftsmen represents nearly 400 craft artists throughout the United States. The organization mounts exhibitions, operates a gallery and shop open year-round; presents the annual Piedmont Craftsmen's Fair in November; and has an education program that conducts workshops in public schools and presents artist talks, demonstrations, panel discussions, and more that are free for the public.    
How the Review Process Works
The review process consists of two rounds: The Image Review and The Object Review.  
For the Image Review, a small portfolio of work samples must be submitted via ZAPPlication between January and April 1st.  Submissions are reviewed by the committee soon afterwards. Selected artists are then invited to move to the next round.   
The Object Review takes place at Piedmont Craftsmen's Fair in November.  Applicants, now called Provisional Members, must purchase a booth to participate in this round and are able to take full advantage of the sales opportunity of the 3 day-long event.  The committee meets the Friday afternoon of the Fair weekend, without Provisional Members present, to review their work in person. Selected artists are then formally invited to become Guild Members after the Crafts Fair.    
The selection committee looks for two general objectives in applicants' work: a demonstration of technical achievement and a strong artistic voice. Specifics of technical achievement vary depending on medium. In the context of this review, a strong artistic voice means that the work is recognizable, or stands out, as the work of that individual artist, whether that person's style is very traditional or contemporary.    
For complete detailed information, member benefits, costs to apply, and the application link, please visit
https://piedmontcraftsmen.org/craft-artists/become-an-artist-member/
Who Should Apply?
Artists creating work in the US in the craft medium categories mentioned above can apply. Although there are some grey areas, work of purely painting and drawing mediums will not be considered.  
It's a great opportunity for emerging craft artists and those who have been in the craft world for a while looking to broaden their market or network. Piedmont Craftsmen strongly encourages underrepresented craft artists to apply. 
Interested craftspeople may also contact Piedmont Craftsmen at info@piedmontcraftsmen.org, call at (336) 725-1516, or chat with staff at the Gallery during business hours. More information can be found at https://piedmontcraftsmen.org/.
Arts Council of Winston-Salem & Forsyth County is the chief advocate of the arts and cultural sector in Winston-Salem and Forsyth County. Arts Council's goal is to serve as a leader in lifting up, creating awareness, and providing support to grow and sustain the arts and cultural offerings throughout our region, ultimately bringing our community together and making it a great place to live, work, and play. For additional information, please contact: Katie Hall, Chief Marketing Officer, khall@intothearts.org, 336-747-1421, www.intothearts.org