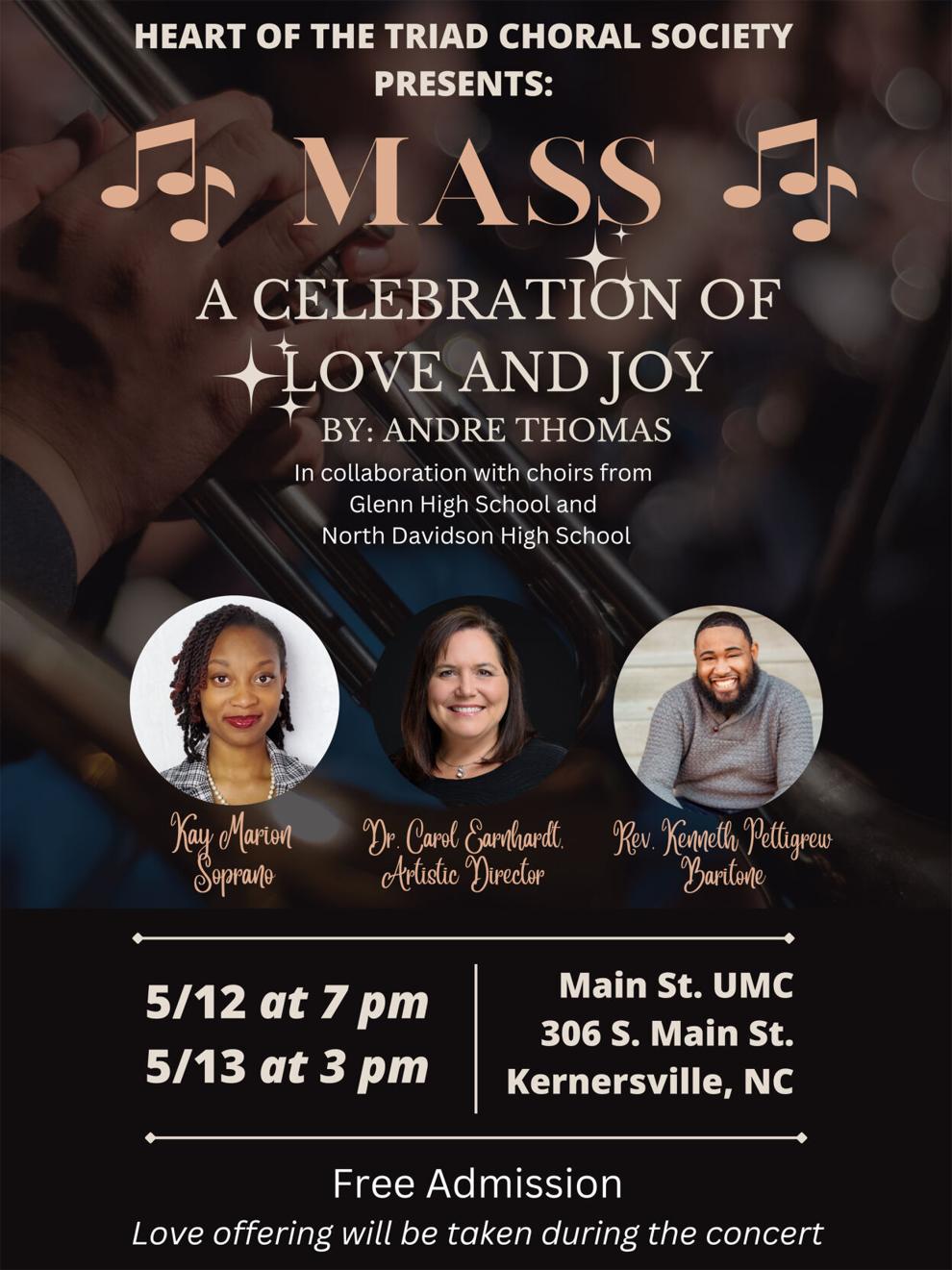 This weekend, The Heart of the Triad Choral Society will perform "Mass: A Celebration of Love and Joy" (by Andre Thomas) at Main Street United Methodist Church in Kernersville, NC, on Friday, May 12th at 7 p.m., and Saturday, May 13th at 3 p.m. Dr. Andre Thomas combined the words of the ordinary mass with words from traditional spirituals to compose a 5-movement work in a gospel style. H.T.C.S. will be performing with a 30-piece professional orchestra, and two Professional Soloists: Kay Marion and Rev. Kenneth Pettigrew. In addition to our Featured Soloists for both performances, H.T.C.S. will be joined by the Glenn High School Choir on Friday Night and North Davidson High School Choir on Saturday. We are so incredibly excited to feature such an amazing wealth of talent for both Friday and Saturday's concerts. The Heart of the Triad is a Non-Profit, Community-Driven Choir led by Artistic Director, Dr. Carol Earnhardt. 
This weekend's concerts are a free and open to all ages; We will be accepting a Love Offering to help offset the costs of this year's production. For more information about this week's concerts or the HTCS organization, please visit our site at: www.heartofthetriadmusic.com
Heart of the Triad Choral Society is a non-profit community choir made up of singers from all over the Piedmont Triad. Our season runs August - May with two major concerts as well as various events throughout the year. All who love to sing are welcome to join! No previous musical knowledge is necessary.
Arts Council of Winston-Salem and Forsyth County is the chief advocate of the arts and cultural sector in Winston-Salem and Forsyth County. Our goal is to serve as a leader in lifting up, creating awareness and providing support to grow and sustain artistic, cultural and creative offerings throughout our region We acknowledge that it takes every voice, every talent, and every story to make our community a great place to live, work, and play. Arts Council is committed to serving as a facilitator, organizer, and promoter of conversations that are authentic, inclusive, and forward-thinking. There are over 800,000 art experiences taking place in Winston-Salem and Forsyth County annually. To learn more about upcoming arts and culture events happening in our community please visit www.cityofthearts.com.