GREENSBORO, NC - GreenHill Center for North Carolina Art unveiled a new, comprehensive digital catalog for WINTER SHOW 2020. The initiative is designed to grow visitor engagement with GreenHill's 41st survey of North Carolina art, which opens in Greensboro, Dec. 6, 2020, and remains on view until Feb. 7, 2021. As a complement to in-person visits to the exhibition, the GreenHill catalog features more than 300 pages of objects in wide-ranging mediums that include paintings, sculpture, photography, ceramics, wood- and fiber works.

Barbara Richter, GreenHill's Executive Director, explained: "For the first time, GreenHill's legendary survey of fine art and craft is only a mouse click away. With a new catalog that is accessible 24/7 across geographic boundaries, we're growing opportunities to connect with emerging and established artists statewide. Their enduring resilience inspires and excites us all."
"It has never been more important to elevate North Carolina's arts community," added GreenHill curator, Edie Carpenter. "GreenHill's WINTER SHOW catalog expands professional opportunities for artists at all stages of their careers, from those who are well-established to others who are just beginning to gain recognition. "
The WINTER SHOW publication can be found at GreenHillNC.org. It is suitable for desktop and mobile applications. All of the works featured are available for purchase. Sales begin by phone and in person after 1:00 PM on Sunday, December 6th. Inquiries welcome at 336-937-3051 and by email, Edie.Carpenter@GreenHillNC.org.
WINTER SHOW is free and open to the public for in-person visits at 200 N. Davie Street in downtown Greensboro. Visitors are encouraged to go to GreenHillNC.org for updates and details on safety protocols.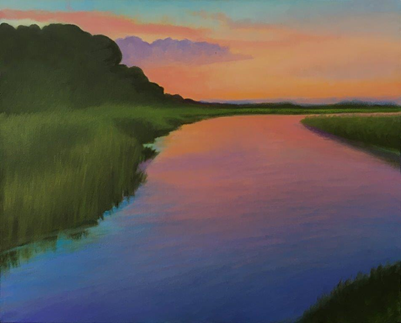 WINTER SHOW 2020 is presented by Mercedes Benz of Greensboro with vital support from Alderman Company, Frank L. Blum Construction, Fenwick Foundation, Honda Aircraft, Lincoln Financial Group, LT Apparel, Proximity Hotel and Print Works Bistro, Sharp Business Systems, Stifel, D. Stone Builders, and Womble Bond Dickinson, and generous contributions from Debbie Champagne, Kara Cox Interiors, Pinnacle Financial Partners, Piedmont Natural Gas, Printery, and Well-Spring (as of 11/30).
WINTER SHOW PUBLIC OPENING
Sun., Dec. 6, 2020 | 1:00 PM--6:00 PM
GreenHill presents its annual exhibition of works by North Carolina artists in glass, wood, ceramics, metal and fiber as well as painting, photography and works on paper. All artworks in WINTER SHOW are available for sale (and tax-free on 12/6). Purchases support the state's creative community. GreenHill's 5,000 square foot galleries can easily accommodate 25 or more visitors safely. Advance registration is not required, but visits will be spaced to facilitate social distancing.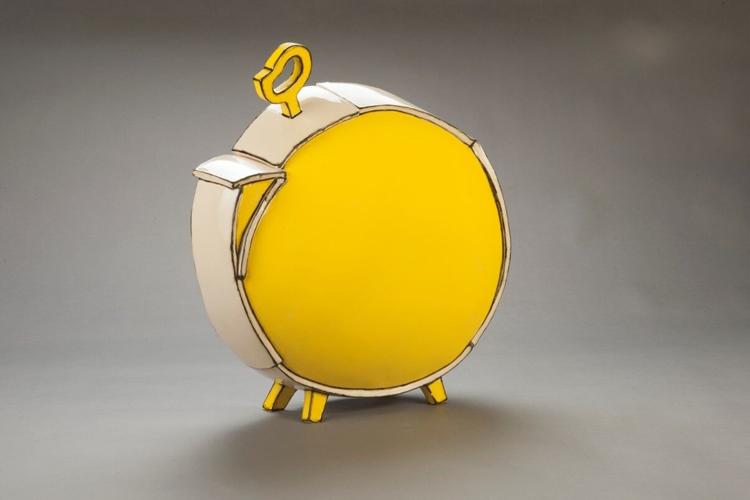 EXTENDED HOLIDAY SHOPPING DAYS
Wednesdays Dec. 9, 16, and 23 | 12:00-5:00 PM
Thursdays - Saturdays I 12:00 – 5:00 PM
In addition to Thursday-Saturdays, GreenHill is open Wednesdays in December. Purchase unique hand-crafted works from sculpture to tableware from WINTER SHOW and GreenHill's Shop. Complimentary gift wrapping is available.
EXTENDED HOLIDAY HOURS
Thursday December 17 | 12:00 PM—7:00PM
GreenHill's Gallery and Shop are open late for your holiday shopping. Previously purchased 3-dimensional works (ceramics, metal, wood, sculpture) in WINTER SHOW may be picked up today or later by appointment. Complimentary gift wrapping is available.
WINTER SHOW ARTISTS: (as of 11/30)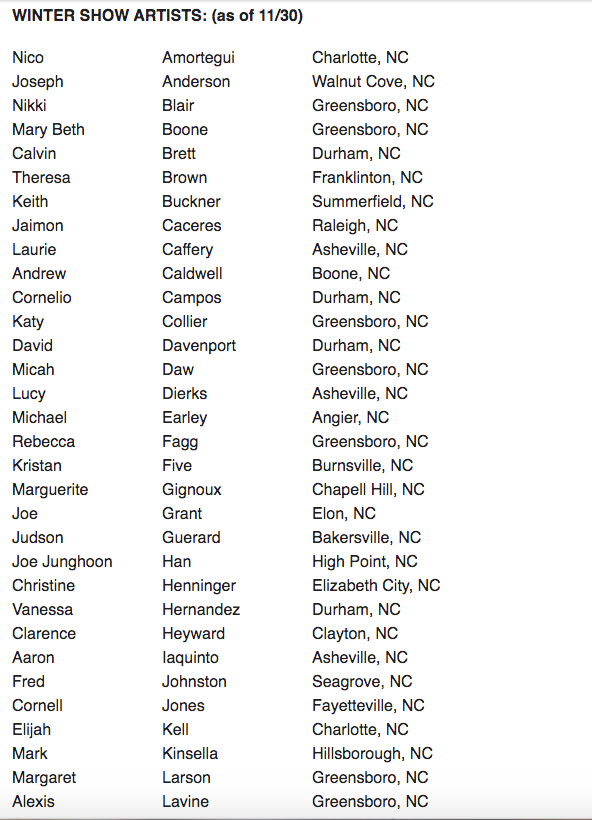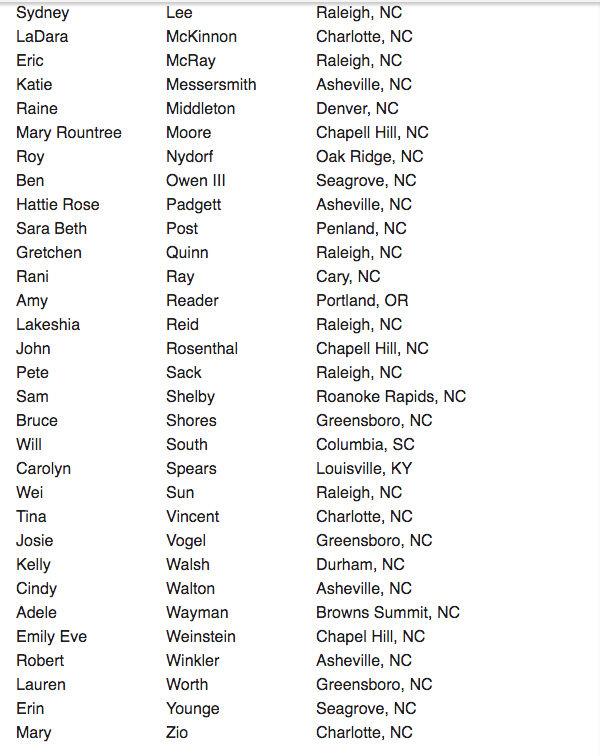 ABOUT GREENHILL CENTER FOR NORTH CAROLINA ART
Located in downtown Greensboro, GreenHill comprises 5000 square feet of contemporary art galleries, a shop, hands-on art studios for families and adults, and the Blue Nook Studio gallery. GreenHill engages a broad community of artists, adults and children through dynamic statewide exhibitions and educational programs while providing a platform for exploration and investment in art. As a gateway to North Carolina's creative community, GreenHill is the only organization dedicated exclusively to presenting and promoting the contemporary visual art and artists of NC. For more information and to see GreenHill's Telly Award winning film visit www.greenhillnc.org