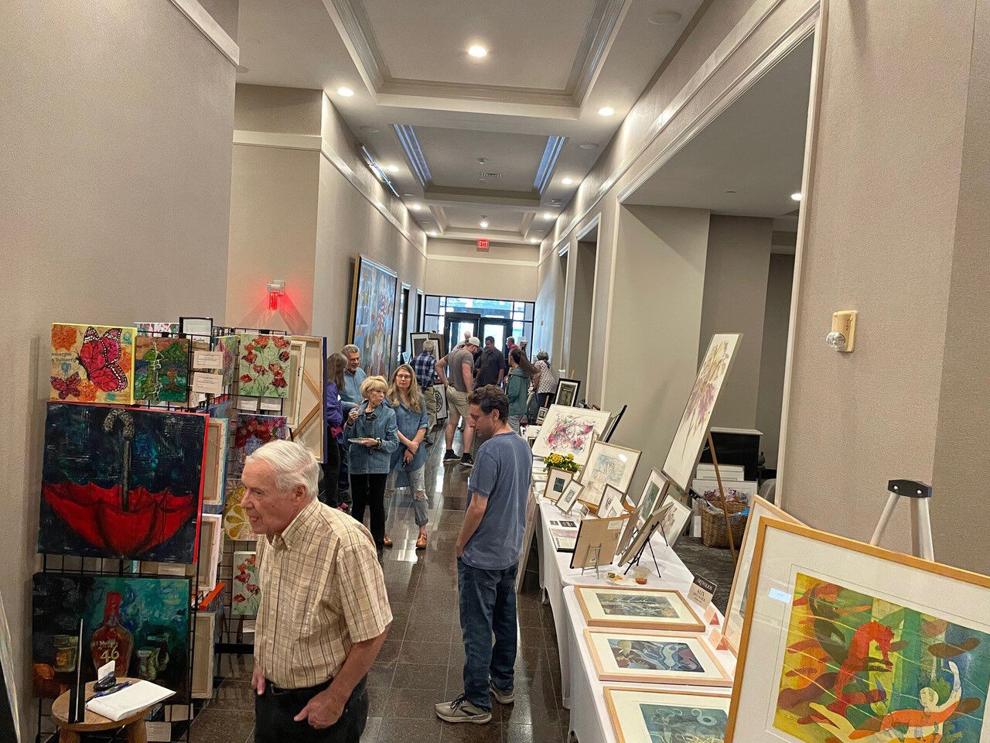 It is seven in the morning on a Saturday, and my alarm is going off. I pop out of bed. My husband is surprised as I am not much of a morning person. I would rather snuggle in under the covers and take a slow start to the day. But today is a different sort of day — an event day. Event days are when Artfolios collaborates with business owners to bring art into the community. 
My husband and I leave the house with our car packed to the roof to set up for "Artful Living on Fourth: an art sell at the historic Nissen." We unload easels and tables galore and wonder how it all fit! After resting at home for an hour, it is back to the Nissen to enthusiastically welcome our 16 amazing artists as they prepare for today. Soon, artworks of various styles and media brighten the hall with color. At two in the afternoon the doors open, and guests start to arrive.
The space is vibrant. I walk past one group of collectors admiring the precision of Dean Roland Johnson's realistic floral and water lily paintings. I savor the sounds of classical guitar played by Samuel Taylor while sipping a drink. I eaves drop on a conversation between two artists who had never met before but find out they are connected in so many delightful ways. I watch as artist and educator, Melrose Tapscott Buchanan, thoughtfully shares the story and technique behind her work. I enjoy seeing children learning how to appreciate art alongside their parents. I share joyous tears with artists as forever homes are found for their artworks. 
Why do I eagerly bound out of bed on event days? Art has the power to connect.
Our next event is coming up soon! Artfolios will take part in the 2022 Holiday Ardmore Artwalk on Saturday, November 5 from 10:00am-4:00pm. I and four other artists — Barbara Lister-Sink, Dean Roland Johnson, Laurie Basham, and Virginia Shepley — will be participating. Each of us will be present to discuss our work. Stop by for a short time or stay for a while. Our "Art Stop" location is 504 Miller Street in Winston-Salem.
If you or your business would like to collaborate to bring art into the community in 2023, reach out me at carrie@artfolios.shop.
Artfolios takes a personalized approach to art collecting. We celebrate, showcase, and promote Winston-Salem area artists. We curate an online art gallery offering a hand selected collection of fine art originals; collaborate with the community; consult individual and corporate patrons; and assist with a needed commission. We are here to help you find the perfect art match! Find out more by visiting www.artfolios.shop. 
Arts Council is the chief advocate of the arts and cultural sector in Winston-Salem and Forsyth County. Our goal is to serve as a leader in lifting up, creating awareness and providing support to grow and sustain artistic, cultural and creative offerings throughout our region We acknowledge that it takes every voice, every talent, and every story to make our community a great place to live, work, and play. Arts Council is committed to serving as a facilitator, organizer, and promoter of conversations that are authentic, inclusive, and forward-thinking. There are over 800,000 art experiences taking place in Winston-Salem and Forsyth County annually. To learn more about upcoming arts and culture events happening in our community please visit www.cityofthearts.com.