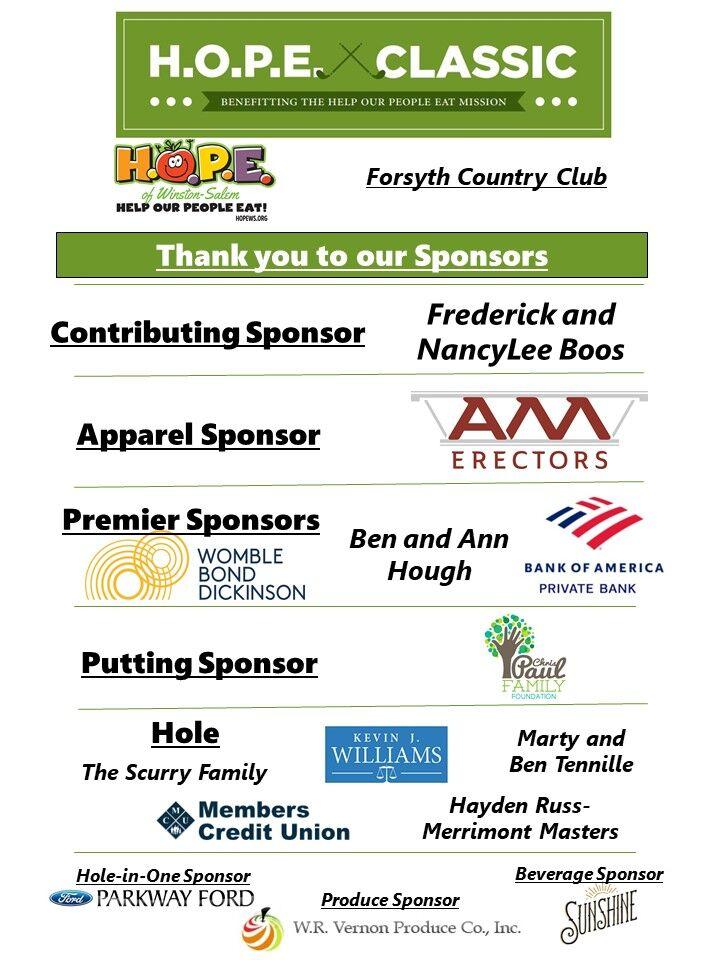 October 4th – HOPE of Winston-Salem is excited to host the 4th Annual HOPE CLASSIC Fundraiser event at Forsyth Country Club on October 4th 2021. Starting at 10:00, registration and a morning of a delicious brunch buffet will begin, as golfers start convening at Forsyth Country Club. This will be followed by a shotgun start at Noon. Golfers enjoy great golfing on a gorgeous Donald Ross course and refreshments (sponsored by Sunshine Beverages), putting and hole in one contests (a car from Parkway Ford and $5,000 on the line), all to help HOPE of WS make nutritious meals, and fresh local produce accessible to children in food deserts each week. 
HOPE of WS procures, preps, and delivers over 1,000+ meals to children and 2,000 lbs. to parents each weekend- the equivalent of $1=1 meal.  The funds stay local as the need is local.  The HOPE CLASSIC also falls within Hunger Awareness Months, where participants golf for good to help fund meals. PLUS, October 4th is National Golf Lover's Day, so Monday is the perfect day to spend doing good and feeling good through exercise!
H.O.P.E. of Winston-Salem thanks event Sponsors: Contributing Sponsor Frederick and NancyLee Boos; Apparel Sponsor AM Erectors;  Premier Sponsors Ben and Ann Hough, Womble Bond Dickinson, Bank of America Private Bank; Putting Green Sponsor: Chris Paul Family Foundation; Hole Sponsors: The Scurry Family, Kevin J. Williams Law, Marty and Ben Tennille, Members Credit Union, Hayden Russ- Merrimont Masters . Their generosity supports HOPE's mission to help our people eat and that no child should go hungry, no matter what their zip code.
To register or sponsor HOPE CLASSIC October 4th, please visit HOPE CLASSIC or email info@hopews.org
Additionally, FCC will kickoff 'A Weekend For HOPE' starting Friday October 1st, with special members only events: dinner/music and silent auction including adventure outings, gourmet gift certificates and overnight packages, as well as a Fun Run/Walk on Saturday. The member only weekend activities are helping HOPE curb childhood hunger in the underserved communities of W-S. Thank you FCC and to all those participating!
H.O.P.E. of Winston-Salem was founded in 2014 with the goal to use community-wide volunteer support to prepare and bring nutritious weekend meals to the thousands of children in Forsyth County who are at risk for hunger. Winston-Salem is one of the top cities in the entire United States for hunger in families with children. 1 of every 4 children in North Carolina has insufficient food to meet nutritional needs.  With the support of donors, volunteers, and community leaders, so far HOPE has served over 360,000 meals and over 614,000 lbs. of produce. HOPE is looking to expand meal and produce output by making healthier food accessible to those in need.  See www.hopews.org, FB= @Hopeofwinstonsalem Instagram= @hope_ws #HOPECLASSICWS to get involved.