Eight years ago, Queen Elizabeth bestowed upon Angela Lansbury the title of Dame Commander, the equivalent of Knighthood for men. Accordingly, from that time forward, I included Angela's new title on the envelope of every Christmas card I mailed to her. Of course, I knew Angela before she was a Dame, and back then there was nothing pretentious about her. The title didn't change that.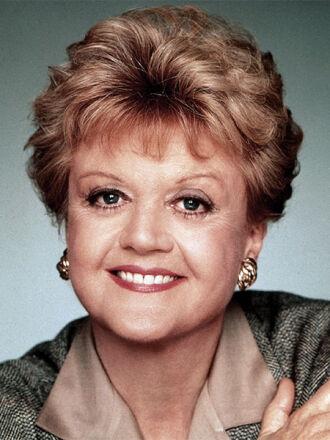 During Angela's multi-faceted career, the British-born actress and singer won a slew of Tony awards and Golden Globes, and was even nominated for an Oscar for her first film at the ripe old age of 17. Her career on Broadway and in films and television spanned eight decades, playing everything from a teapot (Beauty and the Beast) to a demon barber's assistant (Sweeney Todd), to the title role in Mrs. Santa Claus. It's no wonder Geoffrey Rush called her, "The Living Definition of Range." And, while theatre-goers remember her for landmark musicals like "Mame" and "Gypsy", and film buffs revere her for her turns in Gaslight and "The Manchurian Candidate", fans around the globe know her best as mystery writer-turned-sleuth Jessica Fletcher on the long-running CBS drama "Murder, She Wrote." I on the other hand will always remember Angela for helping me win my wife Pam's hand in marriage. More on that later. For now, Pam and I, like millions of fans, are mourning the loss of dear Angie. She passed away last Tuesday. Angela Lansbury was 96 years old.
In 2006, my friends at the Television Academy asked me to produce and moderate an event that would celebrate women in television. I agreed, but insisted that we include Angela Lansbury on the panel, and also honor her with a special Academy presentation. Keep in mind that, by then, Angela had already been inducted into the Television Hall of Fame. Yet, ironically, a lot of high-brow Academy voters had neglected to award her even a single EMMY for her work on "Murder, She Wrote." I considered that not just an over site, but a travesty, thus my insistence on creating a special award for her. And so, on March 30, 2006, I assembled a dozen actresses and women producers for an in-depth discussion about their careers. Among the participants joining Angela and me that night was Holland Taylor ("Two and a Half Men"), Melina Kanakaredes ("CSI NY"), CCH Pounder ("The Shield"), and Jeanne Tripplehorn ("Big Love"). By the way, every big star assembled on stage was in awe of Angela, so much so, that at the private pre-event dinner, not one of them would sit at her table for fear of intruding. That's when I asked Pam to go over and keep aAngela company, and the two of them had a wonderful time together, which ended with Angie serenading my better half.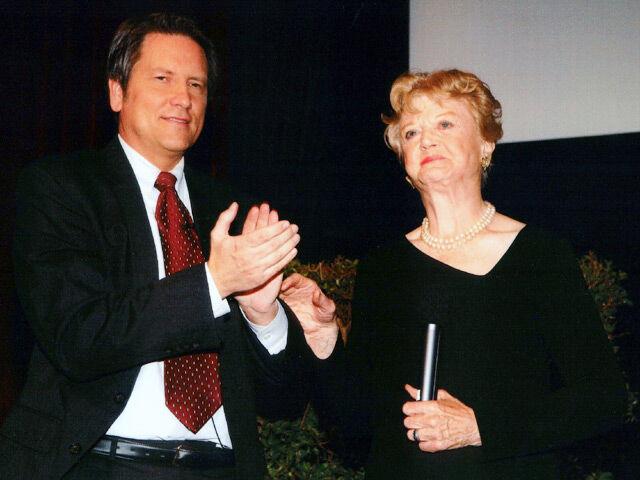 What follows are highlights from my exchanges with Angela during our "Women in Prime" event:
JL: You played the doting mother of Elvis Presley, the overbearing mother of Warren Beatty, and the evil Communist mother of Laurence Harvey. To paraphrase Isaac Hayes, you were just a "Bad Mother" weren't you? (laughter).
AL: Yeah, I was good at playing a bad mother. (she laughs)
JL: Who was your role model or hero when you were growing up?
AL: Two people had a tremendous impact on my life as a child. One was my grandfather, who was very much a larger-than-life character. 
He was a politician, a great labor leader, and a great speechmaker, and as a child, I was taken to hear him speak. He spoke in the Albert Hall in London, and he could really rally the crowds because his heart was in the right place. He cared about his fellow man, probably more than anybody I remember in my childhood except possibly my father. However, his charisma was so extraordinary that I used to go home and practice making speeches, and it was one of the things that brought me out of myself because I was absolutely a very shy child. I hung on to my mother's skirt. I was that kind of a child. So, I give him credit for bringing me out of myself by doing imitations of him. 
JL: How was it for you being a working Mom early on in your career?
AL: It was very difficult.
JL: How so?
AL: It's easy for us as women to describe our problems as Mothers and having children. How different it is for men. It certainly was in those days. Today, husbands are more prepared to take on more of the responsibility of being there at home when you can't be there. So, it's a different world in that respect. When my kids were growing up and I was working, I was torn. I went through all of those terrible moments of crying and saying, "I'm not going to go to New York for 6 months and do a play unless my kids can go with me", and oftentimes they did. I hate to say this, but I think it was to their detriment because I had to pull them out of school and all those things. 
JL: I think all of the early "Murder, She Wrote" episodes were written by men, and you were outspoken about the fact that you thought men didn't always write for women the way they should. Did you ever get women writers?
AL: We never had women writers. We never did. I wanted to have women writers. But my brother was the story editor at the time, thank goodness because at least he knew what I was wanting to achieve in the way of helping Jessica to grow out of Cabot Cove, and at least put her foot in the larger pond, get out in the world and interact with more interesting people. He enabled me to do that, but we couldn't go very far afield within that format.
JL: In 1987 you wrote "Positive Moves: My Personal Plan for Fitness and Well Being," and I heard that the book was inspiring for a lot of women. Speaking of which, tell me about the feedback you've received from women who said you had a positive impact on their lives.
AL: I've had some wonderful feedback from the theatre roles I've played, and from the movie roles I've played, not so much with Manchurian Candidate. It took me years to live down THAT role (laughter). I started "Murder, She Wrote" when I was 59 years old, coming up to 60, and I got into television because I felt I hadn't made any real money in the years I had been in the theatre and movies, and the time had come for annuity, you know (she laughs). You have to think about these things. And so, I got into television, thank God. But I was lucky enough to fall into an extraordinary role, a role model for women of my age. Women had never been represented in the way Jessica Fletcher approached her middle age, and for the first time, those women really counted for something. But the interesting thing was, it wasn't just women that I heard from. It was also men. Middle-aged men and older men adored Jessica Fletcher, and to this day they still do. But with the women, the mail I got was just astronomical, and I still get it. It's quite extraordinary. Women just decided they were going to be like Jessica Fletcher. They became writers. They pulled themselves together. They lost weight thanks to the book, and they became absolutely fascinated by what was possible for women of our age to attain. So, my feedback was tremendous.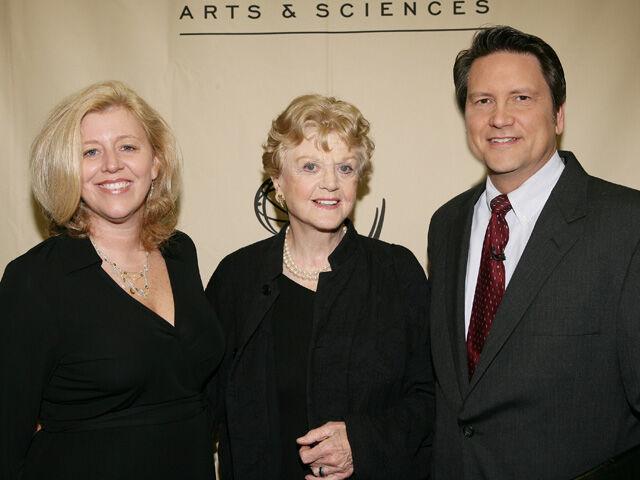 At the end of our panel discussion, Academy president, Dick Askin came up on stage and presented Angela with a beautifully framed plaque that recognized her as a "Pioneer for women in television." I then used the occasion to publicly thank her for helping me get Pam to the altar. I explained that, following our first meeting, Pam was none too impressed with me, nevertheless, I persevered. I had learned that her all-time favorite TV show was "Murder, She Wrote", so, I packed up my entire VHS collection of Jessica's mysteries and dropped the tapes off to Pam at work. Soon after that, she agreed to go out with me, and eventually, we tied the knot. Angela laughed and said, "What a wonderful story! I can't believe it."
There's no telling just how many lives Angela Lansbury touched, and how many people she helped along the way, some without ever having known it. One example occurred several years into the making of "Murder, She Wrote". As the story goes, guest star Van Johnson could see how the grueling production schedule was wearing on his buddy Angie. He told her she had made enough money and didn't have to keep working and suggested she should just walk away. Angela told him she would not think of quitting because hundreds of people depended on her for a living. That was Angela in a nutshell. Always thinking of others. Always a team player. Always giving us all she had to give. 
Soon it will be time to mail out holiday cards again, and this year, for the first time in a long time, I won't be addressing any of them to a Dame, and that makes me sad. Rest in peace, Mrs. Potts.
You can watch "Women in Prime" and other celebrity videos on www.jimlongworth.com.
Jim Longworth is the host of Triad Today, airing on Saturdays at 7:30 a.m. on ABC45 (cable channel 7) and Sundays at 11 a.m. on WMYV (cable channel 15).