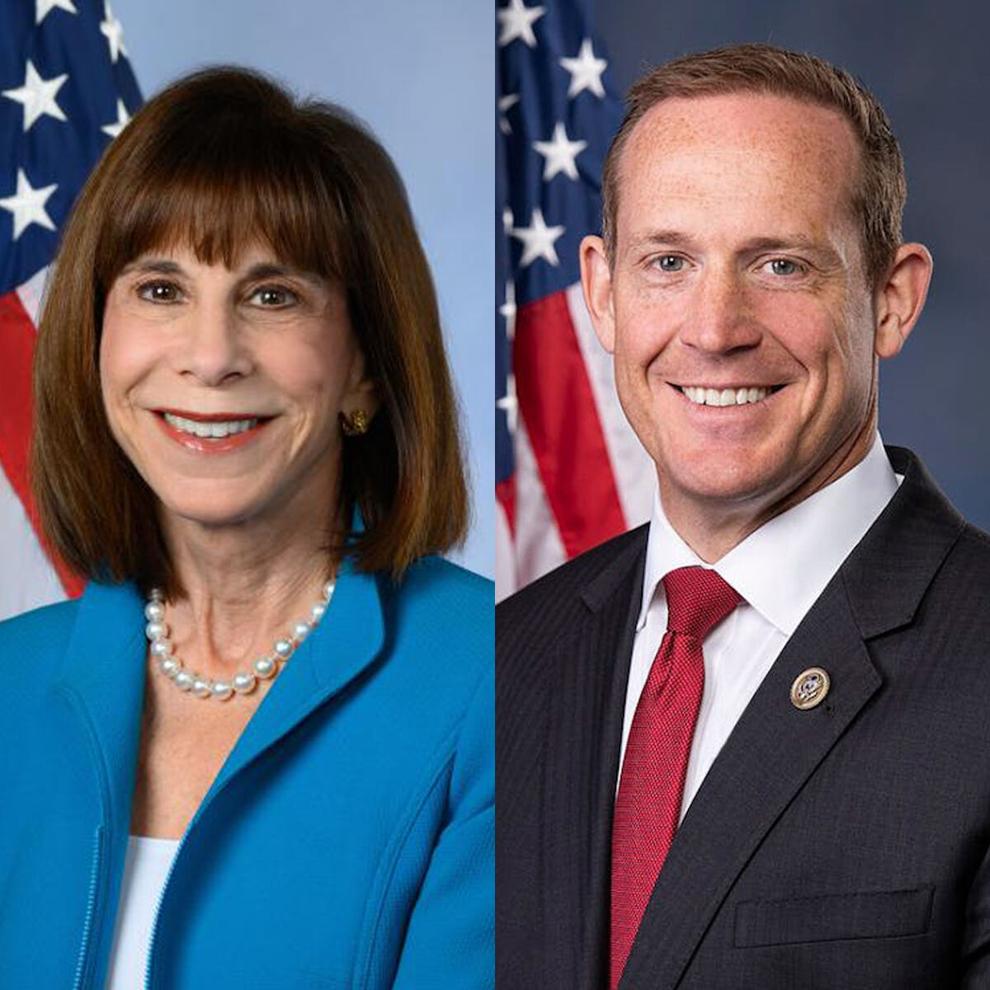 Kathy Manning is currently serving her second term in Congress representing the 6th district of North Carolina, and Ted Budd has switched chambers and is now our State's freshman Senator. 
Manning is from Greensboro and Budd was born in Winston-Salem, but their political views couldn't be further apart. During the Easter break, they both taped a special edition of Triad Today, which airs this weekend. Here are some highlights from our conversation.
JL: We had a couple of bank failures earlier in the year. Are the banks OK? And is our money Safe?
KM: Your money is safe. The banks are OK. The Treasury Department did the right thing. It has insured that all depositors will get their money, and also, the heads of those two banks that failed were fired, which I think sends the right signal.
TB: I think we did the right thing to stop the bleeding and stabilize the system. Bottom line? Yes, they're safe. What we really saw, though, was those in charge of regulating and managing, not doing a very good job of either.
JL: There have been over 130 mass shootings this year so far, and that includes school shootings where over two dozen little children have been injured or killed.
TB: Ultimately no matter where you stand on the 2nd Amendment, we want people to come home safely each and every day. We don't want to have these incidents. Now, we go about this very differently. We want to protect the 2nd Amendment, but at the same time, we want to make sure we keep firearms out of the hands of dangerous individuals. Bottom line? We don't have a device problem, and it's very frustrating when people run to limit a device when ultimately, we have a people problem. We have to deal with the criminal element. We have to deal with mental illness, and so let's focus on those things, which will really make a difference.
KM: Congress took a big step last term. We passed the bi-partisan Safer Communities Act. It's the first piece of major gun legislation that has been signed into law in 30 years. That Act has done a number of things to keep our communities safer. You mentioned school shootings, so this Act has allowed for enhanced background checks for people under the age of 21, and we know that a number of school shootings actually happen because of shooters who are under the age of 21. This Act also allows us to look into juvenile and mental health records for people under 21 who are trying to buy a gun, and that is a step in the right direction. It also provides funding for gun violence reduction programs, and there is funding in that Act for mental health treatment for school children, and mental health training for first responders. All this won't solve the gun violence problem, but it is moving in the right direction. 
JL: Are you for cuts to Social Security? How do we keep the system solvent?
TB: You've got to protect it. Especially for those who are either currently in retirement or who are approaching retirement. You also have to protect the fiscal soundness of our nation. But you can't allow fear-mongering that people often do about Social Security and the benefits these people have worked their whole life for. Again you have to make sure our nation is economically strong, and that goes back to inflation. Some people feel like they're getting a cut in social security benefits because the cost of groceries, medical, and gas is increasing. 
KM: I am NOT for cutting Social Security. We've all paid into Social Security all our lives, and those are benefits that we've earned.
JL: So then how do we make sure it remains solvent?
KM: I have signed onto a bill called the Social Security Trusted Promise Act. It is a bill that addresses some things which helps to shore up the Social Security trust fund, and we will continue to work on issues that make sure Social Security is there now and for the future.
The entire interview with Budd and Manning can be seen on a special edition of Triad Today this Saturday at 7:30 a.m. on abc45, and Sunday at 11 a.m. on MY48. Triad Today also streams on wfmy+.
Jim Longworth is the host of Triad Today, airing on Saturdays at 7:30 a.m. on ABC45 (cable channel 7) and Sundays at 11 a.m. on WMYV (cable channel 15) and streaming on WFMY+.