Featured photo: Screenshot of Megan Thee Stallion's powerful, Oct. 3 performance on Saturday Night Live.
The year 2020 has been the absolute pits for virtually everyone in the United States, but especially to one group of people who's had to live what Malcolm X described almost 60 years ago as "the most disrespected people in America"— Black women.
Breonna Taylor's murder by the plain-clothed police officers of the Louisville Metro Police Department, who issued a no-knock warrant at her apartment and fired eight bullets into her while she slept in March, is more than enough evidence of this. Still, unfortunately, as of Nov. 17, she hasn't gotten any justice. Only one officer that was involved has been charged with "wanton endangerment," which is just a fancy way of saying, the neighbor's damaged wall got more justice than a woman who risked her health for others as an EMT during a pandemic.
Even more tragically, Breonna Taylor isn't the only Black woman that had her life unnecessarily ripped away from her this year— Winston-Salem's Ella Lorine Crawley was mentally ill and homeless when she was brutally murdered and possibly sexually assaulted on May 28. Like Taylor, Crawley hasn't gotten justice, and the killer may still be at-large.
Another death from senseless violence was Winston-Salem's Jericka Nasgah McGee, who was only 21-years-old and pregnant when she was shot and left for dead in the middle of East 20th Street around the same time Crawley's body was found abandoned near Gateway Commons.
It seems that Hate Out of Winston's Miranda Jones and Ikulture Chandler were right in their July "Letter to the Editor" submission: "...being Black, a Black woman, a Black woman who happens to be poor and a Black woman struggling with mental illness makes us prey in the Twin City."
However, death isn't where the disrespect of Black women ends. Recently, the Winston-Salem Police Department received well-deserved criticism for how a white, male officer tackled and violated the Civil Rights of a 15-year-old Black girl walking through her own neighborhood on the night of Nov. 7— the same day that Joe Biden was announced as the projected winner of the 2020 presidential election.
Hell, even Black women who are celebrities or authority figures aren't immune to this blatant disrespect. One of the biggest musical artist of this year, Megan Thee Stallion, was a survivor of senseless violence and callous treatment when she was shot earlier this year, and then made to walk around on her bleeding foot as police called her out of the car— treating her as if she were a threat to their safety.
Last Friday, Congresswoman-elect Cori Bush of Missouri (who served as a nurse during 2016 civil unrest in Ferguson following the death Mike Brown by the police) tweeted that as she wore a face mask that read, "Breonna Taylor" during new member orientation, and was called "Breonna" by multiple Republican colleagues.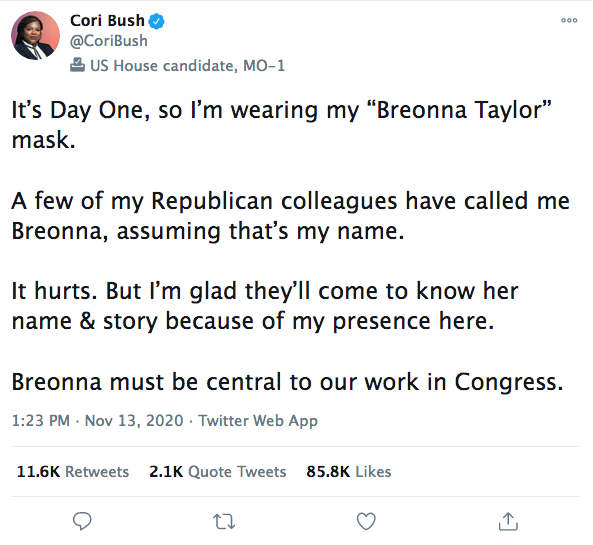 This utter lack of acknowledgement for Taylor's name and stolen life, as well as the disregard for Bush's name and accomplishment of being elected the first Black woman representing Missouri in Congress and defeating a 10-term incumbent, is not only disgusting, it's unacceptable.
And the list goes on...
Collectively, this summer was especially emotionally laborious for Black women across the U.S. during the nation's potentially largest Civil Rights movement in history. The despicable murders of Breonna Taylor, George Floyd, Aumaud Arbery, and countless others have caused Black women to fear for their lives, their parents' lives, their children's lives, their spouses' lives, their brothers and sisters' lives, their cousins' lives, etc., in this supposedly "great" country.
Which leads to the obvious question: Who exactly then is this country great for? The answer is obviously not Black women.
Taking time to recognize and empathize with this grim reality is literally the absolute least that white people can do, but yet, we don't.
Why?
Speaking as a privileged, white, cisgender woman myself, white privilege has created a toxic culture of arrogance, self-importance and inflated ego.
When there is harm being done that doesn't directly affect white people, we will oftentimes not care because of this ingrained and deeply misguided "individualistic" mentality (which acts as a tool for white supremacy) of "it didn't happen to me, so it's not my problem."
When a Black woman, or any person of color, is harmed by a white person, and they seek restorative justice from this white person, what usually happens?
Instead of taking a moment to reflect, acknowledge and empathize, white fragility rears its ugly head— causing those called-in to community to feel defensiveness and unresponsiveness to the valid criticism against them. In my observations, this is often evident especially when white, cis men are the ones being held to account.
Last week on social media, I witnessed an example of this through a deeply disturbing lack of empathy from the white, cis man in charge of a local newspaper, who completely disregarded the emotions and policy-changing work of two accomplished Black women in Winston-Salem.
These women requested to not be a part of this paper's "Best Of" contest in which some of its categories, quite frankly, trivialized important stories and hardworking activists, possibly defamed their character and disrespected a family's tragedy by essentially summing them up to a superlative for profit, clout and "cool points."
To no one's surprise, it only took a stern message from a white woman for the publication's leader to finally listen.
I deeply respect the two powerful Black women who spoke out against this, and I was extremely disappointed to see them expend their time and energy educating white people who caused them this unnecessary harm.
However, I think the most disappointing aspect of this publication's embarrassing faux pas, was hearing that this apparently wasn't the first time its white leadership had disrespected Black women.
During the summer, another white cis man in power at that paper dismissed the Winston-Salem activists' work that spanned 49 days— through intense thunderstorms, blistering heat waves, and countless marches— which ended up actually changing an extremely problematic law enforcement use of force policy. Apparently, this work was just "meh" to them.
To add insult to injury, the Black woman who called for restorative justice and accountability from this situation was compared to not one, but two problematic white, cis men— the racist, demagogue President Donald Trump and the fictional chauvinist Indiana Jones.
(I'm told the comparison to Indiana Jones was intended as a compliment to this woman's heroism in the community— but if your idea of a hero is a movie character with a white-savior complex, you might want to reconsider who your heroes are. Yikes. Also, can someone make the Trump comparison make sense to me?! When the hell has Trump ever sought accountability to repair harm?! If anything that monster perpetuates harm and continues to swerve accountability any chance he gets!)
Come on, white people, we have to do better than this.
Fellow white journalists, it's a bit egregious that we have to be told this because we should know better. Black women do not deserve this nonsense, nor should they be expected to tolerate it. Full stop.
Earlier this week, thankfully the publication released a statement apologizing and taking responsibility for the harm they caused. Even though this was definitely the right move, it should have been done in the first place and not several days after.
It's important to note that this is only the first step that needed to happen to begin to repair and build trust back.
As someone who has only been in this still predominantly white, cis male-dominated industry professionally for about three years, I've had to learn that trust is not an entitlement just because you are a journalist.
Trust isn't an entitlement just because you are a law enforcement officer, or a city council representative, or a college professor.
Trust is earned— and to earn trust, you must be accountable, transparent, honest and open to criticism. This applies to journalists, law enforcement officials, academics, elected officials, or any other person in a position of power.
Hopefully, this publication can build back their readers' trust because the more journalists there are serving their communities responsibly, the better things will be for everyone.
Witnessing these blunders has been a great teaching moment for other white people and journalists, such as myself. I hope that when I fuck up, these Black women would be as gracious with me— but when that happens I am going to put in the effort to research and learn how to fix my problematic behavior and then compensate them for their time and energy of pointing out my mistakes. I hope others will do the same.
These Black women shouldn't have been harmed and trivialized, ignored/denied validation for their requests, and get called hateful names in their DMs for white people to learn a lesson.
A Black woman elected by her state shouldn't have to be called the wrong name by her white colleagues on the other side of the aisle for white folks to realize that this kind of behavior is racist, unprofessional, disrespectful and shameful.
A talented and famous Black woman shouldn't have been shot and then made to walk around on that bleeding foot to prove she wasn't a threat to police.
A young Black woman and her unborn child shouldn't have been shot dead in the street for people to start caring about the rampant gun violence plaguing their city, but yet, do nothing to address the root causes.
A mentally ill and homeless Black woman shouldn't have been murdered, possibly sexually assaulted and discarded in a park for people to find their humanity and care about vulnerable people, like the mentally ill and homeless, in society.
A Black teenage girl shouldn't have to be tackled to the ground by a white adult man for folks to start being concerned over the use of excessive force on Black juveniles and adults.
A Black woman shouldn't have been shot multiple times at her own home in the middle of the night by plain-clothed police for people around the country to realize that our so-called "justice" system is deeply flawed and rigged against people of color.
Black women and girls deserve better than this.