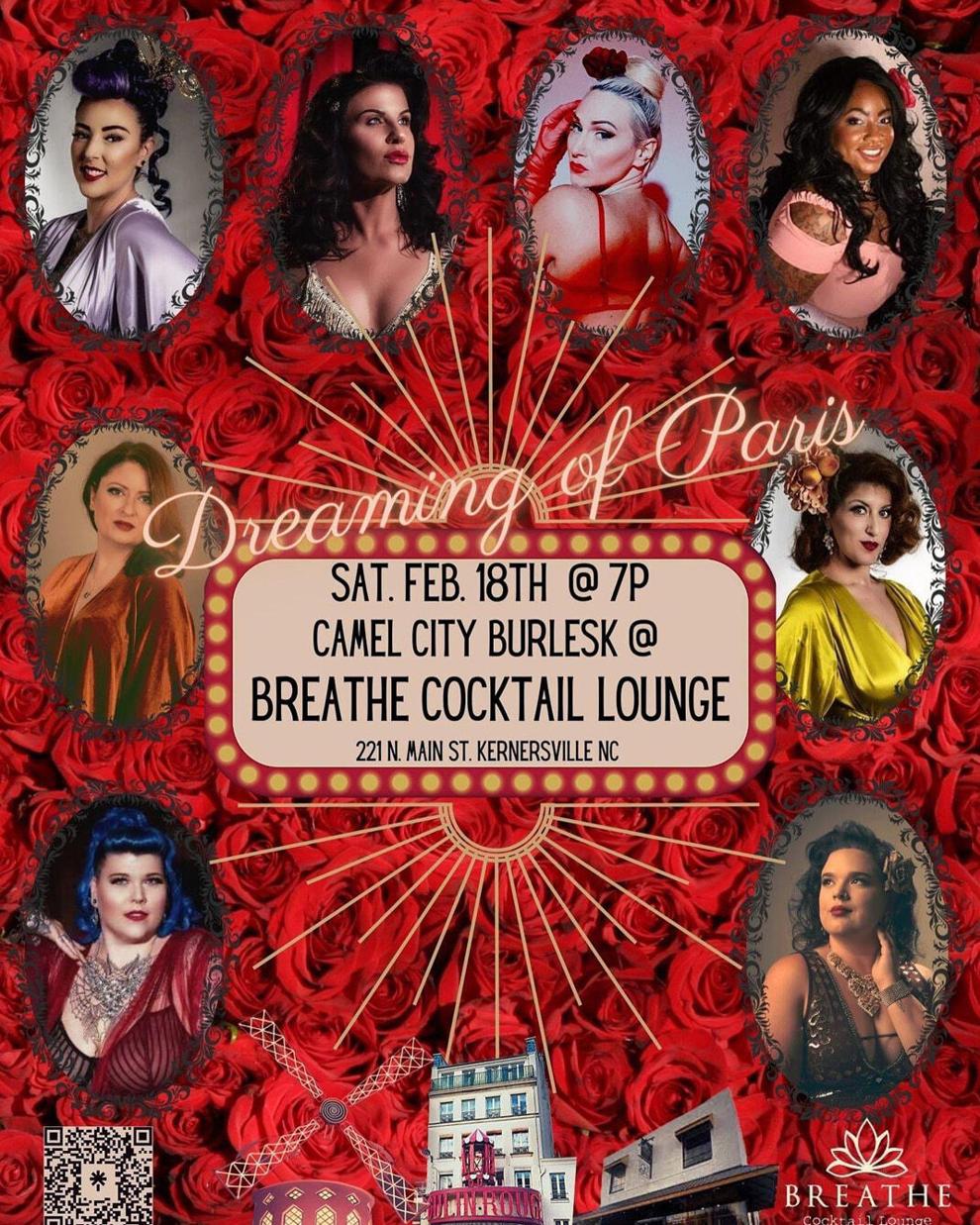 February guarantees year after year Valentine's Day-themed events left and right to enamor the Triad, but not a single one compares to the Camel City Burlesque/Haus d'Katzmeow show this upcoming Saturday, February 11 at Winston-Salem's Camel City Playhouse, located at 110 7th St. W in Winston-Salem. The fairly newly established collective of professional burlesque performers that make up Camel City Burlesque/Haus d'Katzmeow began performing a bit over a year ago, quickly establishing a home base in the downtown theater. Their upcoming show "Crazy Lil' Thing Called Love" will be the first of its kind as it highlights and celebrates the most loving day of the year. 
Producer and owner of Camel City Burlesque/Haus d'Katzmeow, Selia Katzmeow, collaborates closely with Camel City Playhouse artistic director Chris Cohen. As soon as the possibility of having a Valentine's Day special became an option, she developed the theme for the show.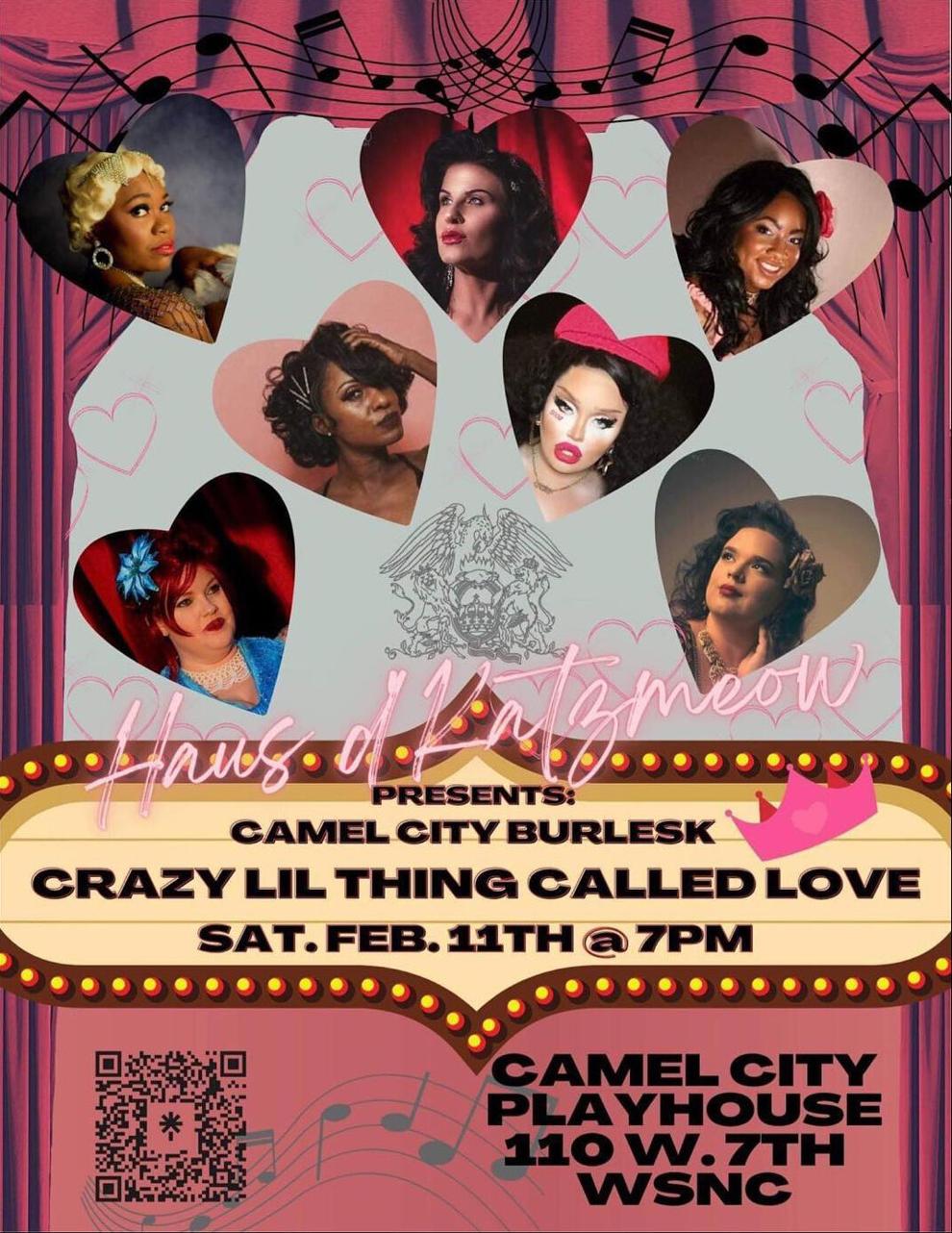 "I think the entire Triad is craving this type of performance," said Katzmeow. "To anyone who watches the show, it's about empowerment, it's about consent." Just last month, the burlesque company performed in Burlington during New Year's Eve, and the audience was astounded to have this type of show taking place in their small downtown.
As big as Camel City Burlesque/Haus d'Katzmeow feels in their warm and strong community, Katzmeow is aware of what a small subculture the performers belong to. With the support of Camel City Playhouse, though, the theater not only hosts the company, it has made a point to provide a home for it along with booking it throughout the rest of the year. 
"We have non-stop emails coming in asking when our next burlesque show is," said Cohen. "People are lined up. We sell out almost every time. Everybody who works the show is fantastic, so talented and you walk away with a smile on your face."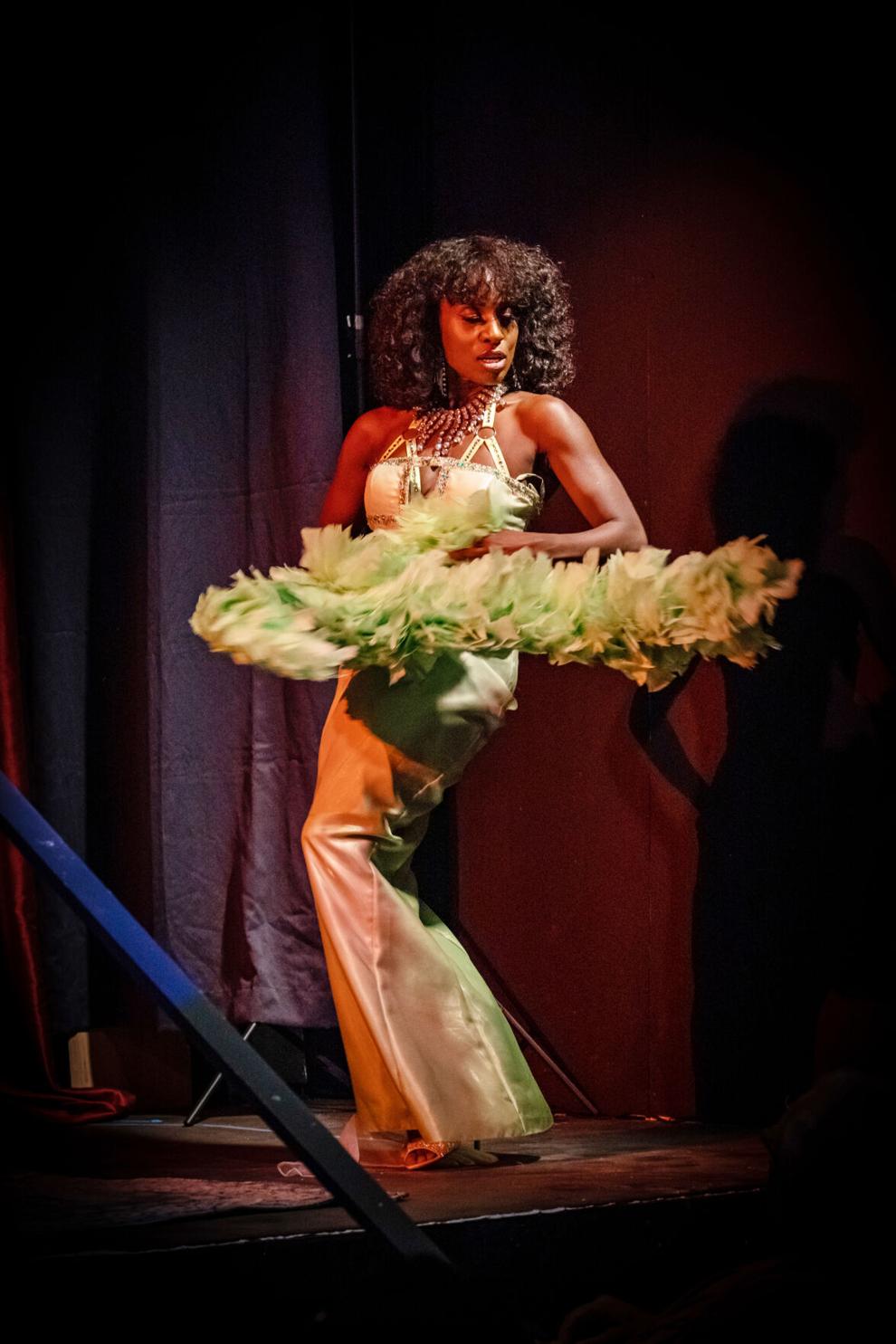 May Hemmer, one of Camel City Burlesques/Haus d'Katzmeow performers, first met Katzmeow several years ago while performing in the Wiggle Room of Winston-Salem's longtime Rockabilly music festival Heavy Rebel. Originally from New Orleans, like many other burlesque performers, Hemmer would travel all over to compete and participate in burlesque performing events. In the last few years, she moved to North Carolina and has leaned on Katzmeow as she settled into a drastically different burlesque culture from the one she had left back home in Louisiana.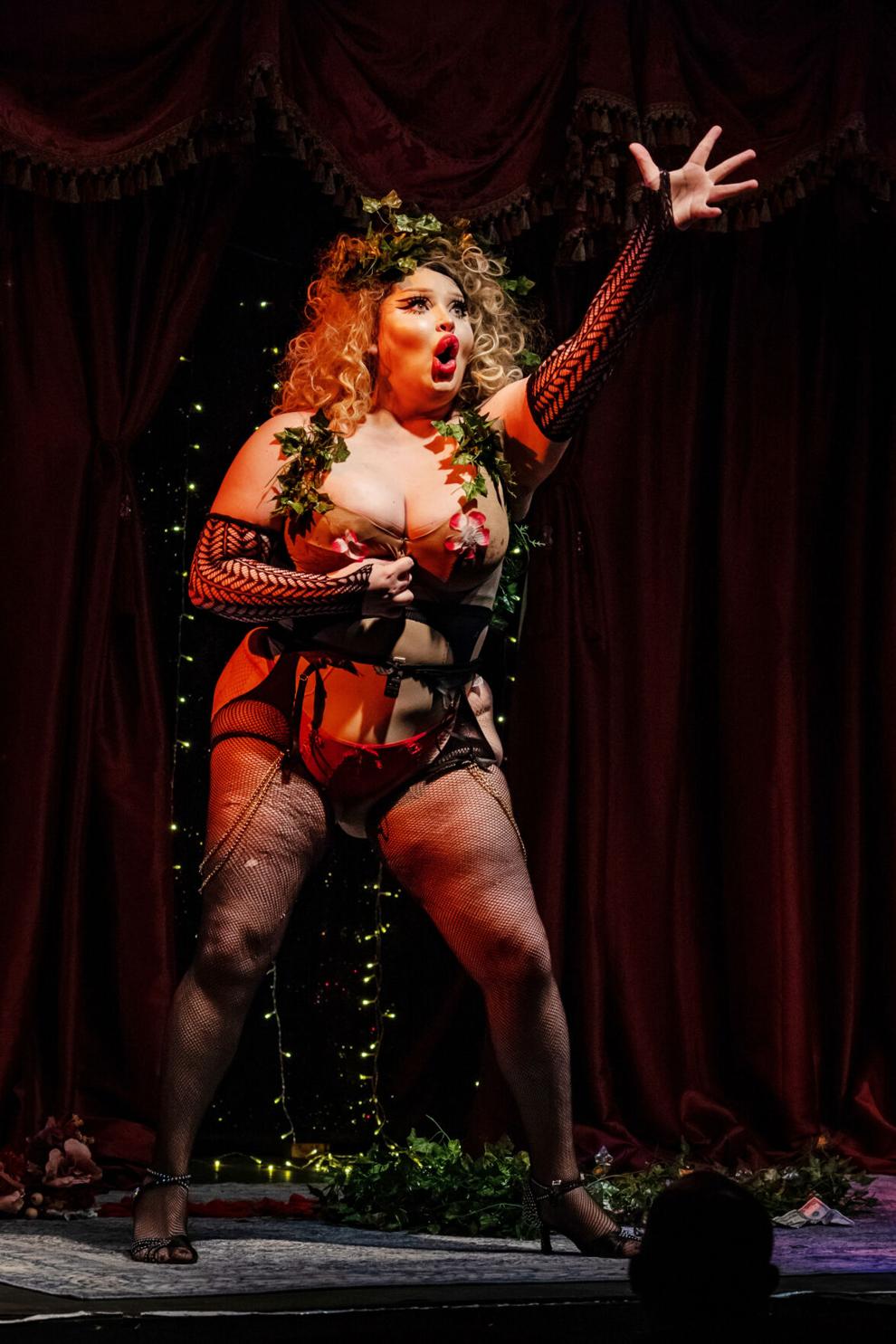 "She was one of the first people to take me under their wing, so to speak," said Hemmer of Katzmeow. "When I moved here I really didn't know anybody, so we became more like family. She's like a sister to me." Hemmer has thoroughly enjoyed her experience performing for Camel City Burlesque/Haus d'Katzmeow and when she first saw the Camel City Playhouse it reminded her of home with its intimate, old-school, and vintage vibe to it. Additionally, the talent that Katzmeow brings to the company portrays all facets from seasoned to newer performers of all ethnicities, body types, and backgrounds.   
"There's a lot of queer community involved," added Hemmer. "As someone that's part of it, that's a big volume when you can identify with someone on that stage." A beautiful, brown, and queer femme, Hemmer commends Katzmeow on her commitment to diversifying the company in looks, styles, and ethnicities. Camel City Burlesque/Haus d'Katzmeow is true to its representation of people of color and all body types and thrives beautifully within the safe space in which this diversity has continuously been welcomed with open arms by Camel City Playhouse. "It takes a village to run this type of show," concluded Hemmer. "It's not just us on stage, there's a whole crew that makes everything work and we're all equal in that."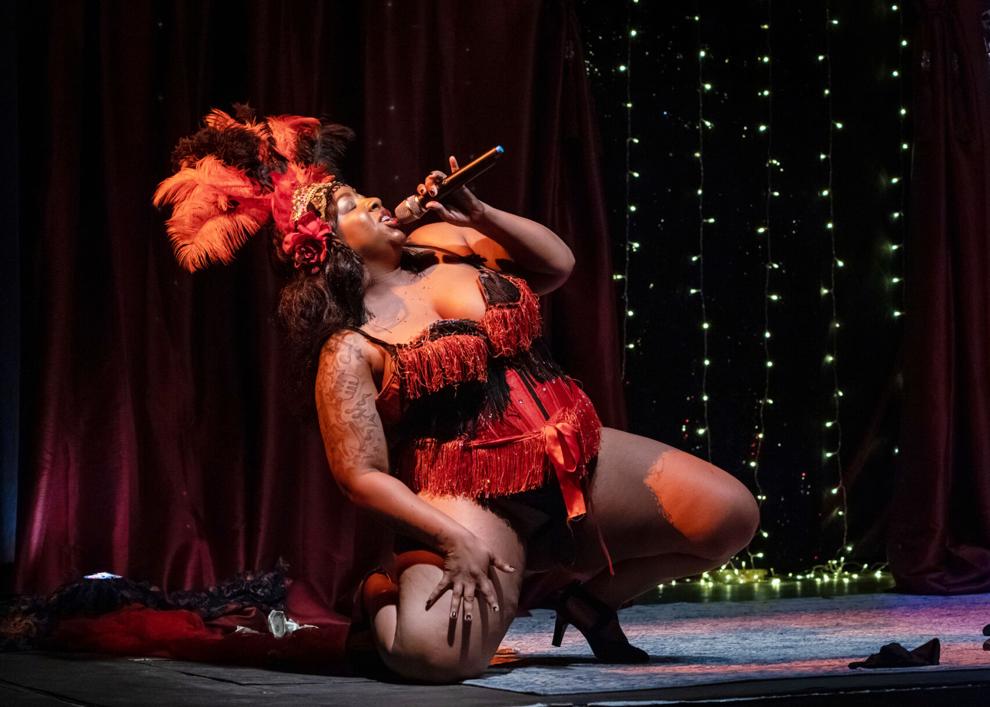 Katzmeow, right along with Hemmer, is tremendously grateful to Camel City Playhouse and how the theater has allowed, welcomed, and affirmed the diversity in her team, along with being very open to learning about the art of burlesque. When her company is not bringing down the house at the theater, Camel City Burlesque/Haus d'Katzmeow takes up different performance opportunities such as corporate events, where an employer hires artists to produce specific types of shows. One of these events is scheduled at Kernersville's Breathe Cocktail Lounge, located at 221 N. Main St., on Saturday, February 18. 
The owner of the cocktail lounge, Christine Federico, and Katzmeow have known each other for more than 20 years, and Federico has continuously tried to push Kernersville to be open about seeing new things. At one point, she brought a drag show to the small town and unfortunately received some pushback. However, she persists and continues to bring back Camel City Burlesque/Haus d'Katzmeow to the space, amazing audience after audience who get to experience the performers coming down from the cocktail lounge's small stage. 
Breathe Cocktail Lounge is known for having established themes throughout the seasons and the Camel City Burlesque/Haus d'Katzmeow performance on Saturday, February 18 is designed with the lounge's current Dreaming in Paris theme.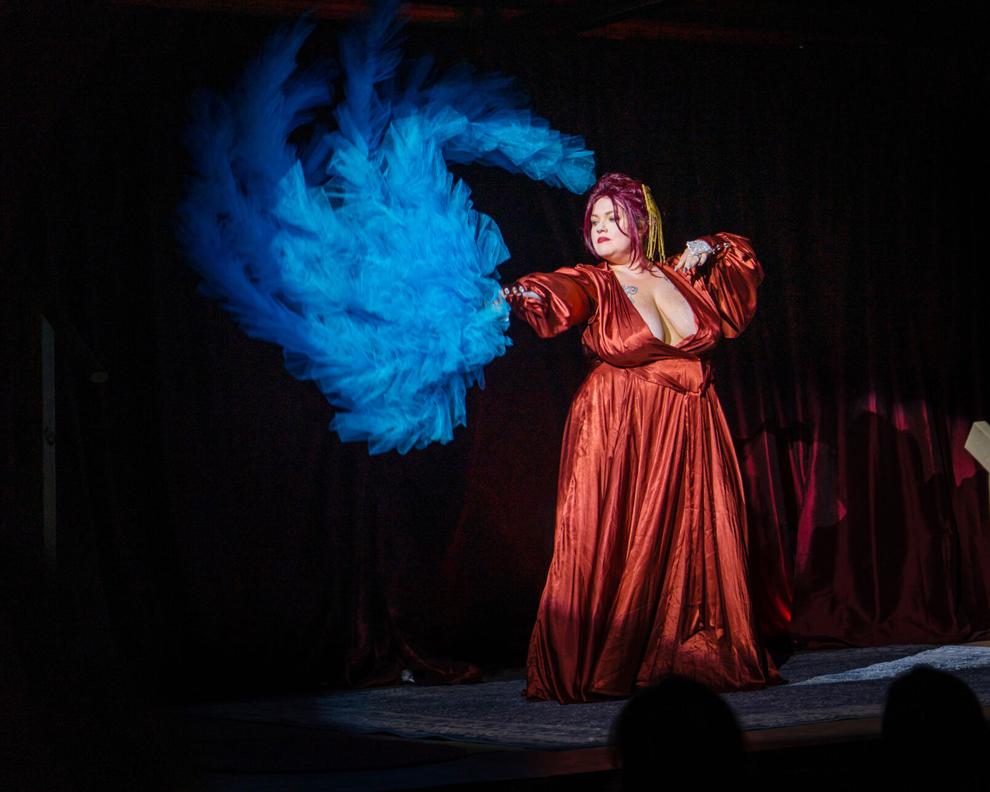 "Our crowds are very, very respectful," adds Katzmeow on performing at the cocktail lounge. "It's because they are told from the beginning to respect and consent." As opposed to working in the playhouse where the theater provides absolute creative freedom to the collective, preparing corporate performances for businesses like the cocktail lounge challenges the burlesque company differently, requiring it to abide by the business's specific performance requests.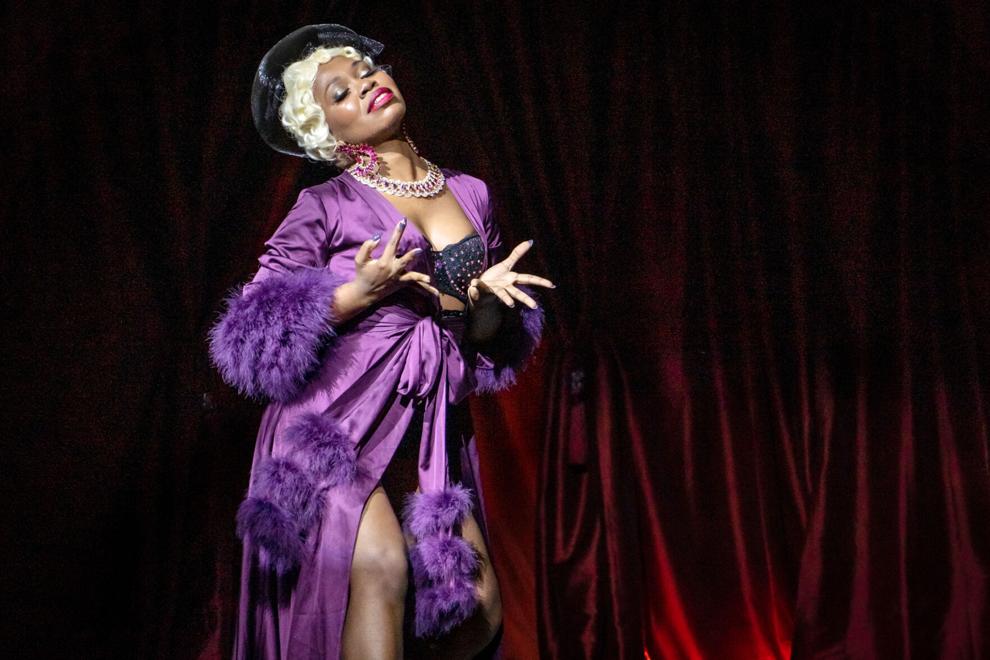 SophieBot5000, also known as "The Transexual Temptress" began her performance career in drag more than a decade ago. As she developed as a performer and got more work done, she had more to showcase and eventually was invited to perform at the Wiggle Room with Katzmeow. Having performed in drag for so long, SophieBot5000 assumed burlesque would be the same as drag, and while it's similar in ways, it is also different in others. 
"To this day, one of my favorite things to do now is share a dressing room with like eight other strippers," she said. "It's the way that we talk to each other, and the way that we talk about our bodies, its equal parts, objective, subjective, supportive, complicated, controversial."
The performance scheduled at the playhouse this Saturday is almost sold out, but there are more upcoming performances booked throughout the year, including one scheduled on the same weekend as the Pride Winston-Salem Festival. 
"We're trying to make it a safe home for everyone, we are heavily into women's empowerment and the beauty of all body types, all races, every ethnicity," said Cohen. "Everyone is beautiful, and if you don't show that on stage, what are we trying to do?" 
In addition to general seating, Saturday night's performance also includes special seating and a few VIP tables that will provide champagne, goodies, and treats.   
"Crazy Lil' Thing Called Love" invites us not only to celebrate love itself but the love we have for so many of life's delights such as food, dancing, martinis, and more. 
"The one thing that I want people to do when they come to the show is not only to look at it and be entertained by the amazing dancing, by the beautiful costumes, and by our super hot performers; but to also let yourself be provoked, in a way that burlesque is supposed to provoke you," said SophieBot5000. "Let it be something a little bit sexy, a little bit dirty, a little bit naughty that you do for yourself."  
For more information on a "Crazy Lil' Thing Called Love" at the Camel City Playhouse, visit www.camelcityplayhouse.com. For more information on Camel City Burlesque/Haus d'Katzmeow's performance at Breathe Cocktail Lounge, visit www.breathecocktaillounge.com.
DALIA RAZO is a bilingual journalist, fine arts educator, and doctoral student at UNCG.