Summer's here and the time is right for dancing in the street. Or through the Greensboro Arboretum for the 18th annual Summer Solstice Festival on June 18. 
"Prepare to be dazzled with eclectic world music, a riveting drum circle, and a fire finale that will light up your life," said organizers — who invite attendees to "come play with the fairies" and rejoice the longest day of the year, with a family-friendly festival of fae-folk, music, art and community celebration. 
Recalling the sorts of magic the festival has "sprinkled" over its 17-year run, "Head Faerie" Sue Sassmann is excited to debut a new area dedicated to Flow Arts as well as offer returning crowd favorites like the parasol parade, drum circle and fire show. "They're the highlights of the day," Sassmann said of the planned festivities; and more than 100 artists and vendors showcasing wares.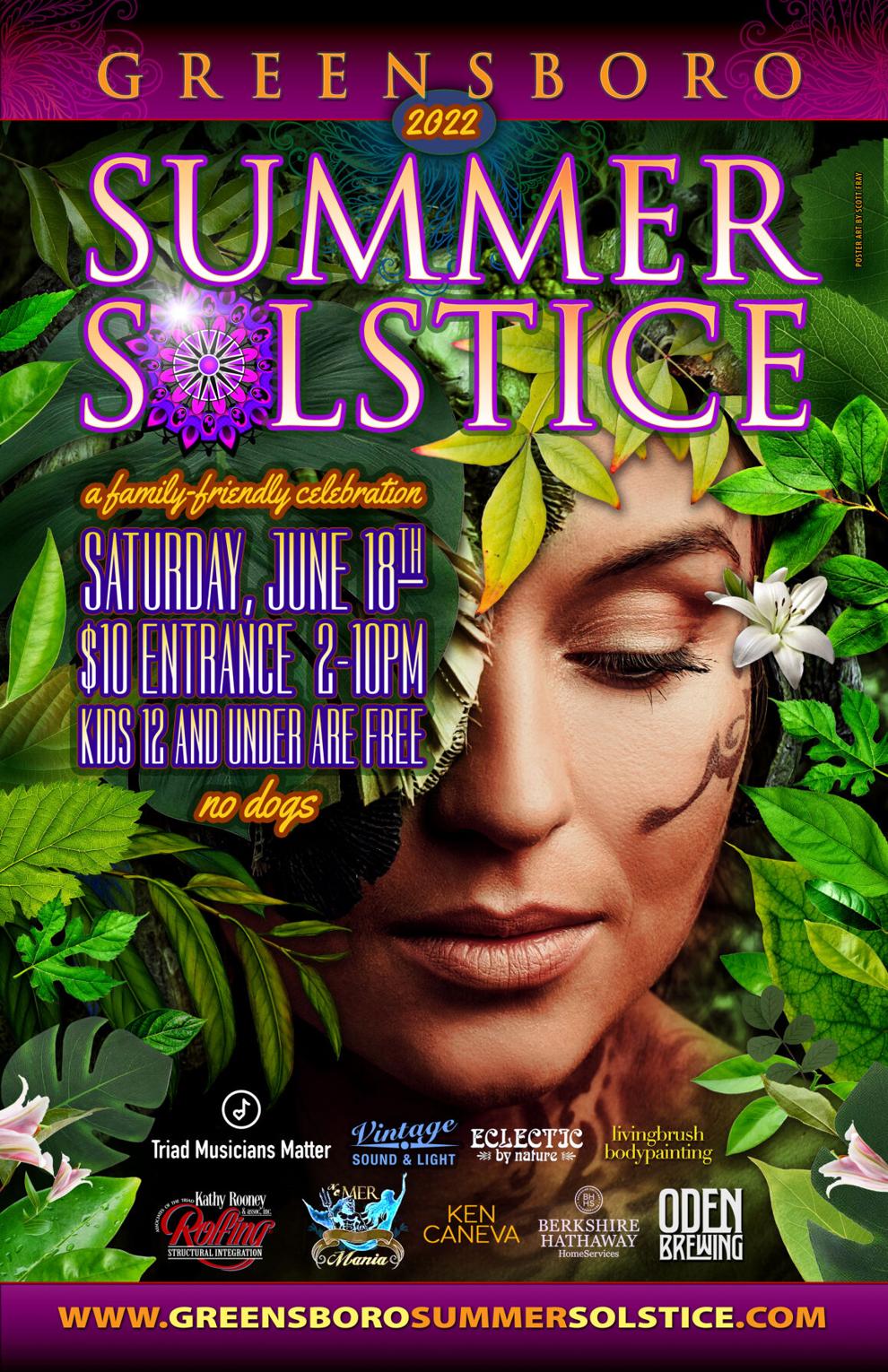 Sassmann isn't alone in her efforts, praising the volunteers and "Solstice dream team" of event organizers, each with their own fae-title reflecting their talents — all of whom are "most grateful to the citizens of the Triad for their ongoing support of the most creative event in the land," she said. "Our focus is always to highlight local entrepreneurs and talent so that they may continue to prosper and revitalize our community."
With that, the 2022 festival will partner as a fundraiser for Triad Musicians Matter, a 501c3 non-profit that provides financial support to area musicians and creatives in events of illness or injury. 
Triad musicians certainly matter to "Muse-ic Faerie" Stephanie Coolbaugh, who conveys admiration for Sassmann and adoration for the festival's work. "The Solstice was her brainchild," Coolbaugh said. "The event she threw together 18 years ago has grown into something so deeply ingrained in our community. It's become a tradition for our families, an opportunity for our local artists and vendors; and ultimately, a day built to create lasting, fond memories for people to reflect upon."
Turning to the solstice itself, "it's a day of reflection on human resiliency and the joy of making it through another year," Coolbaugh continued. "In times as tough and isolating as these, it is important to take stock of the ways in which we can still come together in community with each other."
Building community through song and dance is central — with a fresh music focus that expands across genres and two stages to feature a mix of artists from around the state (and globe). For Coolbaugh, "my main goal has been to primarily support GSO and NC-based, BIPOC, and gender-expansive artists," they said. "I really hope to reflect in our actions what it means to have a festival that supports every facet of our local community."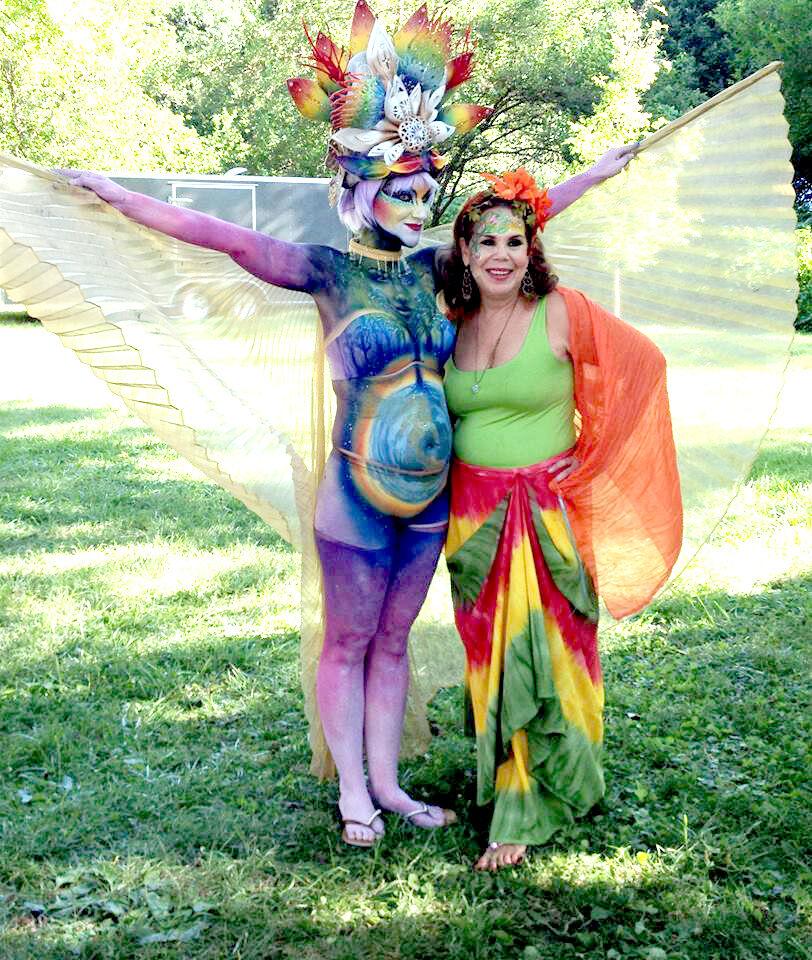 Gushing about the lineup, Coolbaugh is especially excited for the festival headliners: Greensboro's SunQueen Kelcey and the Soular Flares and the Afro-Brazilian artist, Caique Vidal. "SunQueen is one of the first artists I fell in love with when I moved to the area six years ago. Her energy is absolutely infectious, and her music is all about self-love and positivity; which just captures the Solstice vibe perfectly. Plus, her name is SunQueen!! It couldn't be more appropriate." 
Folk fest fans may be familiar with the Durham-based Caique Vidal, who performed as part of the 2021 NC Folk Festival. Steeped in the Afro-Brazilian tradition, he's toured internationally with performances and educational programs. "We're so lucky to have him play," Coolbaugh noted, with props to other regional artists like the Dixieland jazzers in Second Line Stompers; and violinist, Emanuel Wynter. 
Repping the Triad hometeam is Housewife, a new alternative group that features a "mix of everything;" Shiela's Traveling Circus, a blues outfit around powerhouse ringleader, Shiela Klinefelter and her revolving cast of Triad wonders like Chuck Cotton, Richard Hannar, Rob French, and Scott Nixon. On the flip, the Joy Band will offer the rock'n'roll upbeat; Winston-Salem reggae group, Liontracks, brings the fire; and Solstice staple, Renee Henry, will pluck her harp, as she's done since the festival's very first year. 
And while Coolbaugh relishes a full musical experience, the finale fire show remains a favorite part of her day. "It's the time I finally get to catch my breath knowing we've made it through another successful Solstice," she said, praising the talents of fire dancers Scott Hinzman and Sydney Vigotov. "They're real professionals; deliver unfathomable routines while always maintaining a safe environment for guests and performers." 
Safety and whimsy are a prerogative for the "Solstice Dream Team," who hope to, "deliver a magical memory for thousands of children and adults who are delighted to engage in an inclusive experience." As blossoms fill the summer bounty, they invite the Triad to "wander through our dream. And be a part of the magic!"
Revel in the warmth of the Greensboro Summer Solstice Festival, on June 18 at the Greensboro Arboretum.