GREENSBORO, NC (February 13, 2023) – Creative Greensboro has chosen 10 local artists whose work will be featured on the 11 digital kiosks located throughout downtown Greensboro starting today. This is the second year of the Downtown Arts program, which enhances Greensboro's built environment with original artwork.
The Greensboro-based artists and their works of art chosen for the Downtown Arts kiosk program are: 
Deb Frederick, "Lifted" (watercolor and collage)

Steven Cozart, "Lightheaded and Free" (acrylic, pastel and graphite)

Katie Hallahan, "Lazy Beagle" (soft pastel)

Greg Hausler, "I Am Not Ready for This" (mixed media)

Shaleen Miller, "Dream Tree"  (acrylic, glass, leather and resin)

Jessica Dame, "Entwined: Red-winged Blackbird" (mixed media)

Alexis Lavine, "Look, Skywalkers" (watercolor)

Natalie Robinson, "We Are All Connected" (pencil and marker)

Bevelyn Ukah, "Eastside, Westside" (watercolor, acrylic, chalk and ink) 

Andrew Bowen, "Defying Gravity" (photography)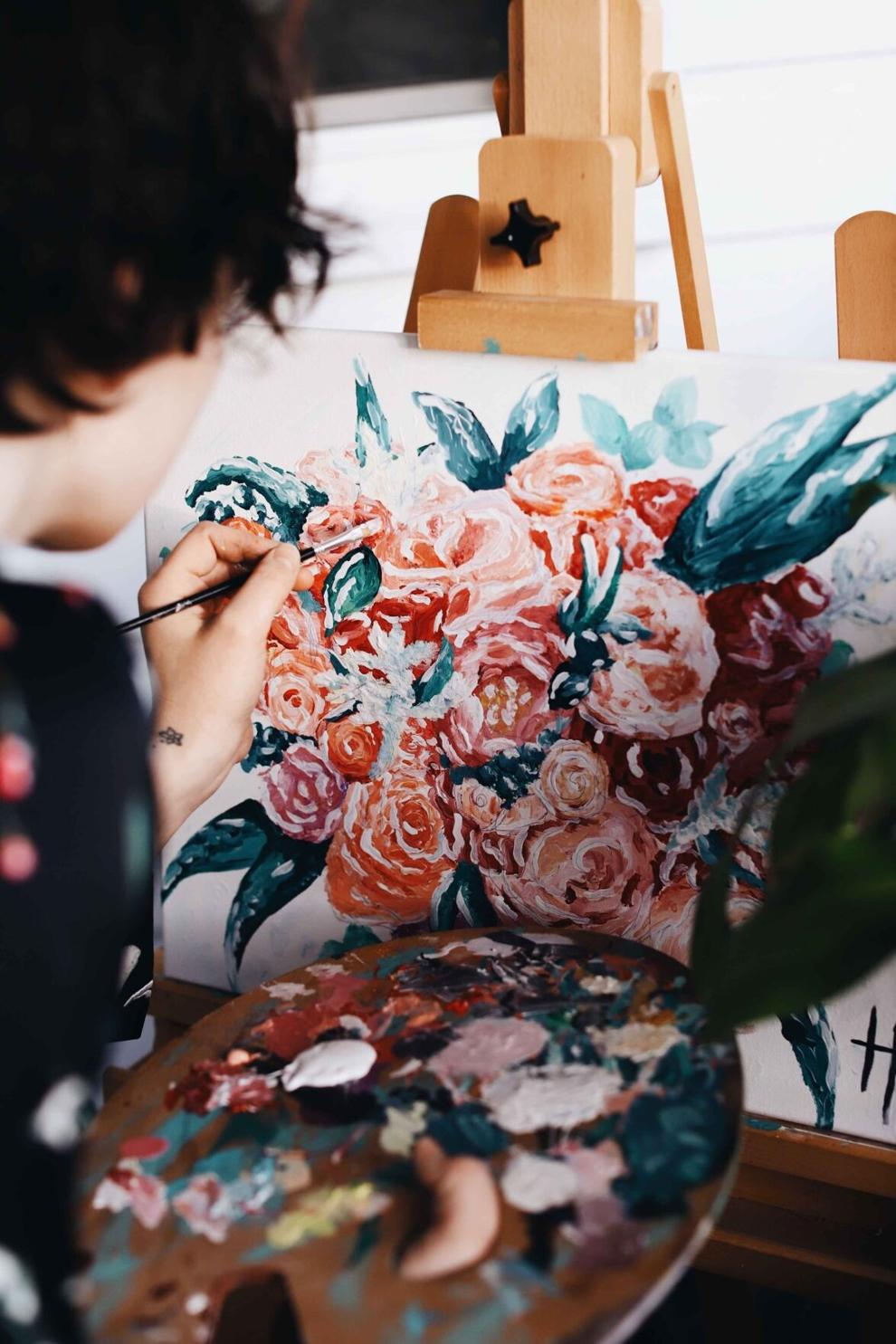 Frederick and Cozart will be the first feature featured on the digital kiosks with their works "Lifted," and "Lighthearted and Free." The kiosks will display the artists' name, artwork, the artwork's title and medium, and a QR code that viewers can use to learn more about the artists and their work.
Cozart is a visual artist who combines illustrative and figurative imagery with objects and symbols to create works that spark conversation and challenge social myths and beliefs in and about the African American community. Cozart has a BFA in Art Education from East Carolina University and teaches at Weaver Academy for Performing and Visual Arts. "Lightheaded and Free" is based on conversations with his wife and daughter about the decision to wear their hair in its natural state and how liberating it was to do so.
Frederick is a painter and textile designer who creates watercolor and collage pieces depicting everyday life, often focusing on gatherings of people at musical events, to evoke feelings of accomplishment, joy and belonging. She has a BFA from the Philadelphia College of the Arts. Her artwork "Lifted" depicts a crowd gathered at a musical festival, where children are being lifted to catch a full view of the event.
Each of the 10 selected artists receives a $500 honorarium and will have their artwork on display in the kiosks for 10 weeks. The artists will also be featured on the City's website and in Creative Greensboro's social media and newsletter. The artists were chosen from 35 applicants by a selection committee comprised of Cultural Affairs Commission members and City of Greensboro Communications and Marketing Department staff.
"Downtown Arts is a bridge for local artists to be viewed on a larger scale," Frederick said. "It is such a great opportunity for all as it builds on community connection, provides exposure for local artists, and supports the artistic community here in Greensboro."
Founded in 2019, Creative Greensboro provides support for, ensures access to and drives awareness of Greensboro's creative community. Through a range of programs, services, and partnerships, Creative Greensboro supports the development of a vibrant city. To learn more about Creative Greensboro, visit www.creativegreensboro.com.