Greensboro city council may soon vote on stronger city ordinances prohibiting trash in public spaces, obstruction of public byways, and excessive noise.
According to Deputy City Manager Chris Wilson and Greensboro Police attorney Andrea Harrell, revising several existing ordinances will allow police to keep people from obstructing sidewalks and doorways, remove "abandoned" personal belongings from parks, and reduce amplified sound from persons in public spaces.
A new regulation proposed by District 5's Tammi Thurm would require large grocery stores to retrieve abandoned shopping carts.
District 3 representative Zack Matheny, who is also the president of Downtown Greensboro Inc., said he hoped to see additional regulation on those who serve free meals in Center City Park.
Wilson and Harrell described the recommendations introduced at the September 1 work session as educational rather than punitive, and not aimed at the homeless population.
"We don't want to enforce these ordinances by way of any criminal violation," said Harrell. "Our hope is that an educational campaign and voluntary compliance is really going to help with some of the problems that we're seeing.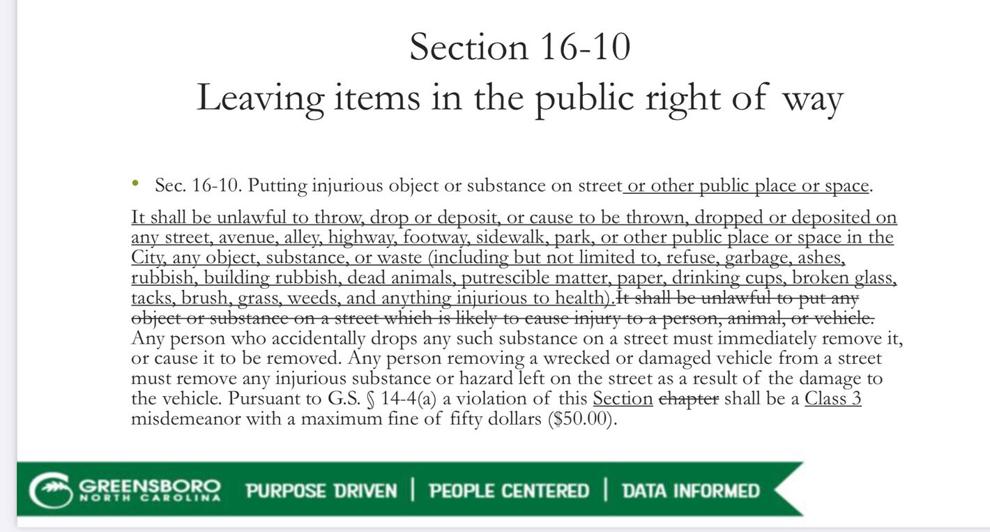 The first modified ordinance described by Harrell was Sec. 16-10. Putting injurious object or substance on street or other public place or space.
It shall be unlawful to throw, drop or deposit, or cause to be thrown, dropped or deposited on any street, avenue, alley, highway, footway, sidewalk, park, or other public place or space in the City, any object, substance, or waste (including but not limited to, refuse, garbage, ashes, rubbish, building rubbish, dead animals, putrescible matter, paper, drinking cups, broken glass, tacks, brush, grass, weeds, and anything injurious to health).
This revision, said Harrell, clarifies "exactly what we're talking about that you can't leave on the streets" by addressing "the mostly personal items that we see that are left in parks and along sidewalks and our ability to not let them stay there indefinitely."
She said it would be a Class 3 misdemeanor with a maximum fine of $50.
District 1 representative Sharon Hightower expressed concern about the potential criminal charge. "If the person is experiencing homelessness, and they can't get housing because they already have a record, putting a misdemeanor on top of that is something I really can't support."
"We can certainly look at whether civil penalties would be more palatable," replied Harrell.
Mayor Nancy Vaughan said she expected the ordinance to result in few if any citations. "It is nobody's intent to criminalize poverty, but it is a way to send the message, and it gives us the ability to have the stuff removed."
Matheny said that he was concerned about something not addressed by the revision-the volunteers who feed the homeless in Center City Park.
"They show up on any given day or time," alleged Matheny, "and just think that they're giving help by delivering food that doesn't go through the health department, and then leave significant trash lying around, which is what this is talking about as well. So, what is our goal, educating those that think they are helping, in cleaning up their own stuff?"
Harrell said the city might require those volunteers to get a special event permit and "go through some sort of food service certification course."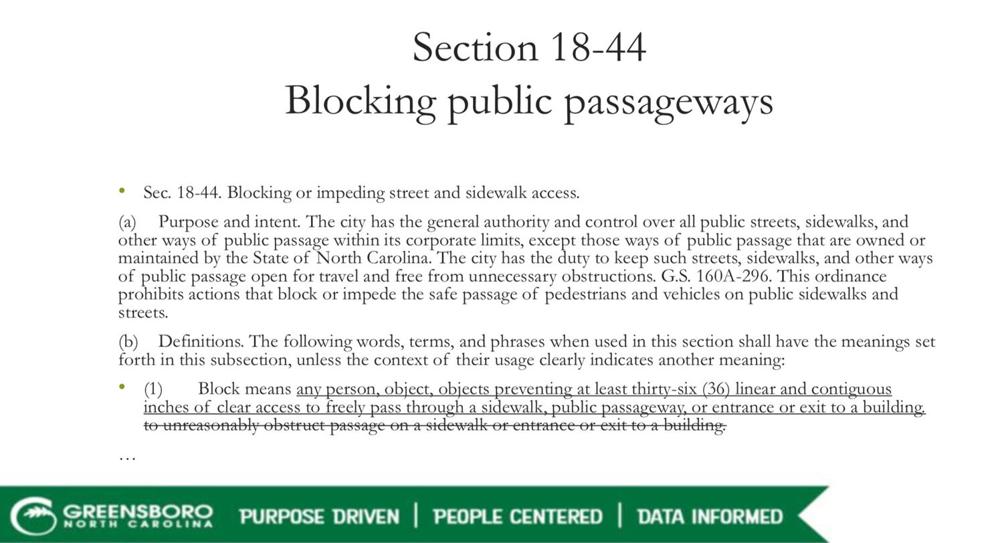 Harrell then described Sec. 18-44. Blocking or impeding street and sidewalk access, which defines "blocking" as any person or object obstructing 36 inches of access to "a sidewalk, public passageway, or entrance or exit to a building."
It shall be unlawful for an individual to block a sidewalk or public passageway, or to place an object or objects on the sidewalk or public passageway which blocks the sidewalk or public passageway. If an object or objects shall block the sidewalk or public passageway, a law enforcement officer or his designee shall promptly dispose of the object(s) where practicable.
"Not only is it illegal to block a sidewalk or any public passageway," said Harrell, "but to place objects that block that passageway. This is going to be into or out of a park, or any sidewalk. It's pretty broad, and then, if anyone blocks the passage with objects, a law enforcement officer or his designee can promptly dispose of the objects."
Wilson said the city already does this to some extent, "but this provides clarity for everyone that's involved in the equation as to what is acceptable and what is not."
Thurm said the revised ordinances "are not just about downtown and it's not just about people experiencing homelessness." She cited drone footage shared on social media that showed an apartment complex in which trash and mattresses were strewn all over the driveway and parking lot.
City Manager Taiwo Jaiyeoba also stated the ordinances are not targeted "at our homeless neighbors," but that "this is city-wide, not just focusing on a particular population or a particular geography."
Matheny again expressed particular interest in Center City Park, which "probably wasn't configured as well as it should have been, and needs to be updated." The problem, said Matheny, is in determining where the sidewalk begins and ends. "For District 3, that's a concern I'd like addressed sooner rather than later."
Harrell then described two revisions to Sec. 18-50, Unlawful noise-producing activities, which prohibits operating any sound amplifier on public property which is "plainly audible" from 50 feet away.
"A lot of this is standing on the sidewalk with a speaker," said Harrell, "either playing music really close to restaurants where it's disturbing customers or some of the folks we have who come downtown and scream into microphones about this and that, disturbing patrons that are just walking by, trying to get to wherever they're trying to get."
Matheny asked if the distance could be reduced to less than 50 feet. Harrell replied that, as "there's strength in numbers," she felt it best to follow the lead of other cities, and "this was the shortest distance I was able to find in any municipality."
Matheny replied that High Point's noise ordinance sets the distance at 30 feet, and "it's okay for us to be trendsetters, so we can put whatever number we want to on this, we can put ten feet." He cited an example from his district of a busker playing one song constantly every day, to the irritation of customers at a nearby restaurant. "I would encourage us to be more aggressive on this."
He then cited videos on social media "of folks screaming racial and homophobic slurs" through a megaphone.
Vaughan referred to these same individuals doing so from tents in LeBauer Park and in front of the Tanger City. When queried on Sunday for a clarification, Vaughan texted a photo of the street preachers known as Black Israelites or Radical Hebrew Israelites. The Southern Poverty Law Center has characterized this separatist movement as an "increasingly anti-Semitic, anti-white, anti-LGBTQ, xenophobic and misogynistic sect" that "perpetuates the anti-Semitic belief that 'so-called' Jews have stolen their identity and 'birthright.'"
"You don't want to be enacting anything that that is content-based," cautioned Deputy City Attorney Al Andrews. "Because we get sued on that regularly and that's a seven-figure suit."
Thurm asked, "is there a way to deal with non-public property, particularly around doctor's offices, health providers, that kind of thing." Thurm stated she would like to see if a similar ordinance could be written for private and public property to restrict electronic amplification around healthcare facilities "whether it be nursing homes, doctor's offices, hospitals or clinics."
Harrell said there is an existing ordinance that prohibits amplified sound that can be heard at more than 150 feet anywhere in the city. "We can look at either reducing that or, as you said, a specific healthcare provision."
Vaughan said there was a particular noise issue in District 4 "in an area that has a lot of bars in it" and asked if this does anything to address that. "The complaint that we get is that on a Saturday they will have afternoon events, and at a nearby restaurant, their patrons can barely speak to one another."
Harrell replied that this noise ordinance only applied to noises coming from public spaces.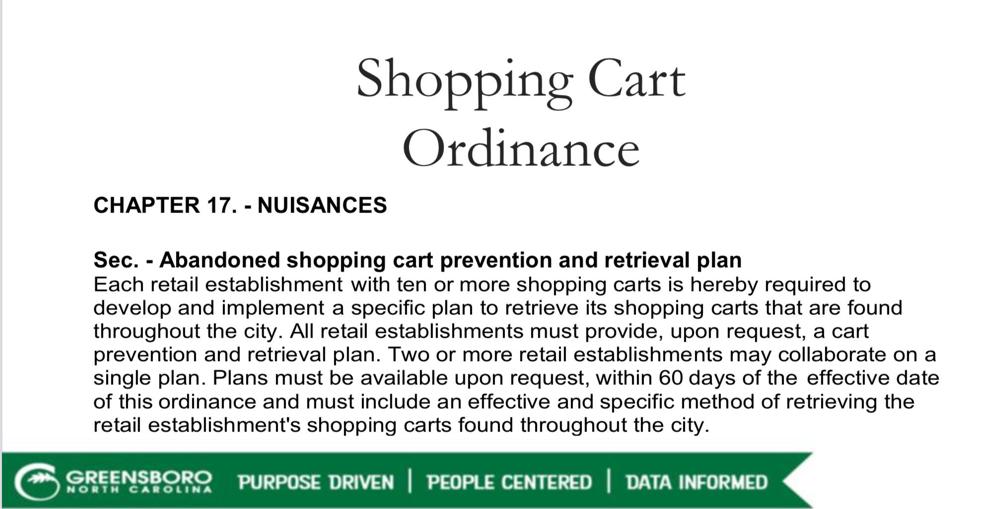 The last ordinance discussed was the new one proposed by Thurm after meeting with the hotel association and a variety of retail businesses on West Wendover. The ordinance states "Each retail establishment with ten or more shopping carts is hereby required to develop and implement a specific plan to retrieve shopping carts that are found throughout the city."
Thurm said the ordinance is aimed at "big box" grocery stores, as opposed to "a shop with just a few grocery carts; they're keeping up with their carts, anyway, because they're too expensive to part with."
Harrell then addressed the issue of panhandling by stating that the 2015 Supreme Court decision in Reed v. Town of Gilbert has "really tied our hands" by ruling that panhandling is free speech. "When we talk about any ordinances around panhandling, they can't target the panhandling behavior," and any type of ordinance prohibiting aggressive panhandling or public loitering would likely be ruled unconstitutional.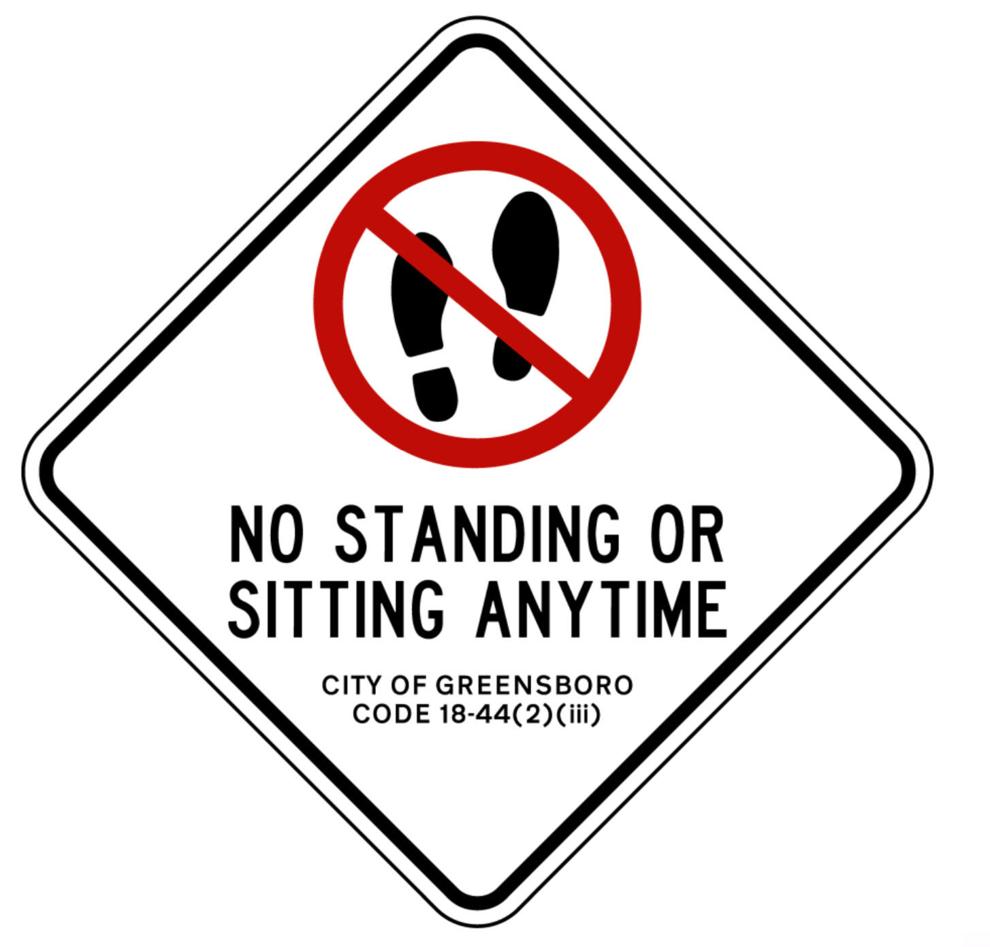 The last page of the slideshow, titled Signs Installed for Transportation Safety, depicted an example of "a little over a hundred signs" stating NO SITTING OR STANDING AT ANY TIME that Wilson said have been installed on 30 traffic islands and medians throughout the city. "That is a transportation issue, not of panhandling per se," said Wilson. "If you have a pedestrian median that is less than six feet, it is dangerous." He said this was "simply enforcing something we already had on the books" and had advertised with stickers on those medians, but those "were too small and were not being paid attention to."
Vaughan concluded by saying, of the ordinances, "I would like us to actually act on them, possibly at our second meeting in September. I don't know if that means we need to go ahead and advertise them as a public hearing, but whatever it is we need to do to finalize these."
The next regular session of the Greensboro City Council, meaning the first one at which a public hearing can be held or anything voted on, will be on Tuesday, September 20, at 5:30 p.m. in the Katie Dorsett Council Chamber of the Melvin Municipal Building at 300 W. Washington Street.