"Bars and nightclubs have been really important to the LGBTQ community over the years," said David Gwynn. "Historically, their function has been somewhat akin to that of church in the African-American community, a place for dissemination of information and activism."
"Stonewall is an example of that kind of activism," said Stacey Krim, "but they were also safe social spaces going back to before the Greensboro Gay Purge of 1957 when the sheriff targeted the gay community, and you could be arrested at your workplace just because he had received a tip that you were gay."
Both Gwynn and Krim are associate professors in the Electronic Resources and Information Technology Department of University Libraries at UNCG, where Krim is Curator of Manuscripts and Gwynn is the Digitization Coordinator.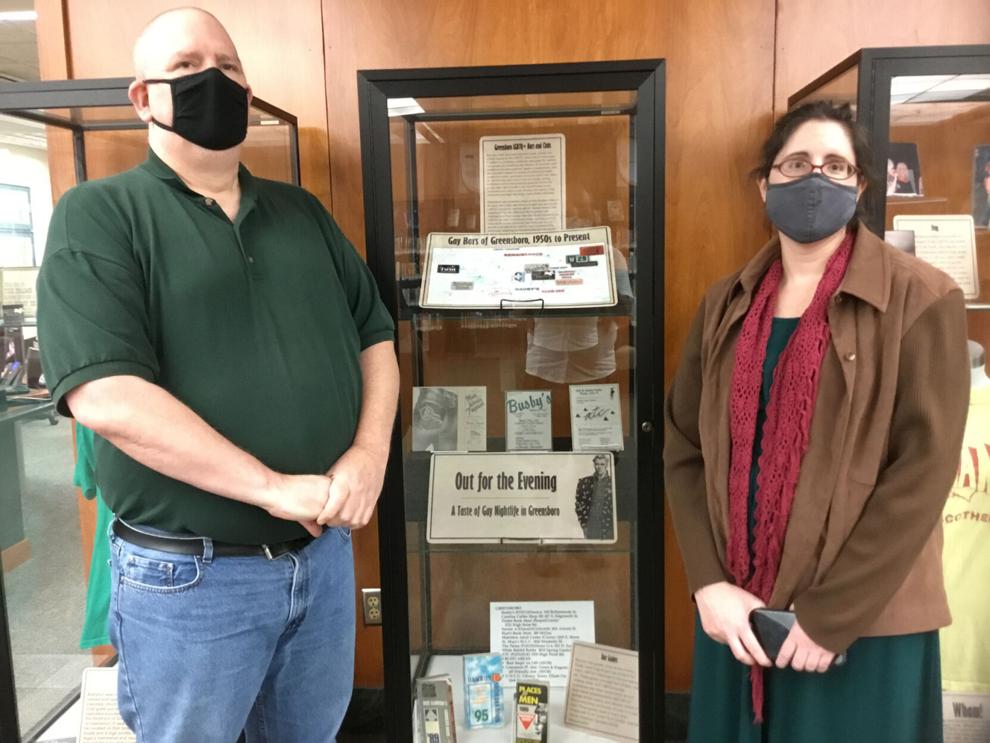 In August, Gwynn and Krim created "Out for the Evening: a Taste of Gay Nightlife in Greensboro," an exhibit near the reference desk in UNCG's Jackson Library which will run through mid-October.
"We had done other exhibits as part of the Pride! of the Community project, but we had never covered the gay bar experience," said Krim. "So, it seemed like an interesting topic to cover, and with what David brought in, we had just enough material to be able to do a small three-case exhibit."
Gwynn explained what the Pride! of the Community project is.
"It's an LGBTQ Documentation Project for the Triad that Stacey, myself, and a former archivist named Jennifer Motzko received a National Endowment for the Humanities grant a few years ago. It was based around the idea that we would be doing community digitization. People would bring in their stuff, we'd digitize it and give it back to them and put the images online, so they didn't have to give up their possessions. Our partner on the original grant was Guilford Green. It ended up, over the years, becoming more of an oral history project."
Gwynn said this gave them a large amount of documentation of organizations and activists, but their original work did not turn up much about LGBTQ social spaces, and that he and Krim decided the history of those spaces also needed to be preserved.
"I think a lot of people underestimate the importance of that culture, and how it's impacted the community over the years. Or, they don't like to talk about it, because it's like, oh, those dirty bars and nightclubs!"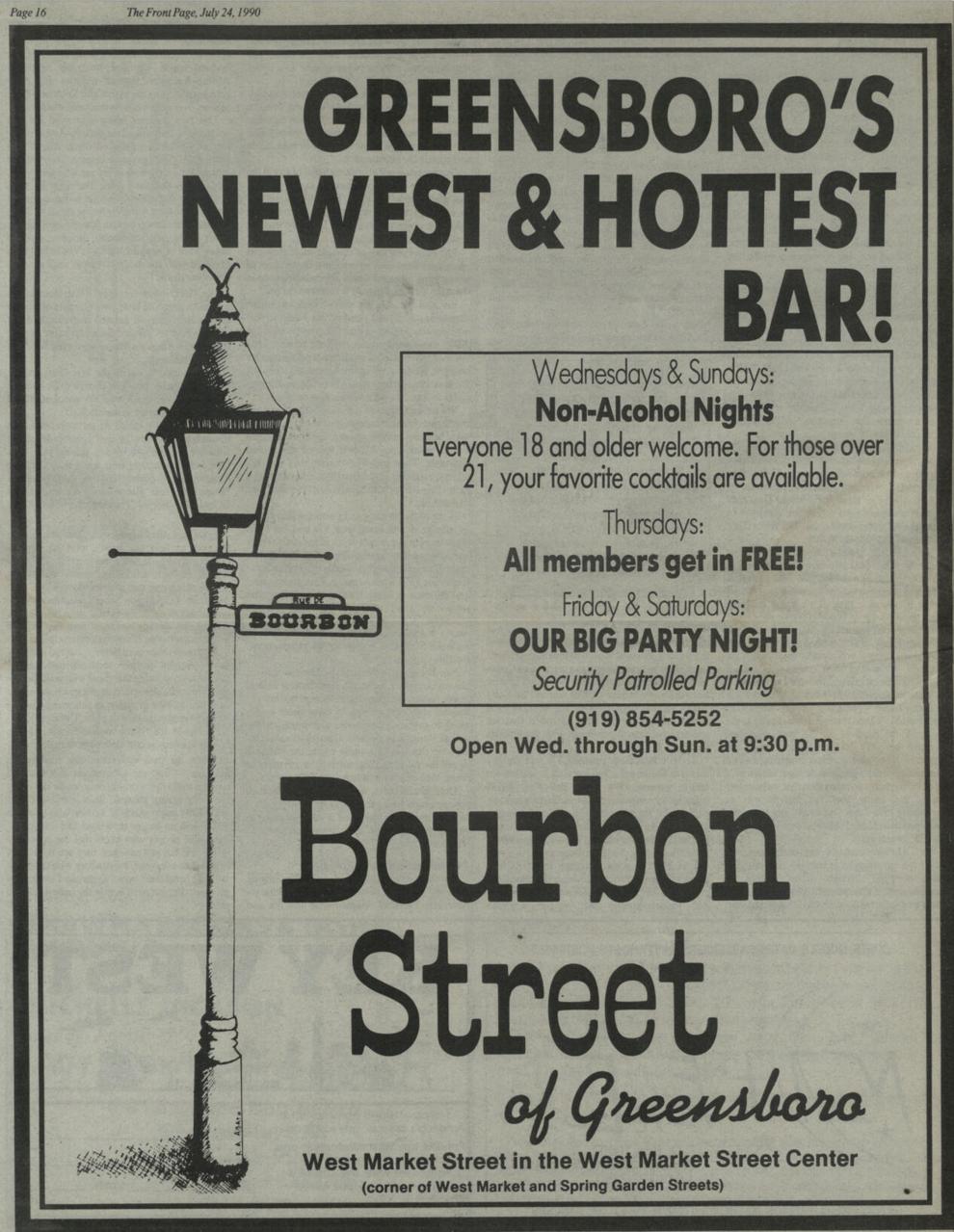 Krim gave an example of how the Triad's gay bar scene helped the growth and prosperity of the LGBTQ community here.
"What we found when we were doing oral history was that one metric that influenced where LGBTQ chose to move was the presence of at least one gay bar, as that meant the area was at least reasonably safe for them to move into. So, having more than one gay bar in existence at a time in this area actually attracted a very qualified and professional crowd into business and academia here."
According to Gwynn, the first gay bar or club they found any evidence of was the General Greene Grill.
"Unsurprisingly, it was on Greene Street, between what's now Friendly Avenue and Bellemeade. It opened in the late 50s, probably as a pretty standard diner. But in that location, it slowly developed a gay clientele over the years. That was the normal evolution in those times."
As the law considered them criminals, those who gathered at the General Greene Grill became the targets of other criminals. "If you comb through old newspapers for mention of the General Greene," said Gwynn, "you'll see it's only mentioned when someone was robbed outside of it."
"Gay men were easy prey because they knew not to report being mugged. That didn't really change until the 1970s when there was more visibility, and bars tended to be nicer. There was one out on Battleground called Rendezvous, where either Boo Radley's or Maria's are now. There was also the Libra Lounge, which I think was also referred to as the Lambda Lounge, further down, where Battleground crosses Cone. The building is still there."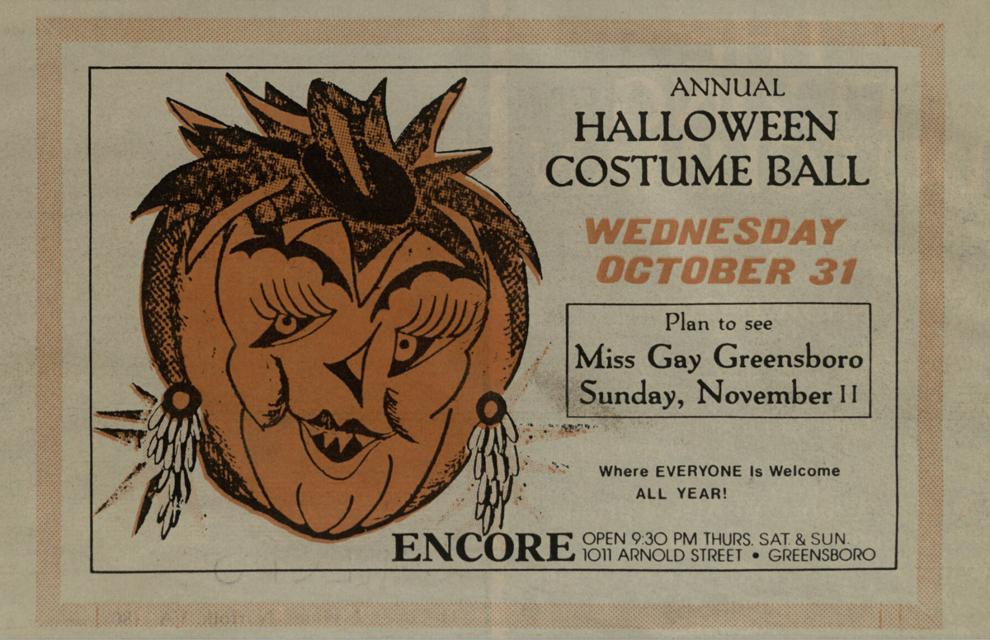 The Disco Era brought larger venues.
"A big one was Davey's, which was actually on the UNCG Campus, and is now the Human Resources Office, in the building that was Jokers 3 in the 1980s. There was Encore, which started as Wham and later became Warehouse 29. Downtown, there was Palms, which was owned by women, and was lesbian-focused in its early years, but became sort of the default gay bar after Encore closed. There was Busby's, which was opened by Randell Busby, a church music director who moved into this area."
Gwynn and Krim's interview with Busby is on YouTube under the title "Oral History with Randell Busby, 2020."
"Busby's was originally on High Point Road," continued Gwynn, "which was at that time a highly visible and thriving commercial area, something that Greensboro gay bars had previously tended to avoid. He eventually moved it downtown. Then there was XTC, which was also on High Point Road in a very visible location."
Krim said that, due to Busby, Greensboro had a very strong and almost immediate, response to the AIDS epidemic.
"It began at his bar with a meeting to disseminate information and condoms, and information and how to get organized to support the people who were contracting this mystery disease which nobody really anything about yet."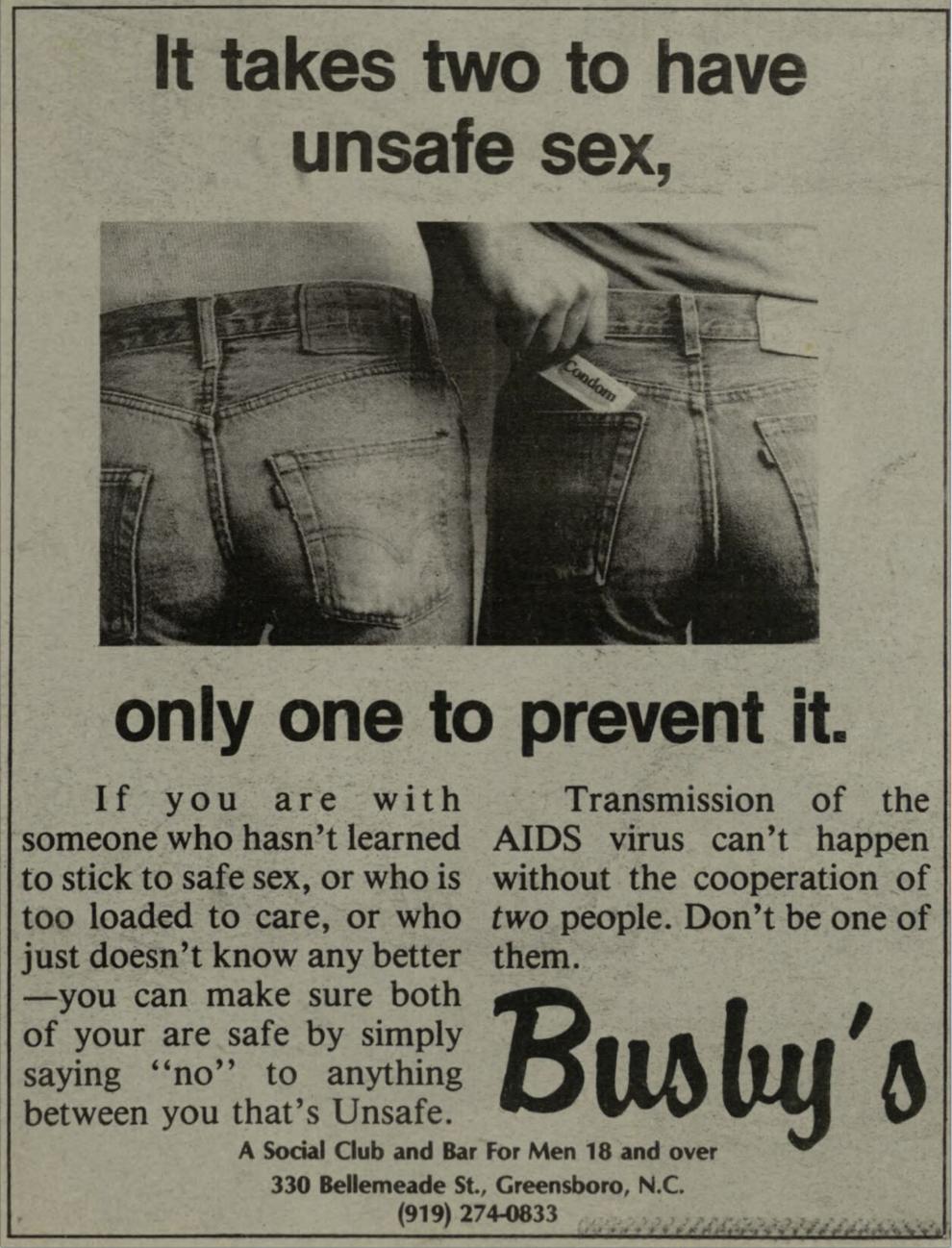 According to Krim and Gwynn, two heroes in the local battle against AIDS (and ignorance concerning it) were Johnny McGee and Bruce Thede.
"Johnny and Bruce were and are a couple, and they formed the Triad Health Project, on which they worked in collaboration with Cone Health. Not only did they indirectly create a support network for AIDS victims, but they educated health professionals in our area, who were clearly terrified of the illness and initially very bad at treating it. Johnny and Bruce taught them not to be afraid, and how to treat their patients. Bruce spoke about one incident where he escorted someone with AIDS into the hospital. When the nurse at the desk read the paperwork, she threw the pen across the room. Bruce picked it up and rubbed the pen all over his body to show you cannot get AIDS that way."
Krim's interview with McGee and Thede is on YouTube under the title "Oral History Interview with Johnny McGee and Bruce Thede."
"They were going into schools and other organizations," said Krim, "to say that this was a disease that would affect them, too, but also to deal with the stigma of the disease. So, even though we were not hit as hard as New York or San Francisco, we still had a very strong response, because of the effort mobilized so quickly in our gay bars."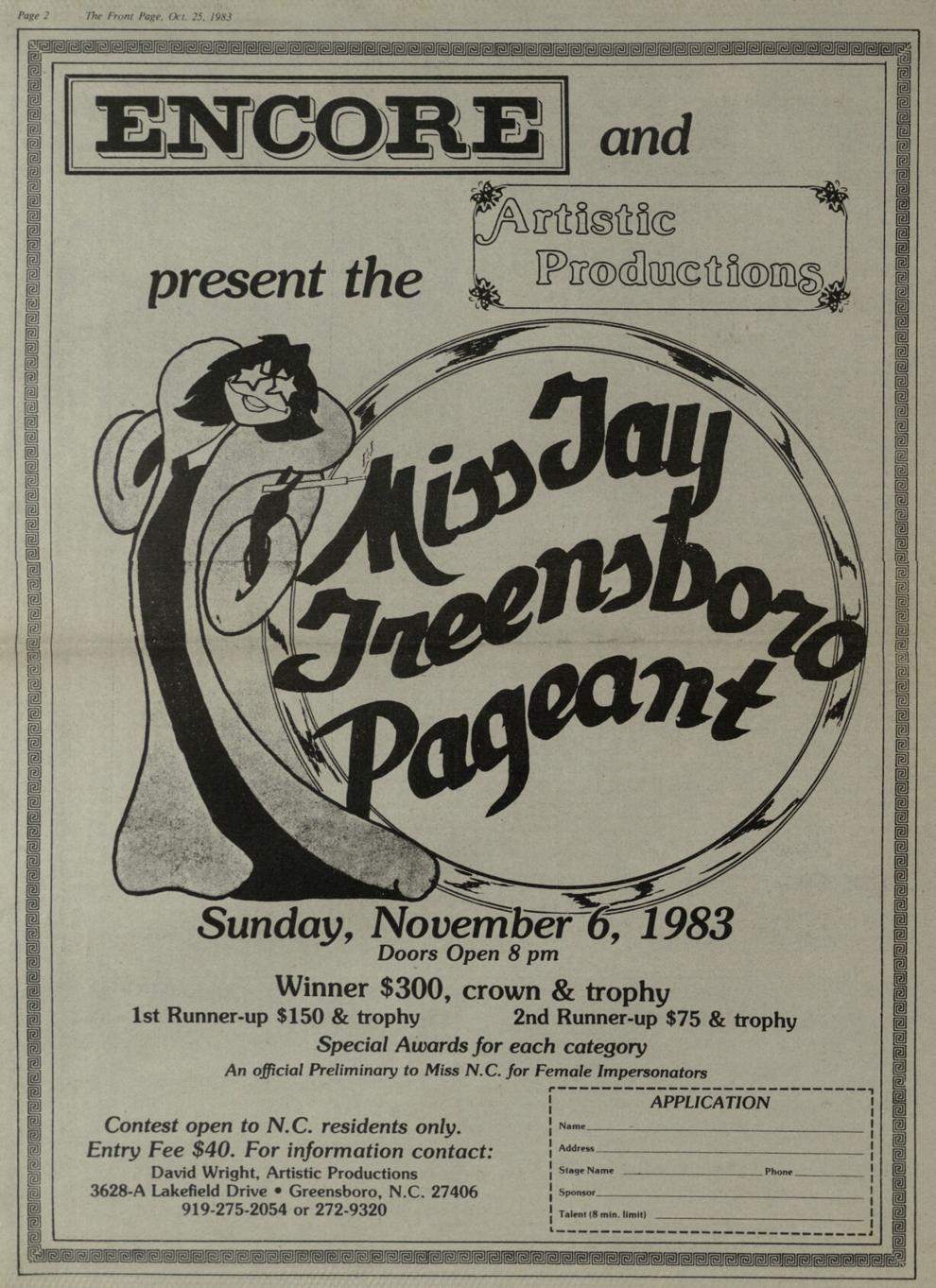 Gwynn also talked about how drag became an important part of Greensboro's gay scene in the 1980s.
"We also have an interview with Joel Cudworth, aka Marilyn Rivers, who actually was one of the few I know who can remember the General Greene Grill, and was actually a patron there."
In the YouTube video "Oral History Interview with Joel Cudworth (Marilyn Rivers), 2020," Cudworth talks about Greensboro's early gay bars. "There was the Renaissance, which was a dump, and the General Greene, which made the Renaissance look like the Ritz."
Gwynn said that he wishes the exhibit had more material from the 1990s. "That's the one area where we're probably the most lacking, I've been called on it by the owner of a bar. I had moved away from Greensboro and Stacy wasn't living here yet. That was when Warehouse 29 was a big deal."
"We try to emphasize to people that we can only preserve what they give us," said Krim, "which is why it's really a community-curated collection the community has to contribute it to us for it to be part of our collection. So, if we don't have it, we don't have it."
She also called working on this project with Gwynn and those they interviewed a remarkable and rewarding experience.
"We have spoken to so many people, who were so inspiring when they gift us with their life story, and you hear about everything they went through and everything they fought for the benefit of not only themselves but others. Doing oral history can be exhausting. No matter how invested in the subject you are, you often finish recording an interview and you're just brain dead. But this wasn't like that. With so many of the people we spoke to, by the time we left, David and I would look at each other and go, 'Wow, that was amazing!'"