The Reynolda House Museum of American Art had pre-pandemic plans to capture the Triad with an American photorealism exhibition from which 28 out of its 40 works were found close to home in the Winston-Salem area. Covid-19 arrived and the project was forced on the back burner. Following two years of patience and generosity from the private collectors and institutions that committed to collaborating on the postponed exhibit, the museum now welcomes the public to experience Chrome Dreams and Infinite Reflections: American Photorealism. The exhibition is scheduled to run through December 31 in the museum's Mary and Charlie Babcock Wing Gallery.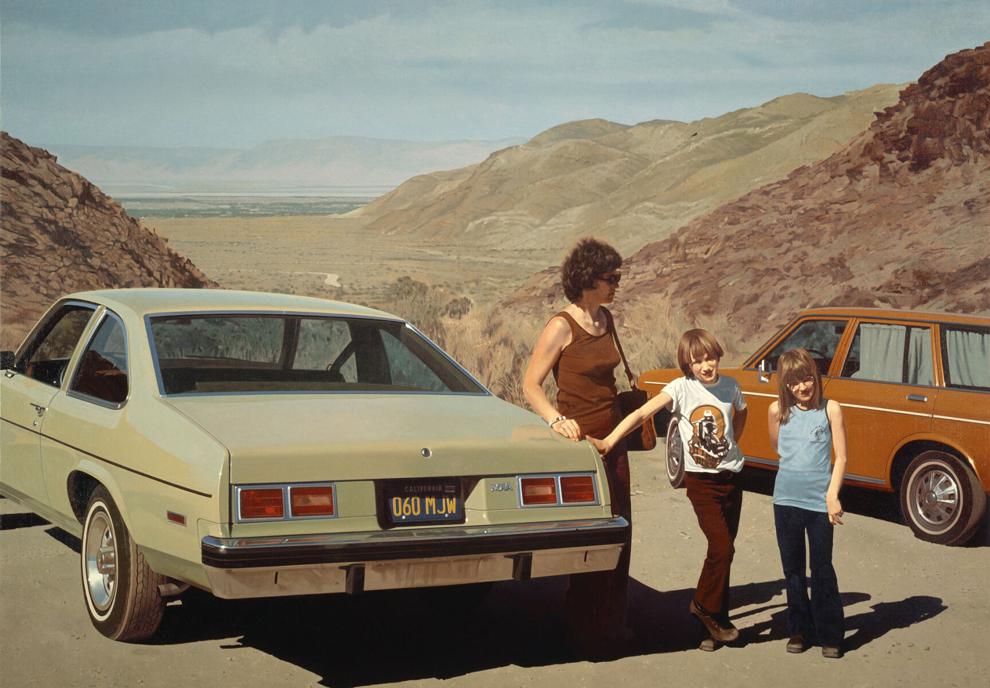 During a visit to a local art collector's home, Reynolda House curator Allison Slaby was shocked to walk straight into a large-scale Richard Estes screenprint. The collector she was visiting turned out to have around 15 more of Estes' works upon which Slaby realized she had the start of an exhibit. Set on doing something with the newfound treasure, Slaby reached out to other private collectors and museums to see what could be developed. Contributors for Chrome Dreams and Infinite Reflections: American Photorealism include peer institutions such as the Gibbes Museum of Art, the High Museum of Art, the Virginia Museum of Fine Arts, the Birmingham Museum of Art, the Weatherspoon Art Museum, and the Wake Forest University Student Union Collection of Contemporary Art.   
Emerged from Pop art, photorealism is the recreation of a photograph, at times taken by the artist, or a print source. The artist recreates through a medium of their choice, which has included acrylics, oils, screen-printing, watercolors, and even the use of projectors, airbrushing, and stamp-pad ink. The exhibit presents a rich collection of American photorealism since its appearance in the 1960s with works by artists Ralph Goings, Don Eddy, Ron Kleeman, Robert Bechtle, Robert Cottingham, Janet Fish, Ben Schonzeit, Audrey Flack, Richard McLean, Chuck Close, Jack Mendenhall and, of course, Richard Estes.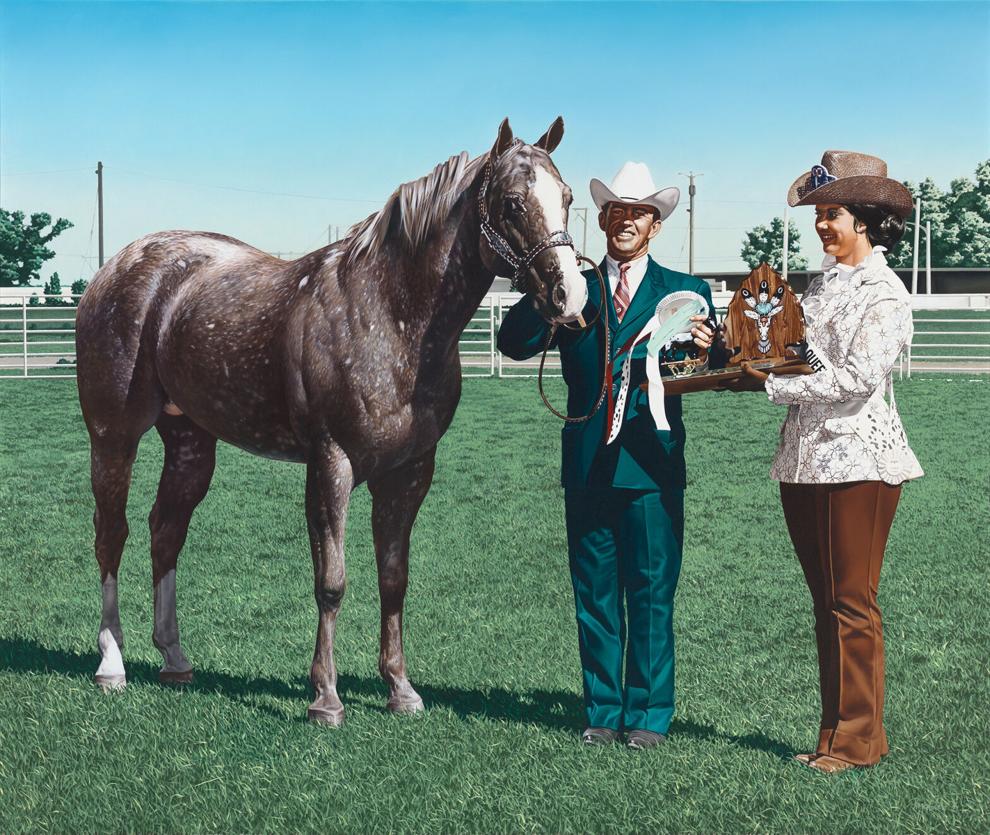 "We are showing different artists but Richard Estes is really at the heart of the exhibition," said Slaby, who curated the exhibition.
Chrome Dreams and Infinite Reflections: American Photorealism includes Hubcap, one of Estes' latest works. The 90-year-old photorealism pioneer completed the piece last year in 2021 and thanks to a generous contribution from David Neill, former president of the Reynolda House Board of Directors, and Scottie Neill, the painting is now part of Reynolda House's permanent collection. Through the donation, David Neill looks to enable the museum to fulfill its collection priorities while prompting conversation, learning, and curiosity through the museum's art collection. Allison Perkins, executive director of Reynolda House and Reynolda Gardens, considers the new acquisition a reaffirmation of the museum's commitment to adding exceptional works from leading artists in their fields.  
The exhibit fuses post-war boom nostalgia with an in-depth reflection on modern life over the past 60 years highlighting the often forgotten realities of urbanity and American consumerism. The spectator dives into transportation settings, unusual landmark perspectives, window-shopping, a variety of surface reflections, and still life in which light and color function reign over objects in focus, common in Janet Fish's works. Fish's displayed pieces initially stun with their large-scale size and gentle, everyday imagery but quickly immerse the viewer in the fine details of her focus on opacity, reflection, and light. 
Audrey Flack and Ben Schonzeit's works take a more playful approach zooming into daily objects of little monetary value but potentially significant sentimental value. Robert Cottingham's fascination with commercial signs and their power to encourage human consumption acts as an omen to a 21st-century ongoing obsession with visuals, and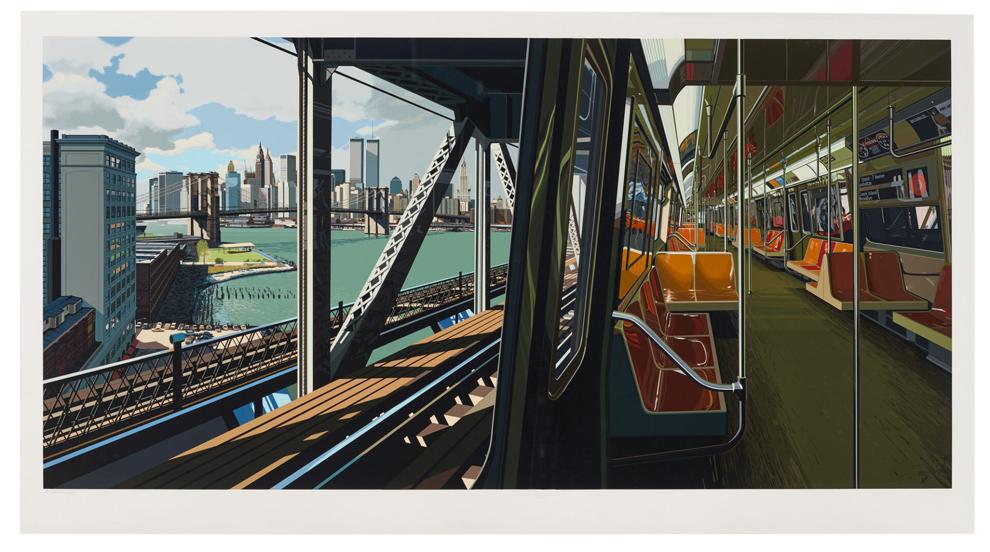 Estes' love for unusual perspectives reestablishes the need to look at our life's surroundings from different angles.   
For the last several years, art exhibits found only in the Mary and Charlie Babcock Wing Gallery of Reynolda House offer art captions in both English and Spanish, making the new exhibit even more accessible to the Triad's Spanish-speaking community. The exhibition is beautifully assembled, welcoming to audiences of all ages and backgrounds, and is an exemplary display of American culture through the eyes of those who paved the way for photorealists. "I hope that people are absolutely astonished by these works of art and that word of mouth spreads that everybody needs to get to Reynolda House to see it," said Slaby proudly.