A Christmas disagreement between a Greensboro business owner and two local nonprofits is emblematic of the debate over whether or not pandemic protocols are still necessary.
On December 15 and 21, Anna Freiberg, who owns Bender's Tavern in Greensboro, posted three widely-shared Facebook videos in which Freiberg described serving 5,000 free Christmas meals annually for 10 of the last 12 years. "We did not do this in 2020 or 2021 because of Covid, but this year, we're back. Last week, I was hit with a little bit of a roadblock and I want people to know what's going on."
In her first video, Freiberg alleged being told by Greensboro Housing Authority (GHA), the nonprofit that runs Gateway Plaza, a 221-unit affordable housing high-rise at 200 Spring Garden Street, that she could not deliver meals inside that facility.
"I have delivered to the building every year since 2010. We pull up, drop off the food, the residents get it out to every floor and every person in that building. I have one point of contact who is a resident. Last Friday, I got a call from GHA saying they would not allow me to deliver to that building because of Covid, but we can partner up next year. And it hit me the wrong way because Guilford is in the top 15 counties in this country suffering food insecurities. I'm really just pissed and that's why I'm speaking out."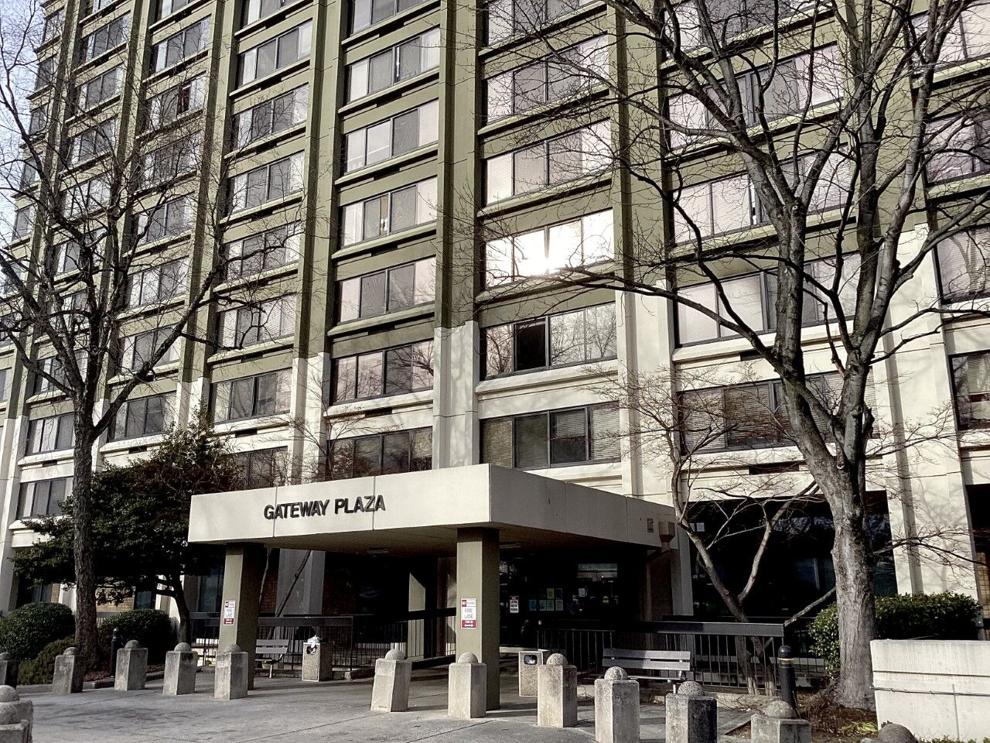 In a second video, posted at 11 a.m. on December 21, Freiberg said the meals intended for Gateway Plaza would be delivered across the street to 360 Federal Plaza, where residents of Gateway Plaza would have to "walk outside in the cold" to receive them. She also said that she had been communicating with Greensboro Urban Ministries, and had been told that, due to the low temperatures, her volunteers would be allowed to serve meals in the dining room of that nonprofit's facility at 305 West Gate City Boulevard.
Returning to her frustration with GHA, Freiberg alleged that the residential service manager for that nonprofit "is not allowing us in because of [air quotes] 'Covid protocols.' So, everyone who lives in that tower at 200 Spring Garden Street is going to have to come out of that building in the frigid cold weather and come across the street to get their Christmas meal."
At 12:14 p.m. that day, Freiberg posted what was ultimately the most-shared of her three videos, in which she stated she had received a call from Greensboro Urban Ministries. "They said our volunteers can come inside and pass out the meals, but none of the homeless population is allowed to come in and eat the meals inside. Guys, I'm pissed, I'm so upset. I'm asking all of you guys to reach out to your local politicians, news reporters, whatever. These are non-profit organizations that are denying free meals and it's just wrong."
YES! Weekly spoke to both Freiberg and Chip Berry, Director of Development for Greensboro Urban Ministries, about the disagreement. Berry expressed considerable admiration for Freiberg and her work in the community but said they had philosophical differences regarding the CDC's November relaxation of Covid protocols.
Both parties acknowledged that their disagreement was not actually over whether the free meals could be given out at that location, but whether anyone other than those men and women residing in the homeless shelter at the Gate City Boulevard facility would be allowed to eat inside. Berry described the building as housing two separate facilities: Potter's House, the first-floor kitchen and dining room; and Weaver House, the second-floor residential facility, which at capacity houses 100 adult men and women.
"We've not used the dining room at Potter's House for three years for anyone other than residents. We serve the people staying at Weaver House in that dining room while social distancing. But for three years now, a couple hundred times a day, we've been serving visitors through a window we've installed in the back of the dining room."
Freiberg said she used to partner with Greensboro Urban Ministries, but separated from them after becoming disenchanted with the organization.
"I've been doing this since 2010. I write the check now. I pay for it out of my own personal checkbook. I no longer ask for any money from Urban Ministries, so I don't have to be told for political reasons how things need to be done. I appreciate everything that Urban Ministries does, but this is my meal that I'm providing and I will continue to do my good work."
YES! Weekly asked Freiberg why she alleges "political reasons" are behind Urban Ministries rescinding permission to feed people other than the building's residents in their dining room.
"I'm very much aware of protocols and making sure no one gets sick, but we're two years out of Covid at this point and everyone keeps using that as their excuse and it's time to move on from it. We have to get on with life and we have to keep on continuing to do the right thing for people. I'm not saying that Urban Ministries are bad people or they don't care, but I was offered something, and then it was taken back. People are going to be outside in the cold on Christmas Day, not being able to eat a hot meal for 20 minutes, and that's a big issue."
Berry said he understood Freiberg's anger. 
"I want to stress that we love what Anna does and that she's a really good person. I do believe that part of her frustration is that she thinks the world has moved on and it's like it was before Covid. We probably just look at it through a totally different lens than she does. I know a lot of small business owners like Anna and I get their frustration. It's been a really challenging time for them in different ways than it it's been for us."
Berry said that Weaver House is unlike Greensboro Urban Ministries' family shelter in North Greensboro, which consists of separate efficiency apartments. 
"At Weaver House, you can imagine the issues, as homeless folks have a high propensity for lung diseases and the ones that stay with us are generally older and have health issues. We used to let people who weren't staying at Weaver House come inside and eat, but we just couldn't do that, we literally have hundreds of people come every single day for meals, and our Potter's House Dining Room is very small, particularly when you set it up for social distancing. So, what we've done is, the residents of Weaver House have been served three meals a day indoors, but for the people who don't live there but come to us every single day, we put in a window to serve them. We don't like what we've had to do, but feel it's the right thing. Our doorbell is rung 22,000 times a year. People don't get the scale of what we do."
He called the CDC's latest guidelines "much more open to interpretation" than the ones in place before November 29. "We're working with a Cone Health physician, Dr. Pat Wright, to interpret things. We learned so many lessons from Covid, and can't pretend that everything's the same. We've got to continue doing some things differently."
GHA special projects manager Maggie Larkins responded to Freiberg's statements with an email that began:
"After learning about Anna's efforts recently, we reached out to her to discuss officially partnering with GHA to successfully and safely serve the residents. After that discussion and an email follow-up, Anna replied. See the two emails below."
Larkins attached GHA resident services manager Anthony Banks' December 12 email to Freiberg, in which Banks expressed caution about "large-scale indoor events (meal distribution) without GHA team members involved," as well as concern that "with several viruses circulating, protecting GHA residents, vendors, and staff has been our priority." Banks concluded by stating that he looked forward to meeting with Freiberg to discuss "partnering" with her next year. Larkins also attached Freiberg's response, in which she stated disinclination to "partner" with an entity that, according to her, had not previously involved itself in the interactions between Freiberg's volunteers and the building's residents.
"It appears that she doesn't want to partner," stated Larkins. "If that changes, we are MORE than open to adding her to our list of over 15+ community partners currently working with us to provide meals and nutritious food options to our residents." 
Despite these disagreements, Freiberg said she and her volunteers served Christmas meals inside both GHA's Gateway Plaza and Greensboro Urban Ministries' Potter's House dining room. 
"At Gateway Plaza, our usual liaison called us on Christmas Eve and said there had been some sort of social event there on Thursday and that GHA had left the dining room unlocked, so she went in and set it up for us. She then told me 'Let's not meet across the street like we planned; it's too cold and some of these people are 85 and shouldn't be outside. If GHA has a problem with that, I'll take the blame. So, we pulled up, and she took 250 meals inside the building, and another 250 to some homeless people who meet under that bridge, whom she let come in and sit in the dining room. This morning, she told me that, for one of the women who lives in that building, the meal she got from us was the first time she'd eaten in two days."
According to Freiberg, when she and her volunteers pulled into the Urban Ministries parking lot, someone inside that building immediately opened the door for them. "I said I was told we were not allowed inside, and she said 'I'm a volunteer, what are they going to do, fire me?' And so, she let everybody in, and we fed 300 hundred meals there. We also fed 50 meals at Hall Towers over on Church Street, which is also owned by GHA. In total, I fed 2,500 meals yesterday." 
Ian McDowell is the author of two published novels, numerous anthologized short stories, and a whole lot of nonfiction and journalism, some of which he's proud of and none of which he's ashamed of.