The popularization of one-act plays has grown over the last decade with various theatres in the nation inviting multiple playwrights to showcase their work in a spectacular night's performance. 
Camel City Playhouse, the only theatre in the heart of downtown Winston's art district has invited 10 local playwrights from around the Triad to produce their one-act plays in an upcoming two-weekend festival. 
Camel City Playhouse's inaugural One Act Play Festival will be held on August 13th, 14th, 20th, and 21st. Saturday performances will begin at 7:30 p.m. and Sunday matinees will start at 2 p.m. Each one-act play will run between 5-10 minutes, ushering both first-time and seasoned actors to the stage. Camel City Playhouse received roughly 100 play script submissions and narrowed it down to ten shows with five shows presented each day/night for the next two weekends. The 13th and the 21st will be presenting Changed written by Meredith DiPaolo Stephens, who is currently working on the roving rendition of Midsummer Nights Dream in downtown Greensboro. The story follows a recently separated mom, Lynn, and her 15-year-old daughter, Shannon, who clash while packing up to move and eventually come to understand the changes their lives face. "This is my first produced short play, and I am honored Camel City Playhouse is making one of my dreams come true. I am truly honored to be able to see my work on the stage and the interpretations director Gregg Vogelsmeier brings to my script," Stephens stated. 
Beth in One Act written by Annabelle Baker follows the story of Beth on her 24th birthday when she accidentally swaps bodies with her 12-year-old self and discovers that her younger self has strong opinions about adult Beth's life choices. The Red Sky Has No Color written by Douglas Ellery Chase, follows the story of Jamie who wants to leap to his death from the edge of a canyon at sunset while wearing a Superman costume. One snag: the cab driver taking him doesn't want to see Jamie give up on life just yet. Bob Gets Cast Out of Hell written by Robert O'Connell, follows the story of old frenemies, God and Satan, meeting over greasy-spoon diner grub to debate what to do about Bob, who's been banned from Heaven and is so awful that Satan wants to kick him out of Hell. Lastly, Deus in Machina written by Jordan Brooke Bond follows the story of Henry, who, thanks to a medical condition, can't feel pain. When chronic pain sufferer Lexi agrees to help Henry test his invention, The Machine, the pair form an unlikely friendship.
The 14th and 20th will be presenting Elegy for a Supervillain written by Mike Brannon, follows the story of the infamous supervillain Mr. Meteorologist who finally kicks the bucket, and his closest family, friends, and frenemies join together to reminisce. Honesty written by Libby Trull follows the story of a coffee shop chat between two grad students that quickly go off the rails when the pair decides to have an "honest" conversation about race. The Wood Anniversary written by Eric Weil follows the story of Sharon and Will celebrating their fifth wedding anniversary, whose traditional symbol is wood, which is why ever-practical Will proudly purchased a set of coffins. Truck Nuts written by Skip Long follows the story of the podcast "Truck Nuts" which hails from Tightsqueeze, Virginia, and is hosted by Sam and his stepson, Ayvoree. Unfortunately, this recording session will be disrupted by Ayvoree's meltdown over a recent break-up, family squabbles, and the age-old Ford vs. Chevy debate.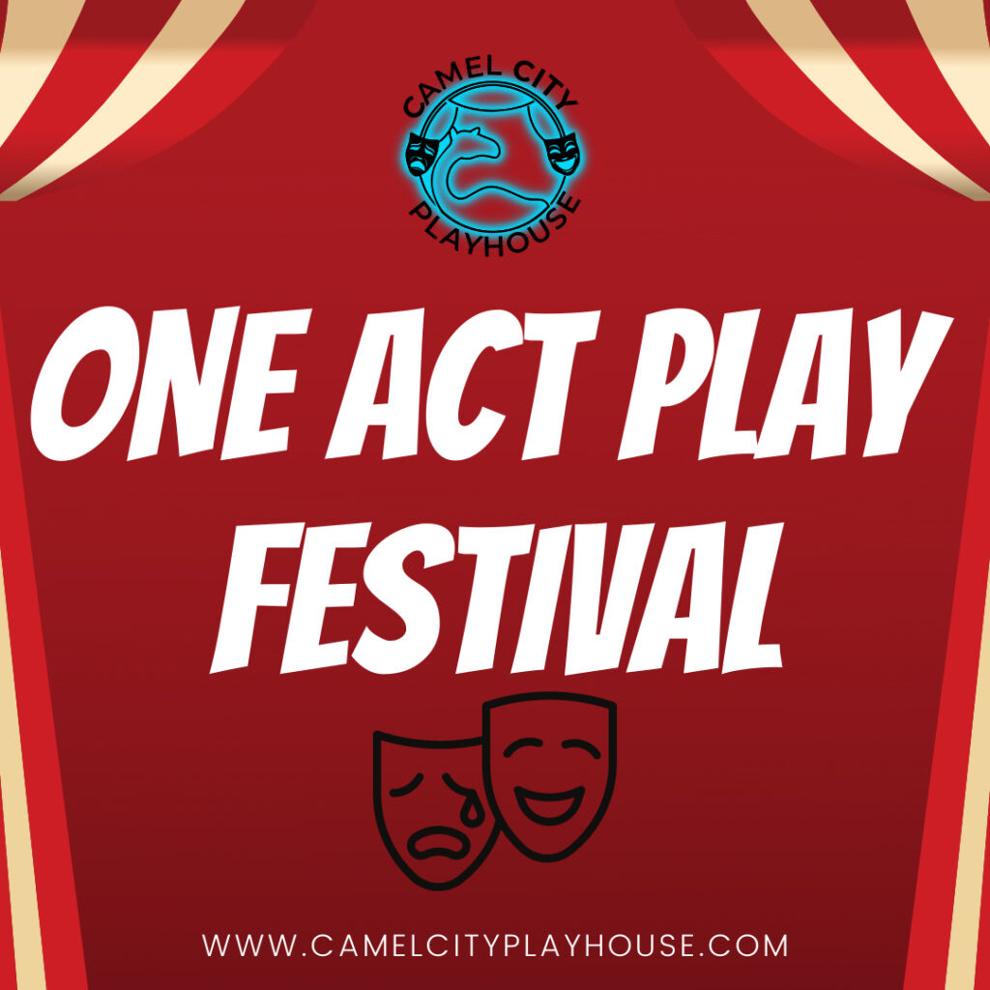 The Art of Life written by Adrian Dion Quarles follows the story of three friends discovering the concept of "adulting." Artist Amari, her twin sister Anna, and their actor friend Patrick debate whether it's possible to hold onto your dreams and self-worth in a world where paying the bills seems to be all that matters. Actor Erich McPhail, who plays Patrick, is thrilled to be back on stage at Camel City Playhouse after his recent appearance in Metamorphosis last month. "I developed a family here the moment I arrived, and when I heard they were hosting their first One Act Play Festival, I knew I had to be part of this history in the making. I was lucky enough to walk into my first rehearsal getting to meet the playwright himself, who gave me, my fellow actors, and director Colin Archer, so much insight into his creative process and what he intended on portraying to the audience," McPhail shared. 
Camel City Playhouse states it's not a show for children, but combines all types of humor for young adults and adults alike to enjoy. 
"This is a chance for local writers to workshop their pieces, to see the audience reaction whether it laughter or tears, and give them a better insight of where they want to go moving forward. It is also a chance for people who love the stage to be part of a fun show with people they may have never worked with before, and for audiences to explore multiple emotions and stories in one sitting."