Backpack Beginnings, the Greensboro-based nonprofit that feeds, comforts, and clothes children in need, is looking for volunteers to staff its new market where all the food is free.
"Obviously, monetary donations are important to us," said Parker White, who founded the 501(c)(3) organization in 2009, "but we're 95% volunteer and utilize hundreds of those volunteers every week, to deliver goods, to sort items in our warehouse, and now to help in our new Family Market at 3711 Alliance Drive."
The organization is also looking for donated goods. "We're always having food drives and supply drives, but there's a lot of ways that people can help us, even if just by cleaning out their children's or grandchildren's closets. We take gently-used children's clothing and shoes, books, stuffed animals, toys, and new this year, household goods. Just anything that most homes and families need."
The organization has come a long way in more than a decade. 
"When we started, we were solely a backpack program within the school system," said White. 
Backpack food programs, the first reported example of which began in Little Rock, Arkansas, in 1995, offer families free groceries for weekends and school breaks.
"So, in the beginning, we were providing food backpacks to children over the weekends who were identified as being food insecure, either having not been fed a lot of food or nutritious food. Now, the word 'backpack' indicates our focus is children. Backpacks are associated with kids and we serve them from birth to 18."
She said that Backpack Beginnings has been constantly growing and evolving during its 13 years of existence.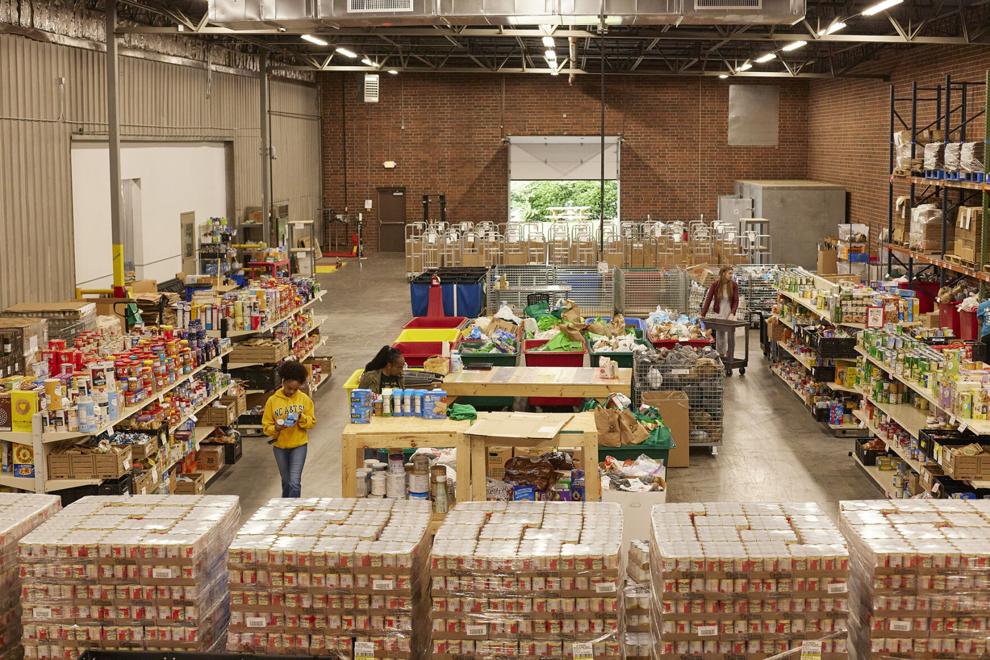 "In the last few years, our growth has been such that we needed larger space. We found a building right down the street from our old location that had more space than we anticipated needing. I was reading Reinventing Food Banks and Pantries: New Tools to End Hunger, in which author Katie S. Martin writes about client choice and the importance of providing dignity in that choice."
Reading Martin's book while finding themselves in an unexpectedly large space led White, her small staff, and many volunteers to have conversations about new ideas and increased capacity.
"Those discussions resulted in our creating this family market and continuing to do what we do by providing basic needs and goods out into the community through partner agencies. We could also extend our programming to have families come on-site and have a shopping experience within our larger warehouse."
Backpack Beginnings moved into its new home in January and launched the Family Market in April. At first, it was only open to social workers and partner agencies, who came and chose the items they needed for the families they serve. White wanted to test the new system and work out kinks before inviting families on-site.
"In June, we started with 30 pilot families that were referred to us from our partner agencies. And then month after month, we continued to grow or spread as people told friends and family. Each month, we have served more families. We'll probably end this year serving over 200 families a month." 
The Family Market's inventory includes produce, refrigerated items, frozen products, canned goods, refrigerated items, but also children's clothing, hygiene products, school supplies, children's books, toys, household goods, baby accessories, diapers, and formula.
"Everything is free. Families came come once every 30 days to shop. We do have limits on some items, but not on others."
While shopping at the Family market doesn't require an ID, proof of citizenship, or immigration status, customers must make an appointment.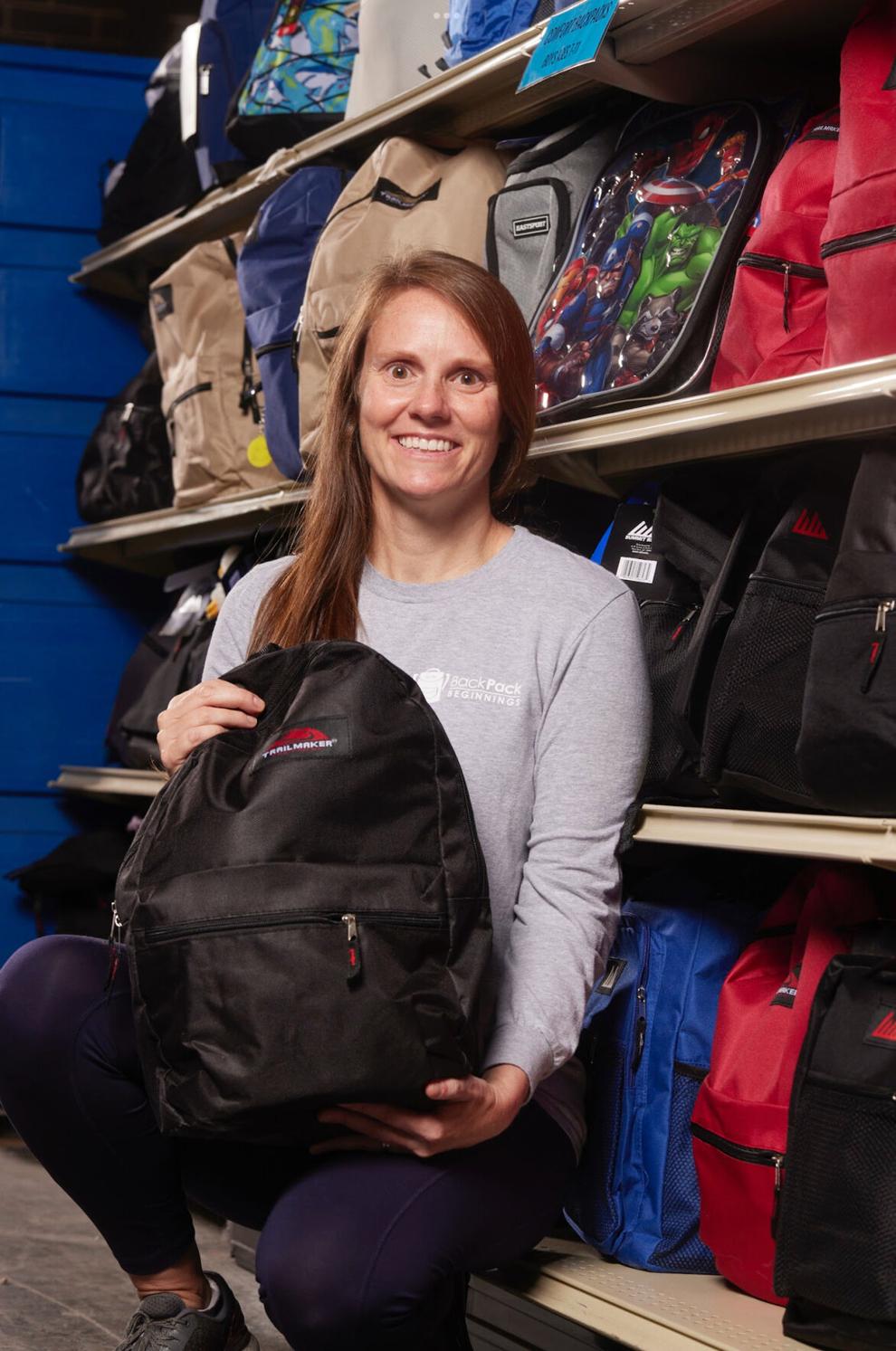 "We speak with families who call us or otherwise reach out to us, and if they say they have a need and are struggling to provide for their children, we make sure that they have children under the age of 18 in the household and that they live in Guilford County. Those are the two qualifiers. Then we make an appointment for them to come shop. After the New Year, they'll be able to make their appointments online, but we're still in the middle of transitioning to that."
White was born and raised in Greensboro, but moved away and lived in DC for 11 years. It was there she got the idea that became Backpack Beginnings.
"I was watching a news program that highlighted a teacher in Texas who was sneaking food into her children's backpacks. She spoke about how they were coming back to school hungry and unable to really concentrate and learn, and that stuck with me. I had my own children, my first born up in DC, and about a year after she was born, we returned to Greensboro, and still couldn't get that newscast out of my head. I honestly feel like God was pushing me and telling me to do something about that."
So, she decided to contact Guilford County Schools and see if there was a need for a backpack program.
"My assumption was there would not be. I grew up here, in the public school system, and did not see or hear of people talking about that. But what they told me was there was a huge need, and while different groups were helping, they could always use more. I started at Wiley Elementary, partnering with Second Harvest Food Bank to raise enough money for 50 children, but raised a little more than I needed."
So, she thought, why not two schools?
"Those two schools led to three and three led to four, and working with those schools, I met social workers and ask what their other needs were for these children and families. They said clothing and hygiene products and school supplies, and year after year, we continued to add programming or new items to what we distributed. About eight years in, we expanded outside of the school system into a healthcare setting and partnered with other nonprofits, and it continued to grow and the Family Market came along this year." 
Ian McDowell is the author of two published novels, numerous anthologized short stories, and a whole lot of nonfiction and journalism, some of which he's proud of and none of which he's ashamed of.