A Winston-Salem based organization is looking for help from the community at large to assist the most marginalized sectors in its surrounding area. 
H.O.P.E. (Helping Other People Everywhere) Dealers Outreach is currently collecting items for its annual Thanksgiving Drive.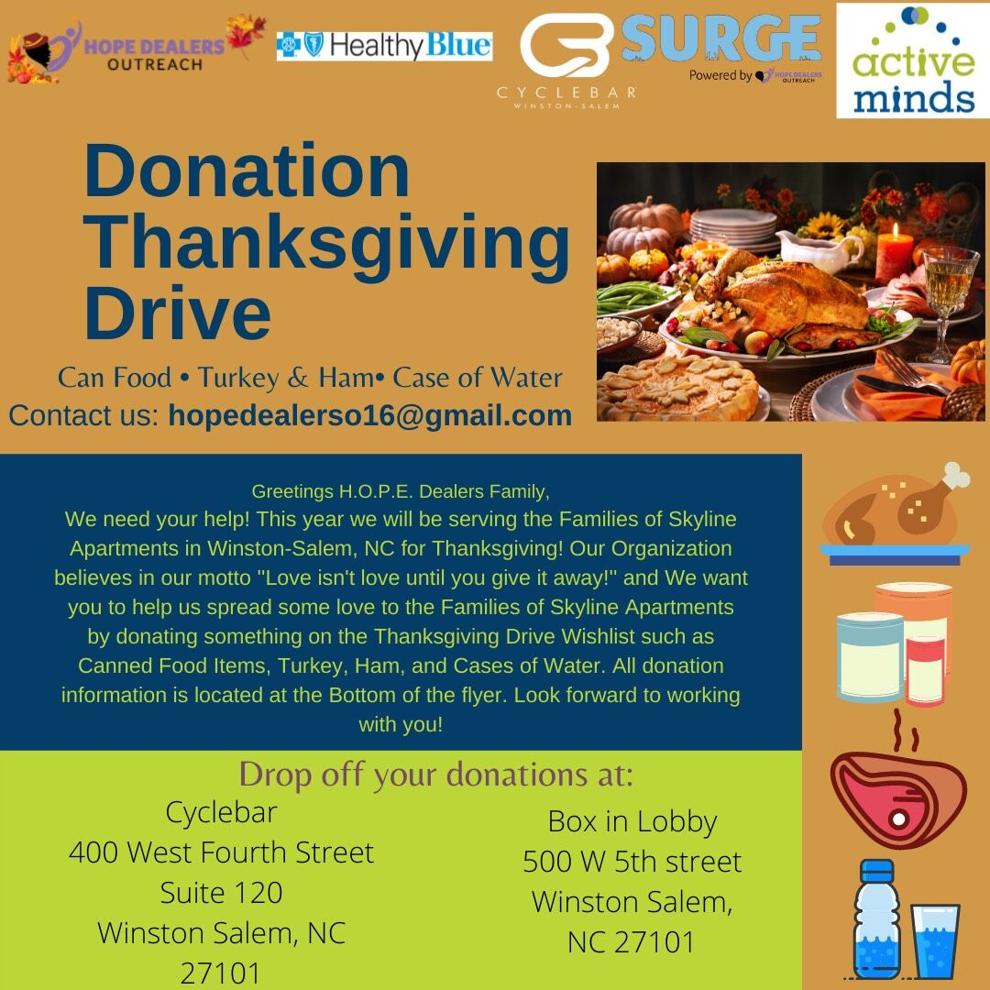 "We want the community to get involved," challenged Ethan King, president and chair of H.O.P.E. Dealers Outreach. "Don't just like social media posts but get involved in helping the community. You can go to the dollar store for $10 and get canned goods."
Last year, King and H.O.P.E. Founder Frankie Gist, single-handedly passed out hams and turkeys to roughly 200 families in Salem Garden Apartments. 
"We kind of did a pop-up. They didn't know that we were coming," King said. "Between me and the founder — we were knocking on doors. People were so touched by it. They were like 'we didn't know what we were going to do' or 'we didn't know how we were going to eat'. Some didn't have any food in the refrigerator. So we made it our goal to go a bit further than just providing turkeys and ham." 
This year, the plan is to serve the Skyline Village Apartment area, a low-income Hispanic community in East Winston-Salem, with more of a complete meal. The nonprofit is requesting the following donations: Turkeys, Hams, cases of water, or canned goods. Non-perishable items can be dropped off at 500 W. Fifth St., and all items can be dropped off at 131 Libertyview Lane, Suite #301. Both drop-off locations will accept items between the hours of 9 a.m. and 5 p.m. On Friday afternoon, the donations will be collected, and on Sunday, they will be distributed to the Skyline Village community. 
"We also did our back to school give back in the Skyline area, and the people were appreciative. We were able to see the shape the community was in and made it our goal to return to the community and are doing it now through our Thanksgiving Drive," King said. "This weekend, we will canvas the area, letting them know that we have food provided for them and all those in need if they'd like to accept the donation." 
King said that they don't plan on stopping at Skyline if they find they still have more donations that can be given out. 
"Every year, we also make sure we have more than enough. Once we get done serving one community, we go to another community and pass it out. We just keep going to another community until all the food has run out, all the donations are gone," King said of the agency's yearly process. "It's not our job to hog it. It doesn't belong to us. It's for the people. That's our goal. Reaching as many communities as possible and just providing love. You can't say you love someone if you don't show it. Our main goal is to give love and let them know that we care about them."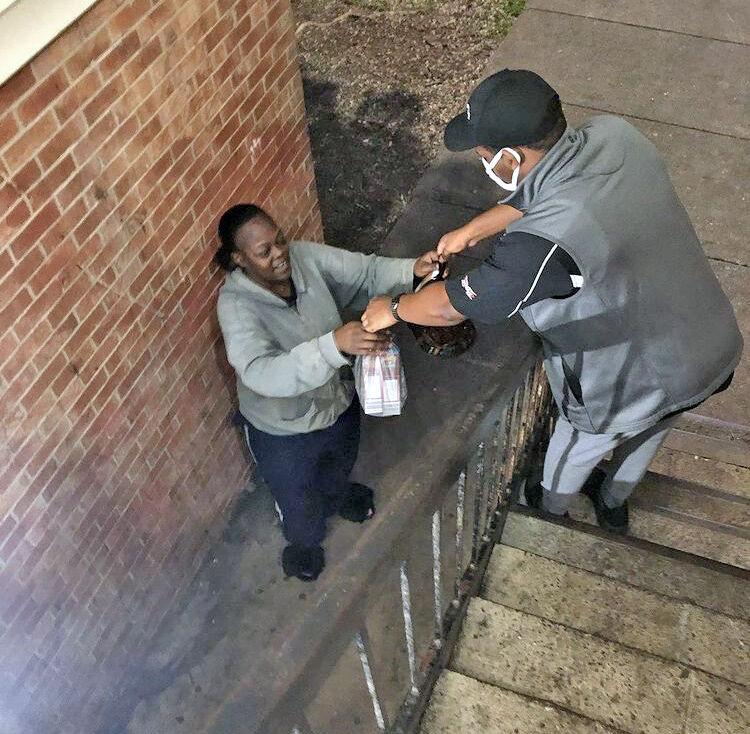 H.O.P.E. Dealers Outreach is a nonprofit organization founded by Gist following the 2012 murder of Trayvon Martin. The organization was founded out of what Gist felt was the need to fight against police brutality, gun violence, homelessness, and other plagues against marginalized communities. The nonprofit is designed with an emphasis on love, peace, and unity, and is built to stand against the systems and conditions that lead to marginalizations and oppression by being an advocate and resource for marginalized people in the community. 
This is done by hosting community events focused on civil rights and social justice; assisting the community with resume-building, mentorship, and access to employment and service opportunities; providing assistance to families of victims killed in gun violence; and collaborating with law enforcement and city government to address policies that impact people of color.  
Originally named the Helping Hands Foundation, Gist and his team fought to spread positivity while fighting injustice within their communities. Recently celebrating its tenth anniversary, H.O.P.E. Dealers Outreach has held annual hygiene, food, and back-to-school drives, offered educational programs, and hosted peaceful protests in the Winston-Salem area. 
"This is how H.O.P.E. Dealers was founded. It was founded by giving back and showing love to those in the community that are less fortunate. It is our goal to meet people and make sure that people are not lacking anything. And every year, we strive to go bigger."
For more information on H.O.P.E. Dealers Outreach or its Thanksgiving Drive, visit www.hopedealersoutreach.org or email at hopedealerso16@gmail.com.