The University of North Carolina Greensboro is getting ready to kick off its oldest continuous series with some pretty big names in hopes that Triad residents will take a few hours to live out the arts. 
The University Concert and Lecture Series kicks off its 109th season on Friday, October 8th, with a performance by Sphinx Virtuosi. The performance is the first in the school's series that goes back to the late 1800s. Charles Duncan McIver, the University founder and first president, began an Entertainment Course in the school year of 1893 with a series of lectures by Greensboro locals and readings from Shakespeare by a traveling actor. Music was added in 1894-95, and by 1895 the University and Greensboro YMCA joined to sponsor a Combined Entertainment Course of eight performances, according to the school's website. 
In 1913, students were charged an annual fee to support concert and lecture programs, which were held at downtown theatres, until the opening of the UNCG Auditorium opened in 1927 and they were moved to campus. During the twentieth century, the University Concert and Lecture Series hosted artists like Bertrand Russell, Robert Frost, Eleanor Roosevelt, Alvin Ailey American Dance Theatre, Wynton Marsalis, the San Francisco Opera, and the Hague Philharmonic. 
Shana Tucker - Oct. 29, 2021
Shana Tucker is described as a lyrical storyteller, soulful cellist, and dynamic singer-songwriter. A cellist for over 30 years, the Long Island native has been playing since she was 11-years-old. Tucker studied classical cello at Howard University in Washington, DC, where she dove into improvisational jazz and honed her singer-songwriting skills, and received her degree in violoncello performance from CUNY-Brooklyn College Conservatory of Music, where she studied with master cellist Marion Feldman.
Often dubbed a "rare performer," Tucker said that the critique has everything to do with perception. She believes that many people expect a traditional, classical performance from her and get quite the opposite.
"I think there's a surprise element because people don't expect me to be as conversational as I am. I like to joke a lot, talk about the music, and share a lot of the inspiration or where my head was when I wrote a song," Tucker explained. "It's a show that includes them, their input. I see them and I let them know that I see them."
Her unique genre of ChamberSoul™ weaves together jazz, improvisation, roots folk, acoustic pop, and a touch of R&B into melodies that echo in your head for days. Tucker said the genre came about because she grew "wary about telling people what the music was not." The classically-trained cellist admits that it can be tricky describing the genre but admits that it's easier this way. 
"In the music industry, everybody has to label it something so you have an idea what to expect. It's music, it has influences and we mean it when we play," she said. "We're not a cover band or trying to sound like anybody but ourselves."
Tucker said she gravitated towards the concept in high school. 
"I liked being able to play music with people and not have a conductor in front of us telling us when to play, what to play or how to play. That's what happens with my band," she explained. "We have a blueprint, which is the chart, and I'm the storyteller, singing the lyrics and adding life to it with dynamic and nuance and all of that, but we don't tell each other what to play. We interpret this blueprint in a way that is relevant to our instruments. At the core of it is the intent which is from the heart, from the soul to the audiences and designated place. Putting it together as one word, ChamberSoul, seemed to make sense."
After Cirque du Soleil heard an NPR interview with Tucker about her debut CD, ​SHiNE,​ and her ChamberSoul style, they invited her to be cellist/vocalist for their show KÀ in Las Vegas, where she performed for five years before returning to North Carolina. Based in Durham, she said that she realized North Carolina was home when she would come to visit. The fact that the state was artist-friendly was a plus, calling it "a sacred space for the arts and creativity."
"The state arts council is vibrant, supportive, and communicative. The local arts councils really care about recording the talent that is in their own backyard. I've not lived in any place where the community has had this type of dedication to making sure that artists are seen, heard, uplifted, supported, and celebrated. There's so much talent. There's a history of talent from music of all genres literally from mountain to shore," she said. 
Tucker has performed and recorded with legendary jazz saxophonist/composer Bennie Maupin, jazz drummer/composer Shirazette Tinnin, jazz flutist/composer Nicole Mitchell, and Grammy-nominated NuSoul collective The Foreign Exchange. Tucker has also worked on, Women's Work, which is a female-led collective of jazz, soul, and pop singer-songwriters and musicians representing both East and West Coasts. Her latest project, Bodystories, is a collaboration with choreographer and community organizer Murielle Elizéon, that focuses on the idea that our individual, communal, and generational stories live in our body and that the body is the place to start to reclaim those stories. 
"It's a way of expressing a visceral memory and telling that either through dance, through music or through interpreting the movement of dance," Tucker said. "We've been working on that since June 2019."
She is a front-line advocate for arts education, an accomplished teaching artist, incorporating community engagement, workshops, and teaching residencies into her touring schedule.
"I would say that the work that I do extends through my teaching artistry and my arts advocacy. Every time I perform, I always ask if there is an element of outreach that can happen." 
Tucker said that her need to participate in outreach has a lot to do with what was missing when she was younger. 
"We didn't know that artists were normal people that could tell us about what they do, how they do it, could give us examples of stuff, let us touch their instruments, or talk to us like regular people," she explained. I wanted to let young people know that people that you see on stage one night could be sitting right next to you, talking to you, and laughing with you or be your neighbor. They are just regular people who just happen to do this for a living."
Her advocacy also led to her teaching artistry. She taught orchestra in Brooklyn and Queens for years. 
"It was important to not just be in one place as Ms. Tucker, the music teacher at PS 159. I wanted to be sure that I could go to as many schools as possible and talk about how to access joy through music," she explained. "How to claim ownership over your creativity and how to find your voice through your music. Being able to do outreach from pre-K all the way up to grown folks, other professionals, and college students is really important to me."
Which plays into Tucker's current role. Since most of her work was shut down during the pandemic, Tucker became the executive director of KidzNotes in the Raleigh-Durham area. KidzNotes is a music for social change program that engages students pre-K through 12th grade in an intense out-of-school musical program that includes instrumental instruction, choir, music theory, general music, orchestra, and band.
Tucker said that residents can expect "regular folks telling stories about regular folks" at the concert. 
"They can expect to laugh. Within the space of laughter, love, regret, and reminiscing, there's a shared living experience of life that, thankfully, I've in some of my more creative moments in my life, have been able to articulate through song," she said. "I know that everybody can't do that but I feel like it is my responsibility to do that for those who can not." 
A responsibility that Dominick Amendum, artistic director for the UNCG Concert and Lecture Series, is delighted that she's willing to carry out. 
"We are excited to present singer-songwriter and cellist Shana Tucker as part of the UNC Greensboro Concert and Lecture Series. We are sure she will delight the audience with her unique brand of ChamberSoul, and our students will greatly benefit from her cello masterclass and seminar about arts entrepreneurship," said Addendum.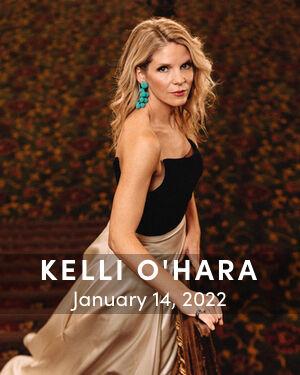 Kelli O'Hara - Jan. 14, 2022
Stage and screen star Kelli O'Hara has established herself as one of Broadway's greatest leading ladies. Her portrayal of Anna Leonowens in The King and I garnered her the 2015 Tony Award for Best Leading Actress in a Musical, along with Grammy, Drama League, Outer Critics, and Oliver nominations. She reprised the role while making her West End debut and performed a limited engagement at Tokyo's Orb Theatre.
Kelli also received an Emmy nomination for her portrayal of Katie Bonner in the hit web series The Accidental Wolf. Other film and television credits include the second season of Netflix's 13 Reasons Why, All The Bright Places, Peter Pan Live!, Sex & The City 2, Martin Scorsese's The Key to Reserva, Showtime's Masters of Sex, CBS All Access' The Good Fight, Blue Bloods, N3mbers, and the animated series Car Talk.
Other Broadway credits include Kiss Me Kate (Tony, Drama League, OCC nominations), The Bridges of Madison County (Tony, Drama Desk, Drama League, OCC nominations), Nice Work If You Can Get It (Tony, Drama Desk, Drama League, OCC nominations), South Pacific (Tony, Drama Desk, OCC nominations), The Pajama Game (Tony, Drama Desk, OCC nominations), The Light in the Piazza (Tony, Drama Desk nominations), Sweet Smell of Success, Follies, Dracula, and Jekyll & Hyde.
In 2015, she made her Metropolitan Opera debut in Lehár's The Merry Widow and returned as Despina in Mozart's Così fan tutte. Along with two Grammy nominations, her solo albums, Always and Wonder in the World, are available on Ghostlight Records.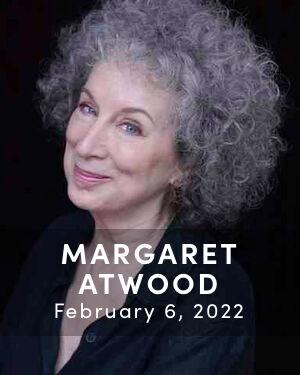 Margaret Atwood - Feb. 6, 2022
Margaret Atwood is one of the world's most important and influential writers whose novels, poetry, and films have proven relevant time and again.
Co-sponsored by University Libraries, the first half of the evening will feature collaborative art inspired by Atwood's writing, created and performed by UNCG faculty and students. The second half will be a moderated conversation with the author.
Atwood's appearance is one of the headline events in the University's year-long collaboration of She Can/We Can, which examines the actions leading up to and past the 19th amendment and how they affect equity and equality today. Atwood's stunning works are a remarkable observation of who we are, and if we are not careful, where we are going.
Atwood was born in 1939 in Ottawa, and grew up in northern Ontario and Quebec, and Toronto. She received her undergraduate degree from Victoria College at the University of Toronto and her master's degree from Radcliffe College.
Atwood, whose work has been published in more than 45 countries, is the author of more than 50 books of fiction, poetry, critical essays, and graphic novels. Her latest novel, The Testaments, is a co-winner of the 2019 Booker Prize. It is the long-awaited sequel to The Handmaid's Tale. Her other works of fiction include Cat's Eye, Alias Grace, The Blind Assassin, The MaddAddam Trilogy, and Hag-Seed. She is the recipient of numerous awards, including the Peace Prize of the German Book Trade, the Franz Kafka International Literary Prize, the PEN Center USA Lifetime Achievement Award, and the Los Angeles Times Innovator's Award.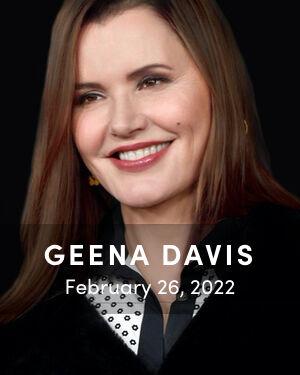 Geena Davis - Feb. 26, 2022
Academy Award winner Geena Davis is one of Hollywood's most respected actors, appearing in several roles that became cultural landmarks.
Davis received the Academy Award for Best Supporting Actress for her role as the offbeat dog trainer Muriel Pritchett in Lawrence Kasdan's The Accidental Tourist. She was again nominated for an Academy Award and Golden Globe for her performance in Ridley Scott's Thelma & Louise, in which she co-starred with Susan Sarandon. Davis went on to receive a Golden Globe nomination for Best Actress for her portrayal of baseball phenomenon "Dottie Hinson" in A League of Their Own.
Earning the 2006 Golden Globe Award for Best Performance by an Actress in a Television Series — Drama, Davis broke ground in her portrayal of the first female President of the United States in ABC's hit show Commander in Chief.
Davis made her feature film debut starring opposite Dustin Hoffman in Tootsie. She went on to star in such films as The Fly, Beetlejuice, Angie, The Long Kiss Goodnight, and Stuart Little.
Few have achieved such remarkable success in as many different fields as Davis has: she is not only an Oscar and Golden Globe-winning actor but also a world-class athlete (at one time the nation's 13th-ranked archer) and a member of the genius society Mensa. She is the Founder and Chair of the non-profit Geena Davis Institute on Gender in Media, which engages film and television creators to increase dramatically the percentages of female characters ­— and reduce gender stereotyping — in media made for children 11 and under.
Geena Davis and festival co-founder Trevor Drinkwater founded the Bentonville Film Festival in 2015 to champion women in media. BFF's mission is to encourage content creation in film and other forms of media that reflects the diverse — and half female — world we live in. The Festival takes place in early May in Bentonville, Arkansas and is research-based and commercially driven.
Most recently, Davis starred in 20th Century Fox's The Exorcist, a serialized psychological thriller based on the 1971 book of the same name; Marjorie Prime, based on the Award-Winning play; and Dear Angelica, one of the first VR narrative films from Oculus.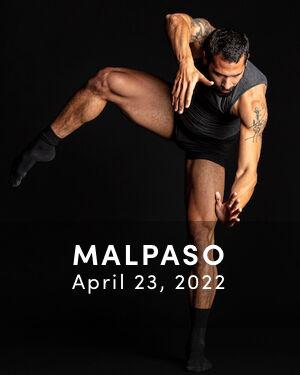 Malpaso Dance Company - April 23, 2022
Since its establishment in 2012, Malpaso Dance Company has already become one of the most sought-after Cuban dance companies with a growing international profile. Emphasizing a collaborative creative process, Malpaso is committed to working with top international choreographers while also nurturing new voices in Cuban choreography. The company tours with 11 dancers and is led by its original three founders; resident choreographer and Artistic Director Osnel Delgado, Executive Director Fernando Sáez, and dancer and co-founder Daileidys Carrazana.
For more information on venues, ticket prices, and performance times, visit https://vpa.uncg.edu/home/ucls-2/.