The lack of Halloween spirit among live theatres has sparked Alamance Repertory Theatre Company to bring back a taste of horror to the stage. "Besides the traditionally done Rocky Horror Picture Show, no other live theatres in Winston are putting on shows for the Halloween season, so I knew we had to do it," said Chris Cohen, the new Artistic Director for ARTC Theatre in Winston-Salem. "As a horror fan, it was a hard decision to find the right play, so we began brainstorming and throwing out other horror productions. I brought up Evil Dead to my teammates, and most of them didn't even know it was turned into a musical, so I knew right then and there this was going to be our show." 
Evil Dead: The Musical, is a rock musical stage play based on the film series with elements of dark comedy and horror. The story follows a group of five college students who are in a cabin lost in the woods in Michigan and find themselves face to face with evil forces summoned by the Necronomicon. One by one, they were captured by the demonic forces in the woods and turned on the others. Armed with his boomstick (a shotgun) and his chainsaw for a hand, Ash is charged with destroying the demons and saving the world. A musical filled with the iconic images and lines from the original Evil Dead movie franchise, not to mention gratuitous violence and gallons of fake blood, Evil Dead: The Musical is a cult classic romp of pop culture against evil spirits bent on destroying the world, destined to leave audiences cheering.    
"I've been a massive fan of the Evil Dead trilogy for years, at one point even knowing the movies line by line. I am thrilled to play such an iconic character," Stephen Malaga said, the actor playing Ash. Malaga was recently in Alliance Theatre's production of Silence: The Musical as Buffalo Bill.
Alongside Malaga is seasoned actor Peggie Kaan Dull, who plays Cheryl. Dull has been performing since she was 16, and like Cohen and Malaga, shares a love for horror and has experience in musical theatre. When she is not acting, Dull is a registered nurse at Wake Forest Baptist. "It has been such a fun process, with a wonderful cast made up of people who really adapt themselves into their characters and portray it so comically on the stage. It is the perfect Halloween treat," Dull said. "And of course, there will be lots of blood."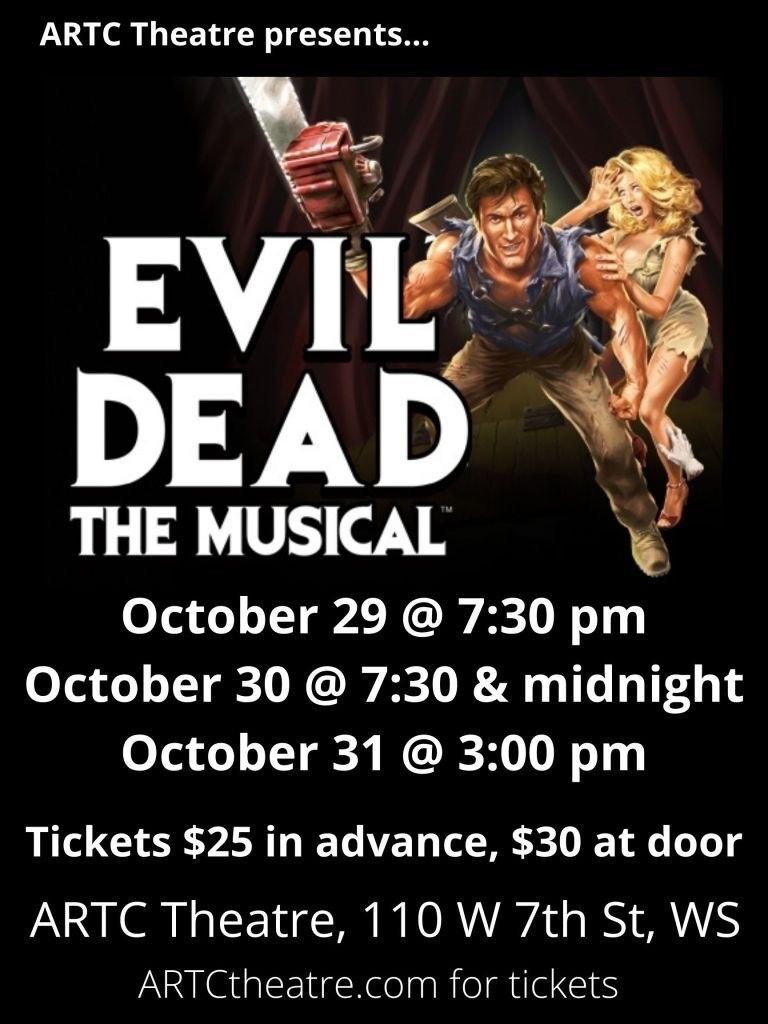 Cohen has worked tirelessly to perfect their special effects in the show. "I am so excited to show the audience what we have done. Not only did we recreate the cabin atmosphere, but we wanted our guests to have an out-of-body experience by labeling our first two rows closest to downstage as splash zones, and we will be offering ponchos for those who decided to sit there," Cohen said. "They are the best seats in the house."
ARTC prides itself on inclusivity among its members. "Some of the actors have never performed on stage before, but I am so impressed and shocked with their natural stage presence," Cohen shared. "There are some songs in the show with higher ranges, and our cast has done nothing but exceed all expectations, and I couldn't be prouder of them." 
Cohen ends with, "For our midnight showing, we will be opening our doors at 10:30 p.m. for drinks, mingling, and a costume contest of $100 to the one with the best costume before the show begins."
ARTC hopes to make Evil Dead: The Musical the equivalent to the Wizard of Oz of horror, a traditional performance for every Halloween season.