"Well, it's better than the one Diamondback presented."
Similar sentiments were heard following four (five if you count the day watching the team work) workshops to help developers know what Jamestown residents and many from the surrounding extraterritorial jurisdiction area wanted to see when the 467-acre former Johnson farm property along Guilford College and Mackay roads is developed. 
Diamondback Investment Group's earlier plan was rejected by both the Jamestown Planning Board and Town Council. Diamondback sold the property to D.R. Horton the end of June.
No one spoke up to say this new plan was perfect.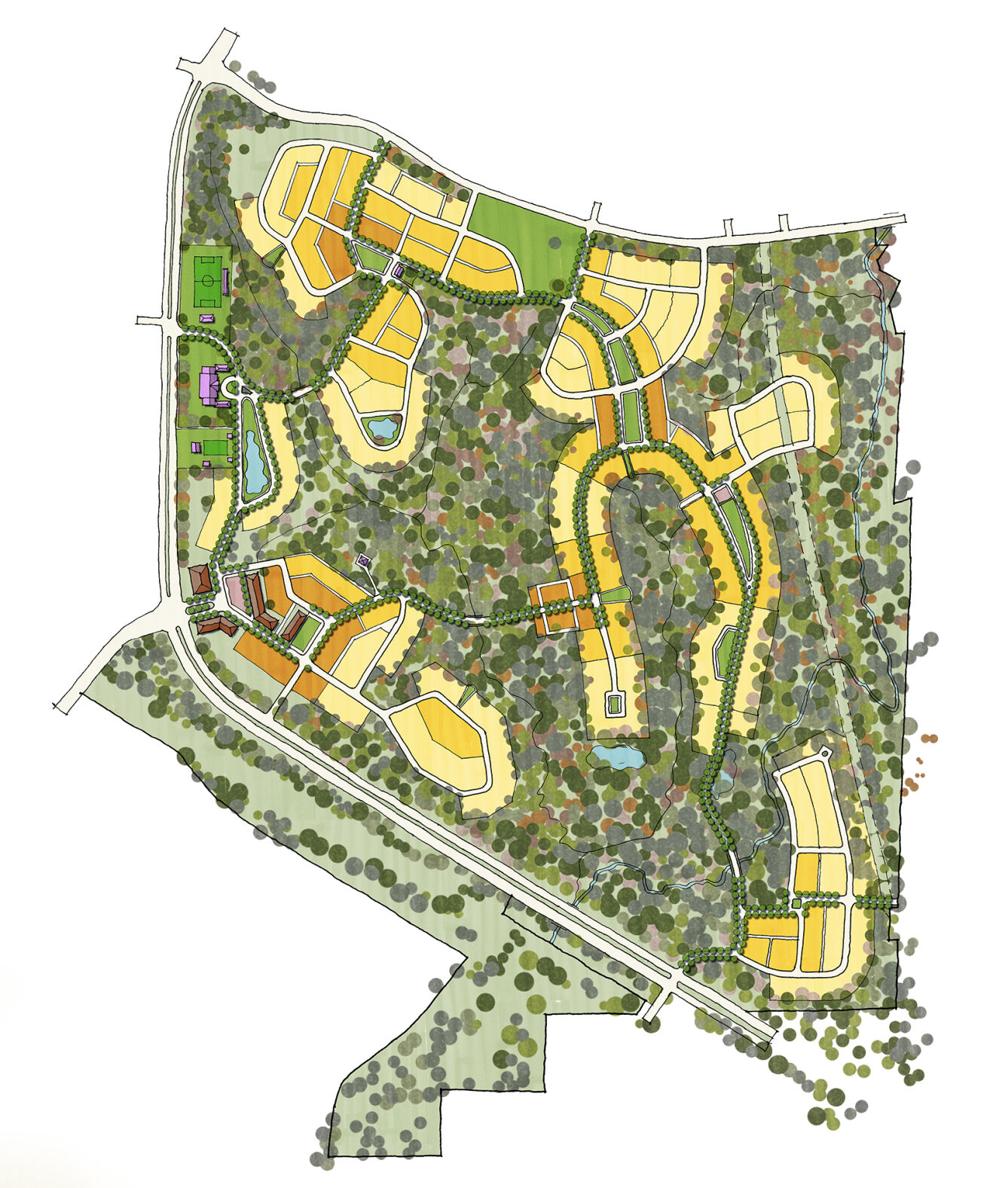 Seth Harry, of Seth Harry and Associates, Inc. Architects and Planners, of Frederick, Md., led the Property Visioning Workshops Sept. 14-18, which were both in person and online. The company specializes in urban design and town planning. On Saturday, Harry presented his final draft vision plan.
"Harry's sole purpose is to be the advocate for our citizens and Town Council in helping to have the citizens set the design for this particular property," said Interim Town Manager Dave Treme. "Our purpose is to look out for the best interest of Jamestown and for the citizens."
Once a plan is finalized, a development agreement will be attached to that property. This agreement must be followed no matter who the owner is.
"We tell the developer what we want," Treme said. "D.R. Horton [the current owner] is willing to work with us." 
In fact, representatives from the property's owner, D.R. Horton, attended the workshop and participated the first night by noting their preferences. They listened to the community's concerns and preferences.
The developer, however, is not bound to the exact design plan Harry presented.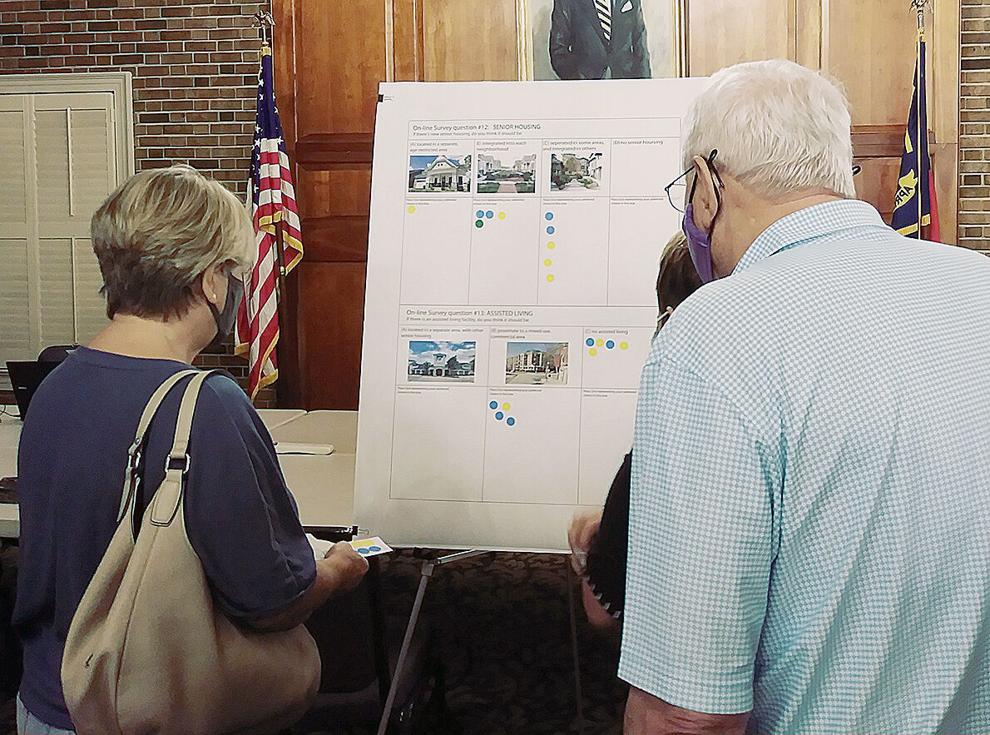 Rather than starting the workshop by asking those in attendance what they wanted, Harry discussed how neighborhoods have changed over the years and showed several examples, then presented thirteen possible development concepts for attendees to study and vote on by placing a dot on their preferences. The following evening, Harry presented those results. [See sidebar.] Each successive meeting featured refined plans for additional feedback until the final draft plan was presented during a two-hour session on Saturday.
The final draft concept represented what Harry's group believed was what the community wanted to be developed on the Johnson property, whether Harry thinks this was the best plan or not.
"If we were to do that, it would have both legal and economic implications for the town and the residents as a whole," he said without specifying the implications.
Harry believes the Johnson property should be developed into several neighborhoods and he focused on three qualities of a neighborhood, the center, general neighborhood and edge. The center could have some retail/mixed-use components along with residential and would be within walking distance of all homes in the neighborhood, approximately one-quarter mile from the edge, where larger homes and lots could be located. This would be a new traditional neighborhood development, a style mentioned in the 2007 Comprehensive Plan and the proposed 2021 Plan.
Highlights of the draft plan include walking trails, preservation of the Futrell-Mackey-Armstrong house on Guilford College Road with the addition of a formal garden, community center, a small commercial development at the intersection of Guilford and Guilford College roads, multi-family homes (condominiums) near the commercial development, residential streets designed to discourage speeding, as many trees as possible preserved on home sites with approximately one-third of the total acreage preserved as green space.
Although Harry's team did not calculate the total number of units in the plan, a comparison with Diamondback Investment's final plan indicates there could be around half as many units in the new plan. Harry estimated the largest lot sizes would be approximately one-third of an acre, comparable to the Forestdale neighborhood in Jamestown.
The small area at the northeast corner of Mackay and Guilford College roads as well as the strip south of Guilford College Road, backing up to Whittington Hall, were not considered in the plan, due to utility easements and uneven terrain.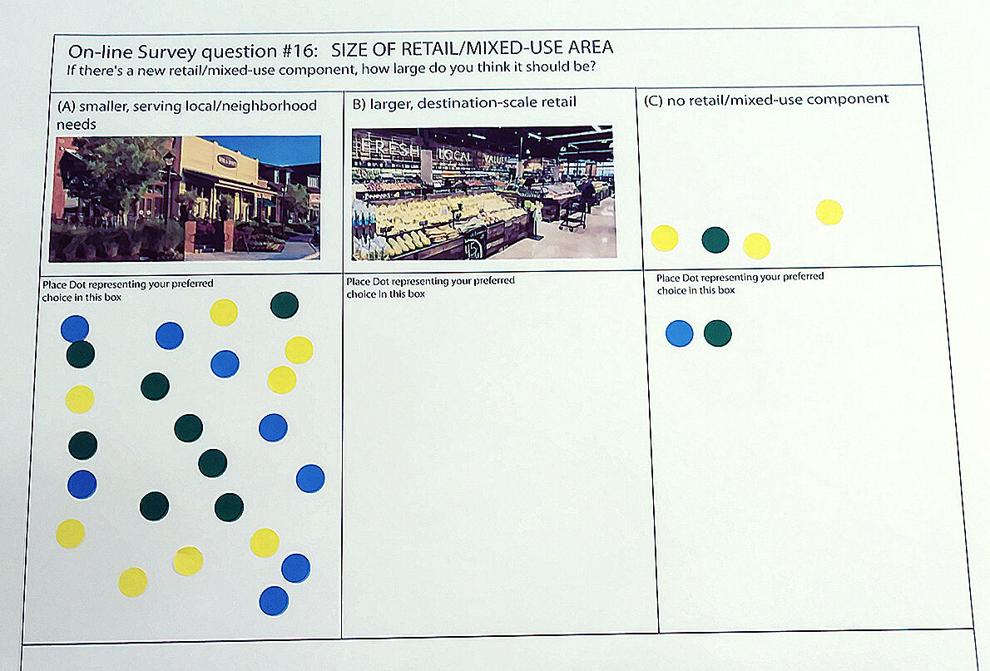 As expected, several in attendance were concerned that development would bring in more children to the already crowded Guilford County School System, and asked what could be done. Nearby Pilot, Millis Road and Jamestown elementary schools, Jamestown Middle School and Ragsdale High Schools would be impacted by the demand, as could Southwest Elementary, Middle and High School and Sedgefield Elementary. Harry said a developer could choose to donate a portion of the property for a school. However, it is up to the school system to determine a school's need and location, not a developer.
In the draft concept, a school with an athletic field is indicated along Guilford College Road across from Cedarwood but its size is more on the line of a charter school. 
Although this was a final concept it was still only a draft.
"After the final presentation, other things will be done," Treme said. Harry's team will listen to the comments from Saturday and integrate them into the design, which will see more refining.
"You can still submit comments before the final plan is presented to the Town Council," Treme added.
Harry's involvement does not end with the final plan. He will be available during the development stage with D.R. Horton and will be working with Tom Terrell, the Town's land use attorney, on the development.
Harry admitted his new "hybrid" in person and online presentation had some glitches, including finishing his Saturday PowerPoint presentation after the meeting was to have started. Several meetings began after the appointed time.
"The idea was to have the in person and online as close as possible," Harry said.
That didn't always sync up. There was no video feed the first night, a problem discovered after the fact and a questionnaire was handed out in person after some of the participants had left. There was also a problem with bandwidth for online viewers.
Treme estimated about one-third of the attendees came to each workshop session or viewed it online.
---
Dots indicate preferences
On the first night of the workshop, attendees had the opportunity to view 13 options they would like or not like to see in a new development. The results are below and the percentages are from in-person workshop.
• The neighborhood structure should include a mix of house types and price points, rather than uniform "pods" based on house types and price points. (89 percent)
• Streets should be designed for slower car speeds and volumes. (91 percent)
• An overwhelming number voted for both large and small recreational amenities or open spaces. (74 percent)
• Street design should be pedestrian-oriented with trees, on-street parking, sidewalks, front porches, etc. (91 percent)
• For vehicle access to the home, the majority preferred a combination of "front-loaded" with garages at the street and "rear-loaded," with garages in the back from an alley. (74 percent)
• Attendees preferred a variety of house types and price points within each neighborhood. (97 percent)
• There was a strong preference for traditional architecture (60 percent) with a mixture of styles receiving 38 percent.
• All responses (100 percent) indicated multi-family housing was acceptable as long as it was in smaller buildings that blend in with the overall style of the neighborhood. There were no votes for large apartment buildings.
• The votes were split as to whether senior housing should be integrated within other housing or in a separate area.
• Assisted living housing was rejected by 58 percent of the attendees, while 34 percent approved if it was placed near a retail/mixed-use area.
• Nearly half (48 percent) favored having retail/mixed-use, but not near the Guilford/Guilford College roads intersection, while 33 percent indicated they preferred no retail/mixed-use. Online surveys brought different results, with only 4 percent preferring moving retail/mixed-use away from the intersection, but 70 percent voting to have no retail/mixed-use.
• Most in-person votes preferred a smaller retail/mixed-use component serving the neighborhood, but several indicated they did not want any retail/mixed-use. (percentages offered were incorrect)
Harry noted that if these answers showed mixed preferences, the final plan would show both.