A casual conversation over dinner with friends at the Full Moon Oyster Bar in Jamestown has turned into a part-time business for Virginia Washburn Rothermel. Her husband had ordered oysters and a discussion about crafts made from oyster shells ensued.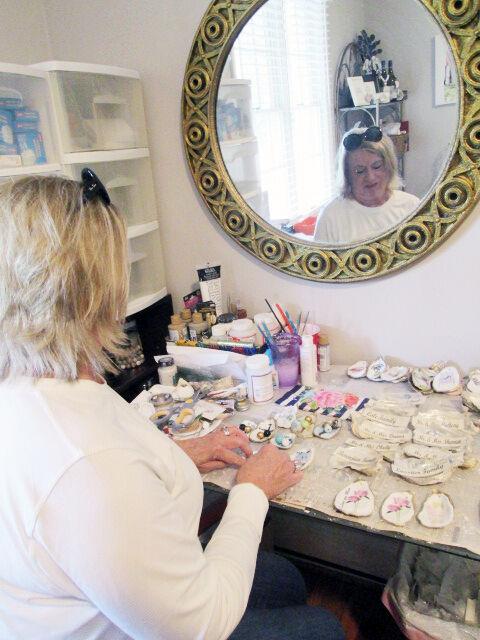 Rothermel had seen items made from oyster shells that, although pretty, were in her estimation quite pricey. 
"I wanted to try making something and brought my husband's shells home," she said.
Online research was key to learning how to thoroughly clean the shells as well as ways to decorate and use them. 
"Oysters are bottom-feeders so the shells can be full of bacteria. If not cleaned well they could begin to smell," Rothermel said. "I soak them in a bleach solution for 48 hours, twice the recommended time. I then wash the shells with soap and water and allow them to air dry. The whole process takes about two and a half days." 
Once the shells are cleaned, she uses pictures from old books, magazines, napkins, the internet and even photographs to decorate the shells, coating them with two layers of a waterproof sealer to make them durable. She sometimes uses a gold leaf pen to put a border on the shells' outer edges.
Rothermel admits creating the shells has been a learn-as-you-go process. She has generated social media friends with similar interests who share ideas and product suggestions. 
After posting some of her shells on social media in November 2021, her business, which she calls Perfectly Imperfect By Va (short for Virginia), started to grow.
"When deciding on a name, I looked at the shells and they are so irregular with bumps and different shapes," Rothermel said. "They are not perfect, just like us. We are perfectly imperfect, that is how God made us. The name just fit."  
People began to message Rothermel and ask for special shells incorporating pictures of their pets and other photos. She started showing her designs at pop-ups and vendor markets as well as placing some in shops.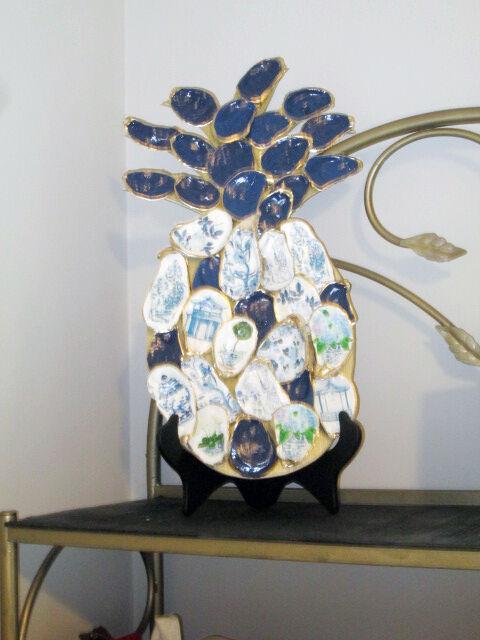 Last September, Rothermel donated shells to help with Childhood Cancer Awareness and Chad Tucker contacted her to arrange an interview for a segment of Roy's Folks.
"After that my phone began to ring like crazy," Rothermel said. "One lady has purchased about 500 shells from me."
In addition to her individual shell designs, Rothermel has used some of them to create wreaths, prayer boxes, picture frames, Nativity sets and North Carolina maps.  
"My favorite thing is to do custom shells with pictures or ideas that a customer has. I am currently making 80 place cards for a wedding reception in Wilmington. The farthest I have sent shells is California. People from other countries have looked at my website, but I have not sent anything out of the States yet. I am open to doing that."
Since the popularity of her shells has increased, her husband Bill has begun to help with the process. He cleans the shells and drills holes in the ones Rothermel plans to use as ornaments. She sells her finished shells for $10 apiece, sometimes more for custom orders,
The time Rothermel invests in her craft varies depending on the number of orders she has and if she has a show pending.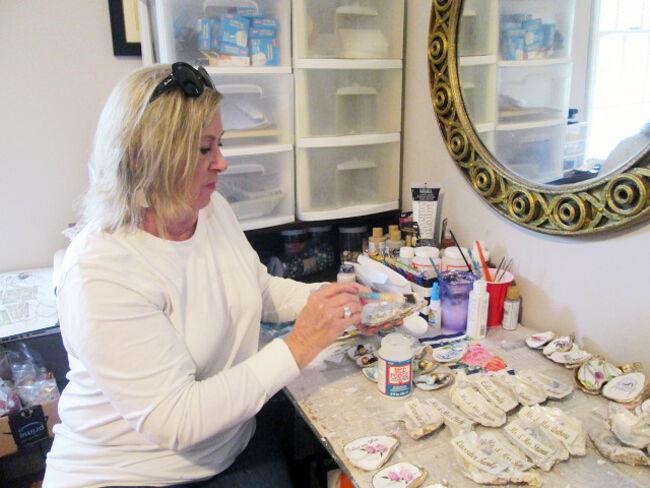 "Working on the shells is relaxing," she said. "It is therapy to me. "I like to sit in my craft room with no television or music and just focus on a project or ideas for more designs."
Rothermel's background is actually science, not art. With a degree in nursing, she worked at Hospice Home in High Point for years before beginning to teach health science in Randolph County in 2011. She currently teaches health science in grades 9-12 at Ragsdale High School.
"A friend once told me I had a flair for decorating, but I have never been into crafts," she said. "I say that I cannot draw a stick man, but designing the shells is not painting, it's decoupage."
Although she has made, sold and gifted thousands of shells, she still has the first shell she made. It is a reminder of how she started.
"(Creating shells) is my retirement plan," said Rothermel with a smile.
To see examples of Rothermel's work, visit her website at perfectlyimperfectbyva.com. You can contact her at 336-689-4599 or email perfectlyimperfectbyva@gmail.com.