The Town of Jamestown has announced the addition of two new land-use advisors.
"We thought that what we were missing the last time out [with the Johnson property] was an organized public process," said Interim Town Manager Dave Treme of the long discussions about the style of development proposed by Diamondback Investment Group. "Seth Harry and Associates will provide a public engagement process that would have the citizens of our community help share what it is they might like to see. We want [Harry] to be an advocate for the Council, Planning Board and citizens. We want to have influence as to what this is going to look like rather than having something just presented to us.
"We are going to hammer out a development agreement that would have the owner-developer meet certain guidelines and standards that we set forth," he added regarding the hiring of land use attorney Tom Terrell.
"This mayor and this board have said we want to do this well for the town. This is a once-in-a-couple-of-hundred years decision. You'll never make this kind of decision again. This is a bold process for a small town."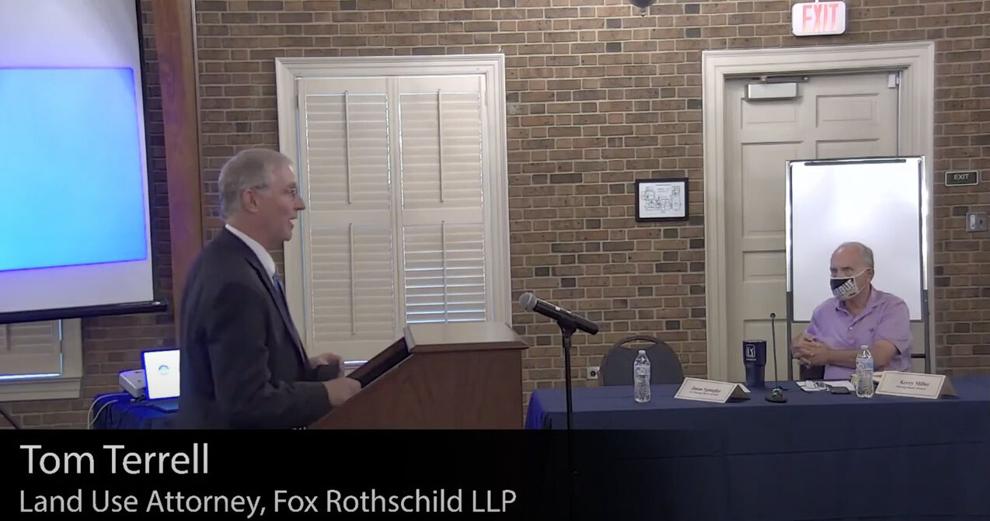 Tom Terrell
Tom Terrell has been appointed land use attorney for the Town of Jamestown. Terrell is with Fox Rothschild LLP in Greensboro and has handled land use, zoning and environmental matters throughout the South, in state and federal trial courts and state appellate courts. He has nearly 36 years experience in land-use zoning and development.
"I'm going to be more laser-focused on the Johnson property," Terrell said about his presentation to the combined Town Council and Planning Board on Aug. 11, "and some decisions that lie ahead of you as a town.
"It is uncommon than any town anywhere has a tract of land this large and this central and an opportunity to decide what it's going to be. You cannot afford to get this wrong. It will change the character, the functionality of this town forever."
He said the roll of the Planning Board was not to design a site and not to step into the role of developer. By statute, the board's roll is to look at the town's Comprehensive Plan and to determine whether of not a plan agrees generally, not 100 percent, with the town's vision for its future.
"You can raise issues and make recommendations and you ought to be doing that," Terrell advised. "Don't confuse density with quality. They are completely unrelated."
Terrell had complementary things to say about Interim Town Manager Dave Treme.
"I have never seen an interim come into a town like this that was facing such a big issue and proactively and with such energy take on a topic like you have in front of you," Terrell said. "He has become a great guardian of this town's future."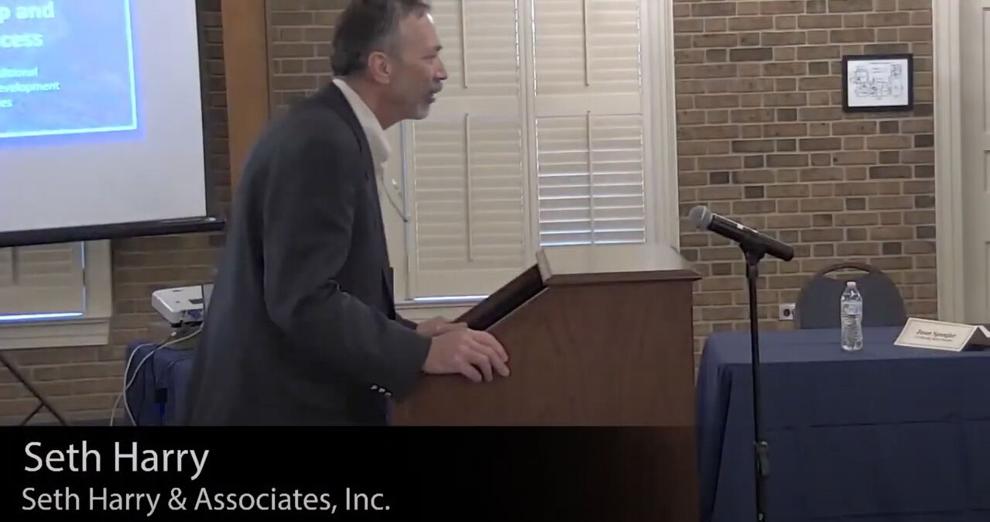 Seth Harry
Seth Harry has been appointed community planner for the town. He is the founder of Seth Harry and Associates, Architects and Planners. He has over 35 years of professional experience in architecture and community in the United States and overseas. His experiences include planning, design and implementation of small and large-scale community developments, urban and suburban mixed-use infill projects, transit-oriented development.
The team works with the public in outreach and engagement to learn what the community wants from development. He has planned 2-hour public workshops for Sept. 14-18. The D.R. Horton company has been invited to these workshops.
He will take the feedback information from each meeting and draw plans, renderings and models that represent those ideas. These plans will be presented at the following meetings to see if what was heard was what the community wanted. 
The workshops will be recorded and available to those who cannot attend.
"By the end of the process, the community will have a very clear confirmation that their voices have been heard and incorporated in the plan. This is like a visioning process where we are soliciting input from the general community.
"We talk about creating specific design standards to make sure the projects are implemented as designed and represented," Harry said of the process to help the community be more informed in the process. "We talk about whatever commercial uses we might propose would support the downtown and complement it.
Harry also discussed types of planning principles, including neighborhood structure, building types and road networking.
Terrell's and Harry's full presentations may be viewed at www.youtube.com/watch?v=oXNzQBuxuQ8.