Last year's tour of the burial ground at Deep River Friends Meeting was such a success that the Historic Jamestown Society is offering it again this year – for four days instead of the one held last year.
"I was delightfully surprised by the robust turnout for last year's cemetery walk," said Shawn Rogers, director of the Mendenhall Homeplace in Jamestown. "Unfortunately, a number of folks reached out to me last year to express their disappointment with the fact that we only offered one tour. We made sure to address that issue this time around."
This year's "Tales from Beyond the Grave" will be held Oct. 15, 16, 29 and 30, beginning each day at 4 p.m. Rogers will tell stories about some of those interred in the burial ground, often ending up at the person's gravesite.
"We view the tour as a fun and educational way of highlighting some of the more interesting and meaningful stories associated with folks who are buried in Deep River Friends Cemetery," he continued. "Many of their lives have had a lasting impact on our community and we believe that their stories are worthy of being shared."
Many familiar names from the Jamestown area such as Armfield, Beard, Briggs, Lamb, Mendenhall, Ragsdale, and Stewart can be found while perusing the grounds. 
"This is a means of raising much needed funds for Mendenhall Homeplace and Historic Jamestown Society," Rogers said. "We are recommending a donation of $5 per person, with proceeds benefitting HJS. However, all are welcome regardless of their ability to contribute."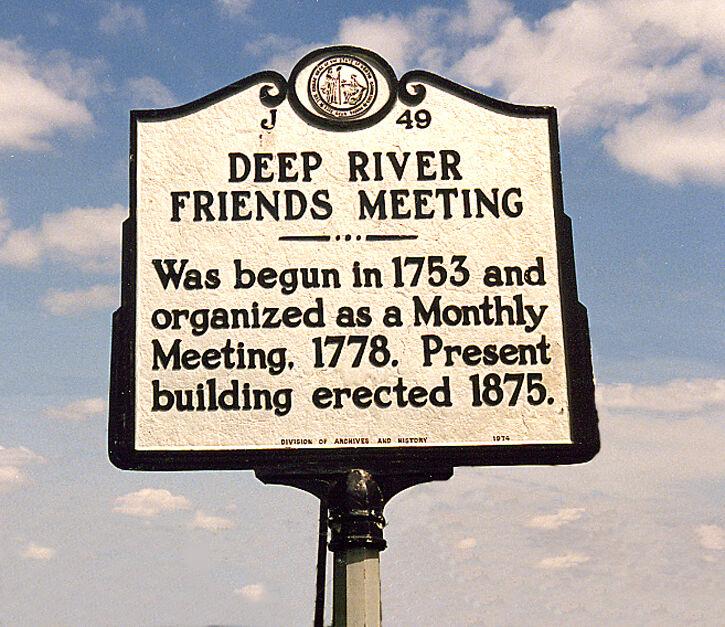 Even though the tour takes place just before Halloween, Rogers said it is not a Halloween tour, "per se."
"A ghost, or two, will likely be mentioned," he said. "However, a few true-to-life stories will be told that are just as ghoulish and scary as any ghost story you may have heard."
Reservations are not necessary for the tour but those wishing to participate should meet at 4 p.m. at Deep River Friends parking lot at 5300 W. Wendover Ave. in High Point. All current Covid-19 guidelines will be followed during the event. Comfortable clothing is recommended.
---
When the early Quakers (Society of Friends) settled in the area around what is now Jamestown, they needed a place to worship. They established Deep River Friends Meeting in 1754 at what is now the corner of Penny Road and West Wendover Avenue and buried their dead in a cemetery beside the meetinghouse. The site is listed on the National Register of Historic Places.
Deep River Friends Meeting Cemetery is one of the oldest in Guilford County but there are no records to indicate when the cemetery was established. The actual number buried there is unknown but Mendenhall Homeplace Director Shawn Rogers estimates there could be over 1,000 in the old burying ground.
The church's website states, "The earliest Friends did not believe in marking graves, but occasionally a rough fieldstone was used, the deceased's initials scratched on the surface. It is interesting to note that as this custom became more widespread and elaborate, regulations for maintaining simplicity were established. An 1831 instruction states that stones were to be no higher than nine inches with only the initials of the deceased. By 1846 the instruction was relaxed to a height of 12 inches, with names, birth and death dates. The oldest section of the cemetery, known originally as the Burying Ground, is largely free of grave markers."
"Understandably, burial records for the cemetery are not complete," Rogers said. "Keep in mind that many early burials were not recorded and some of the records have been lost to time. Deaths were often recorded in Quaker meeting minutes, but burials rarely were. Also consider that many early Quaker burials were unmarked, or marked with a simple fieldstone devoid of any identifying information. A number of fieldstones have been removed over the years, or have seemingly sunk below the ground, due to erosion and the effects of the freeze-thaw cycle."