There's nothing new to see here. Members of the handbell choir at Jamestown United Methodist Church have participated in the Capital Area Handbell Festival in Raleigh for 33 years since it first began. 
This year was no exception as members of the JUMC handbell choir attended the festival held Nov. 5 in the Kerr Scott Building at the North Carolina State Fairgrounds. Sandra Eithun, currently on the faculty at Holy Family Conservatory of Music in Manitowoc, Wis., and leader of its handbell program, served as guest conductor at the event.
The festivals, which are sponsored by The Raleigh Ringers, gather handbell choirs and individuals from throughout the state for a daylong study under noted clinicians. Choirs practice the music before attending the festival and after intensive practice together entertain with a concert featuring all the groups ringing together. 
In addition to JUMC, 23 handbell choirs and 15 individuals participated in this year's festival.
Unlike an orchestra where individual instruments can play a song, the entire handbell choir works together as a single instrument. Each bell ringer adds notes to accomplish a completed song. 
"The director, in a sense, is playing that instrument," said Alan Ebel, the son of JUMC's handbell choir founder.
John Ebel started the handbell choir at JUMC in 1977 and continued to serve as its director until his death in 2013. The choir was named the John R. Ebel Memorial Handbell Choir in his memory. It has 61 bells ranging in five octaves from C below the bass clef to C above the treble clef. Participants usually select the bells for which they feel most comfortable reading the music.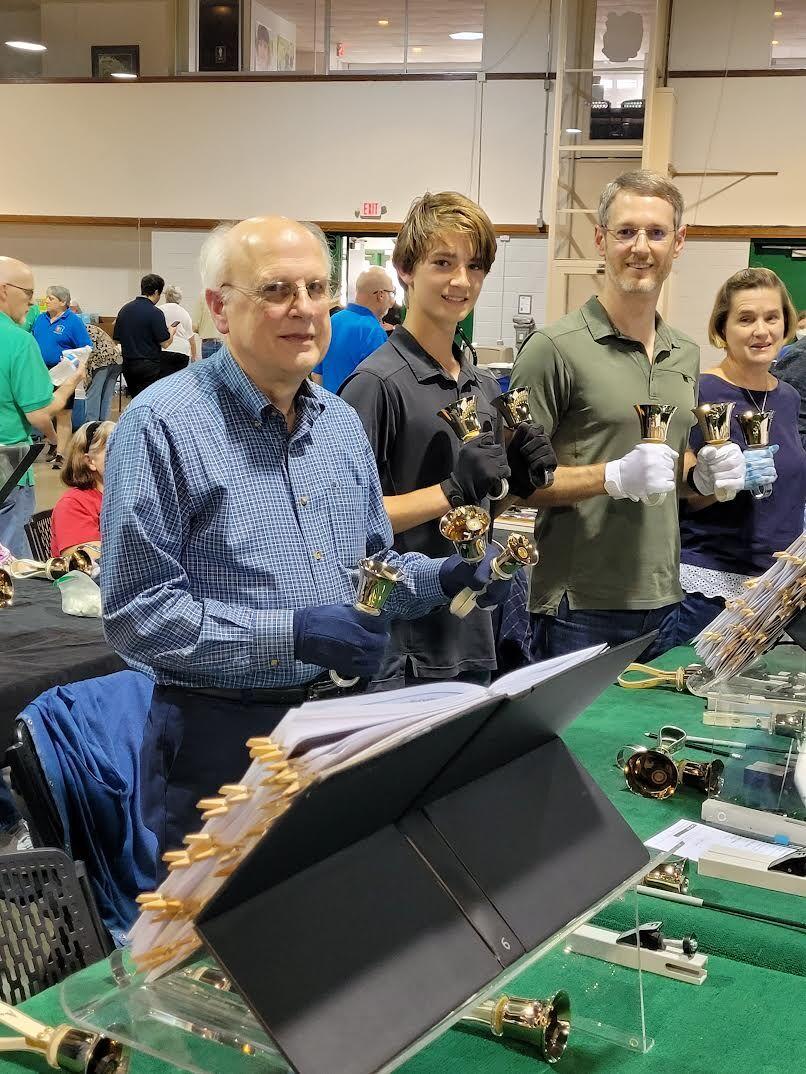 The first year of the festival in Raleigh, John attended the event alone, but each year after that he took members from his church to participate in it and current director Evan Petty has continued the tradition.
Regular members of the JUMC handbell choir are Alan Ebel, Sarah Burger, Barbara Schott, Janet Priddy, Hailey Robins, Leonora Ingle, Katherine Kesslick and youth handbell members Cat Jaroz and Lance Carter. 
Not all members of the handbell choir could go to this year's all-day event, however. Those who attended included the director, along with Alan Ebel, Kesslick, Priddy, Ingle, Jaroz and Burger. 
When more ringers are needed an invitation to fill those spots is extended to others. Ebel was especially pleased that his son Joel and grandson Jonathan were able to participate with JUMC at the festival. 
"It meant a lot to me to have three generations of Ebels ringing together in the choir that my father started," he said. 
"I never considered myself a strong musician even through I was in the school band and in choral groups. Participating in the handbell choir is an interesting way for me to experience continuing in music and to enjoy being part of the group." 
Joel rang as a youth at JUMC and has substituted on occasion as an adult. He participated in a handbell choir when living in California, but his church in Hickory where he now resides does not have handbells. He continues, however, to have the ability to ring in any position. Jonathan plays other musical instruments as well as handbells, and like his father has joined JUMC ringers in the past.
All ringers at the festival learn five pieces of music for the concert. Some, including JUMC, learn a sixth number called the Bronze piece.
But the festivals offer more than an opportunity to participate in a large-scale concert. It allows choirs to learn new, often more difficult music and to perform with different directors. 
"It is interesting to play with a lot of other bell ringers," Ebel said. "It is just a fun, enlightening and rewarding experience."