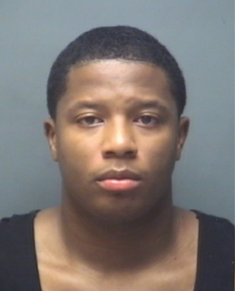 Rayshaun Williams, the Jamestown teenager arrested for threatening mass violence to area schools via social media, was released into the custody of his mother, Jalida Gwinn, on Oct. 1.
Williams, who was arrested Sept. 22 after High Point Police received numerous tips that threats had been made, focusing on Southwest Guilford, Andrews, Southern Guilford, Southeast Guilford and Northeast Guilford, via Snapchat. Pictures of firearms appeared on the site but no firearms were found at Williams' residence in the new Magnolia on Main development in Jamestown, just inside town limits. He admitted to the social media threats when he was arrested.
Williams received a hearing on Oct. 1 and a judge ruled that he was neither a flight risk nor a danger to the community and the $250,000 bond was reduced. The actual amount of the new bond was not released.
Williams' attorney, Jason Keith, believes the original bond was excessive.
"I understand the purpose of the court, the criminal justice system trying to deter that type of activity," Keith told WFMY last week. "However, given the nature of his lack of criminal history his cooperation, the fact he was involved in giving any information they requested, coming from a single-parent home, he's just a high school student who wants to go to the prom. That's an excessive bond."
At Friday's hearing, the principals from Southwest and Northeast Guilford high schools both said they did not oppose the bond being lowered. The state also did not oppose it but wanted it to be within the legal guidelines. 
One stipulation of Williams' release was that he must disable all social media and follow recommendations of a mental health evaluation.
He is expected back in court Oct. 29 and, if found guilty, faces a sentence of 39 months in prison.