The ballroom at the Sedgefield Country Club was decked out in holiday style Dec. 2 for the Sedgefield Woman's Club annual Christmas luncheon/fundraiser. With a theme of Home for the Holidays, guests choose attire ranging from informal to fancy. 
But the day was not about decorations or dress – not really. It was all about people, the people who attended and enjoyed seeing friends old and new, and the people who will benefit from their generosity with funds raised by silent and live auctions, raffles for prizes and a half-and-half raffle. 
The Christmas luncheon is always the largest fundraiser the group holds, but this year it was extremely successful. So many people wanted to attend that many silent auction items had to be placed in the hallways outside the ballroom to allow space for more guests to be seated at the luncheon.  
"Lots of planning and hot glue went into this event," said club president Tara Daniel, smiling. She referred to all the work of the event's many volunteers, as well as the tiny reindeer crafted from wine corks and used as table favors.
Jude Fiorello, chair of the Environmental Committee, served as chair of the 2022 Christmas fundraiser. Co-chairs included Caren Standen, Melissa Babcock, Melissa Klenke and Kristi Slomski.
Other volunteers were Jessica Ball, Ana Atwater, Brandy Gillenwater, Flo Gullickson, Mia Chamberlain, Katie Dyson, Nancy Williams, Nora Swofford, Eileen Robinson, Sara Collins, Jen Bates, Stacey Harris, Mary Guernier, Susan Phelps, Kathy Garrison, Donna Church, Lisa Albertson, Susan Gregory, Beverly Crisp, Margot Jozefowicz, Robin Crosier, Ann Williams, Dana Sheaff, Jennifer Ball, Teresa Brownlow, Kathy Saunders, Alyssa Eddy, Tara Daniel and Sherry Pollock.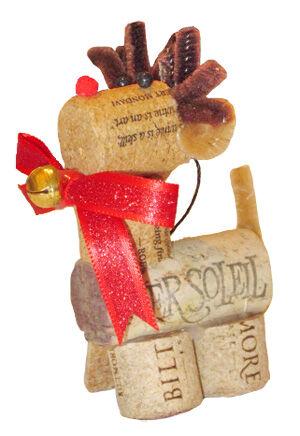 In addition to making 250 tiny wine cork reindeer, the committee used recycled wine bottles as vases for the table centerpieces. They included natural elements such as magnolia leaves and pinecones as part of the recycling theme to help the environment.
Special guests at the event included Vanessa Lowder, president of the General Federation of Women's Clubs District 4, and Kim Fulcher, president of the North Carolina GFWC.
Although Gladys Burrows was unable to attend, Daniel recognized her for her many accomplishments within the woman's club. Burrows, who will turn 100 on Dec. 28, is a charter member of the Sedgefield Woman's Club and served as its president three different times. She also served as state president. The devotional used before the meal was one by Burrows, which was included in two devotional booklets she wrote and compiled to share with other members.
For Burrows' birthday, Celia Hunter made a collage honoring her commitment to the organization.  
During one of his busiest times of the year, Santa, a.k.a. Steven Barrow, turned down other engagements to join the ladies at their annual Christmas luncheon and to serve as guest auctioneer for the live part of the day's auction.
"There are some really nice items," he said. "I am proud to be here."
There were several "bidding wars" that helped increase the proceeds for the fundraiser. 
"Our funds are used to support our community service programs, our scholarship program and to provide assistance to local, state and international organizations so our reach can go farther," Daniel said.