With the ever-rising cost of food and an increased interest in nutrition, some people are beginning to look for better ways to feed themselves and their families. Of course, cultivating a home garden is one way that comes to mind. But not everyone has the space to grow produce at their home, especially apartment dwellers or those with very small yards.
Local YMCAs realize the need for improved food availability and educating members about farm to table benefits.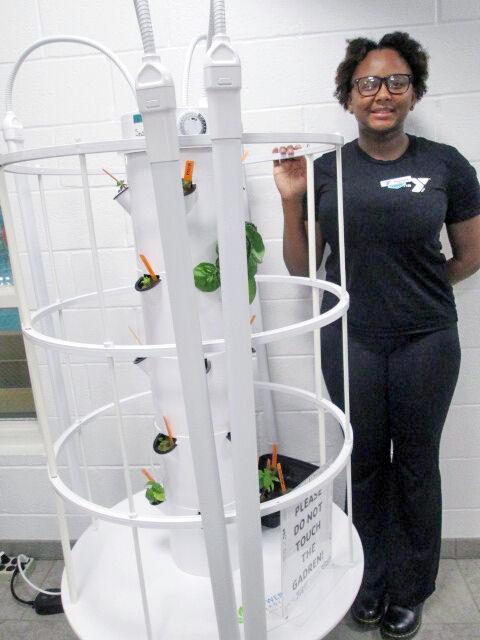 Tashonna Cowles, a fall intern at the Ragsdale Family Y, has taken a leadership role in that Y's "Out of the Garden" project that uses a Tower Garden purchased from Juice Plus+ to grow healthy produce. It is one of three food initiatives that the Y has recently used. Staff has coordinated a food drive, a Farm to Table weeklong information program and setting up a Tower Garden in the lobby of the Y.
"The Hayes-Taylor Memorial YMCA in Greensboro had already established a Tower Garden," Cowles said. "Marlee Rindal (executive director of the Ragsdale Family Y) wanted to share how easy it is to grow food at home with our staff and members."
A Tower Garden uses 10 percent of the water and space of a traditional ground garden. The towers can be used indoors or outside so food may be grown all year. At first glance the cost may seem high, but the towers may be purchased on a payment plan and it is important to weigh the pros of owning a tower against the cons.
Currently the tower at the Ragsdale Family Y, which has 32 pods or growing spaces, is being used for a variety of salad items such as chard, arugula, bibb and gourmet lettuces, basil, and kale, which were started from seeds. Marigolds were added to discourage bugs in the plants. 
"You can plant almost any fruit or vegetable that grows above ground," Cowles said. "We may experiment with other vegetables in the future."
Denise McCullough, an affiliate with Juice Plus+, helped the YMCAs purchase their Tower Gardens, which use aeroponic technology.
"The system is water- and mineral-based," Cowles explained. "The towers water the plants themselves." 
There is also less cleanup with a Tower Garden because it does not use soil. Compared to soil gardening, towers have been shown to increase yields by as much as 30 percent and triple the speed of plant growth. LED indoor grow lights allow the gardens to be used year round.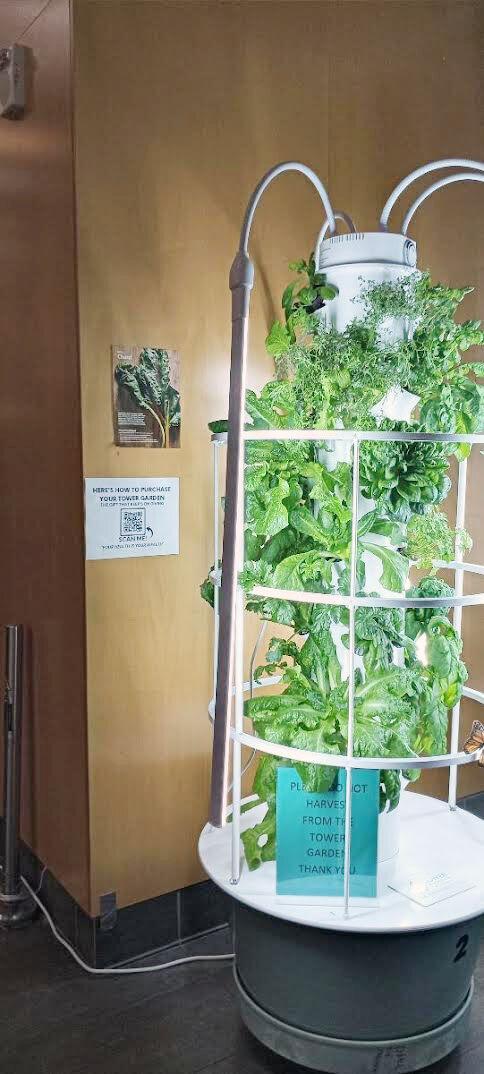 Juice Plus+ offers two kinds of towers: Tower Garden Flex, which can be stacked, and Tower Garden Home. The YMCAs purchased the Tower Garden Home with the addition of the grow lights.
"Our goal is to let people know of another way to grow plants," Cowles said. "Growing your own food can help your nutritional health since no chemicals are used, and also be a source of income."
Jamie Hall-Erath, another local Juice Plus+ affiliate, believes the towers are an easy way for a family to have fresh salad at their fingertips.
"It is also a great way to teach kids about growing things and the importance of good nutrition," she said.
Hall-Erath hopes to introduce her church, First Christian Church of High Point, to the value of a Tower Garden. The church has a large food pantry and provides food to about 80-100 families each month.
"Fresh produce is hard to find, "she said. "The Tower Garden would help provide that."
Meanwhile, local YMCAs have a head start in growing lots of food in a little space.