Being born an American citizen could certainly be considered a blessing. Becoming a naturalized citizen, however, takes lots of effort. But it is well worth the time and energy to those who seek citizenship in what was referred to for years as "the melting pot of the world."  
Immigrants have come to this country with the idea they could become Americans no matter their origins. Although immigration to the United States is more complicated than it was over a hundred years ago, the idea is still the same. People from all over the world are welcomed and encouraged to integrate into American society through citizenship. 
To become a citizen, an immigrant needs to learn about America's social, economic, and cultural standards, starting with at least a basic ability to understand and use the English language.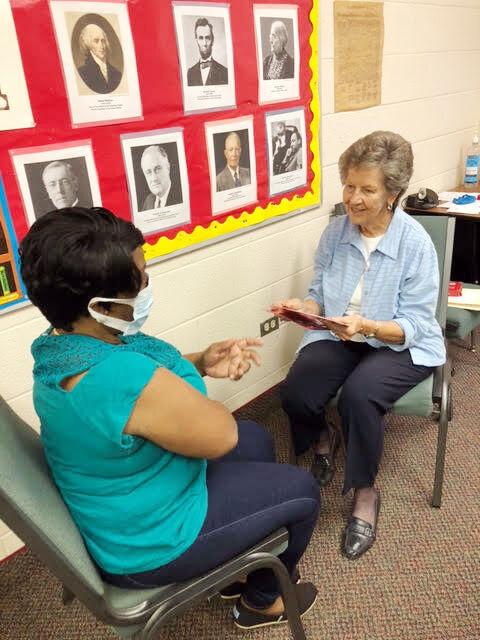 Since 2013, Brenda Forlines has been helping area immigrants gain the status of American citizen. She, along with Evelyn Frost and Chuck and Ola Moy, teaches weekly citizenship classes at Friendly Avenue Baptist Church in Greensboro.
Following graduation from college, Forlines taught school for two years. Feeling led to attend seminary, she then began a lifetime career working with the Baptist Home Mission Board (later called North American Mission Board). She worked as director of Christian Social Ministry at various Baptist associations along the east coast ranging from the inter city of Philadelphia to Jacksonville, Fla. 
"I always did the same type of work only under different titles," she said. "My job was to get churches more involved in the community through outreach."
During her last six years in Florida, Forlines also worked with a group of Karen people from Burma.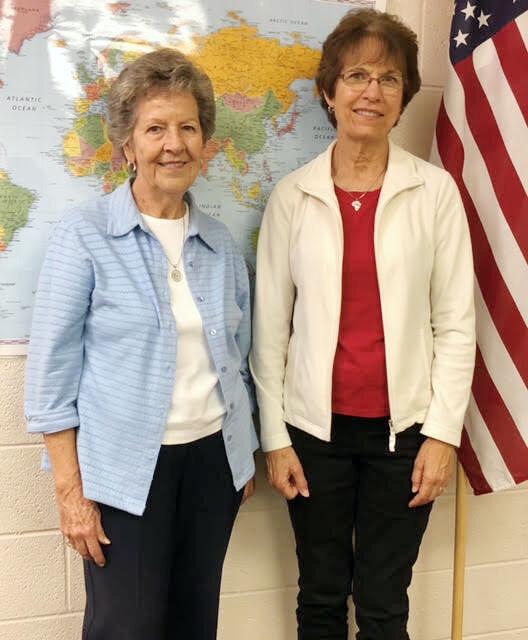 "I fell in love with these people," Forlines said. "After I retired and moved to High Point to be near family, I still wanted to work with them. I found out Friendly Avenue Baptist had a Karen ministry and talked to Bryan Bresson, pastor of its Karen church, about how I could help. He said they needed a citizenship class." 
The rest, as the cliché goes, "is history." Forlines has been helping to teach citizenship class ever since.
To apply for citizenship, an immigrant must have legally lived in the United States for a minimum of five years (three if married) and have a green card. They also must be able to speak, read and write basic English. 
In class they learn 100 facts about the history, Constitution, Declaration of Independence and economy of the United States from the 1700s forward. The United States Citizenship Immigration Service supplies a list of words that students also must study. 
The immigration test will include 10 questions from the 100 facts they have learned and applicants must demonstrate the ability to read a sentence and write one that is dictated to them.
"Each week we teach five-eight questions, then break into small groups and practice going over them," Forlines explained. "I give homework to help them practice."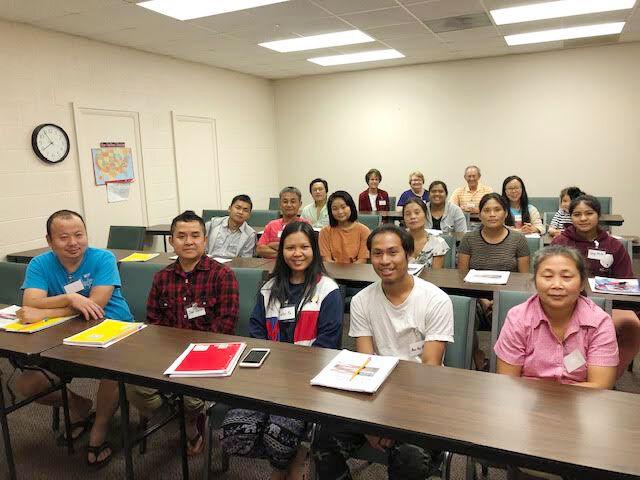 Forlines and friends also help immigrants fill out their citizenship application forms, which are very detailed.
"People take the class until they are ready to take the test," Forlines acknowledged. "I encourage them to let me decide when that is. It could take months or years, depending on their speaking ability. The younger ones who have been to school here do well, but it is harder on the older ones." 
The citizenship classes have had 82 people become United States citizens. There are three applications pending, two of which Forlines hopes become final in October.
"All my life I've asked God to open my eyes to needs around me and to how I might fill those needs," she said. "God led me to this ministry and I will keep doing it until God tells me not to."