As you walk around the house, the acrid smell of burnt wood fills the senses, and the odor becomes even more pungent as you approach the door and peer inside. A glance reveals the smoky remains of a house, totally lost on Oct. 5 to the residents who called it home just hours before.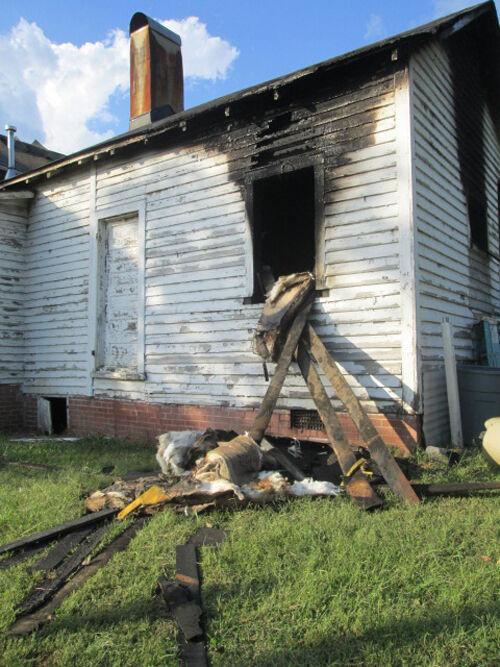 Mary McClure lived in the house near the entrance to Oakdale Mill Village with her daughter Joanie Lambert and her two granddaughters ages 11 and 14. She was siting on the porch with a visitor when she heard a popping, cracking noise and ran to the front door to see what was happening.
"The house was already filled with smoke," McClure said. "I ran around the house and grabbed the water hose while the man called 911, but flames were already coming out the back door."
While trying to put out the fire, McClure's hair and eyebrows were singed and she received blisters to her hands. She was treated by EMS on the scene and transported to High Point Hospital, where she was released late in the afternoon. 
"The EMS people were afraid the smoke might have affected my lungs," McClure said. "If I had been inside the house I would probably have been asleep and be dead now." 
Twenty-five firefighters from seven fire units extinguished the fire in about 20 minutes. 
"There is nothing to indicate that the fire was anything but accidental," said Pinecroft/Sedgefield Fire Chief Derek Carson. "The Guilford County Fire Marshall's office will be called in to determine the cause."
McClure has lived in the house for 13 years, but she is far from new to the neighborhood.
"I have lived in the Mill Village for 69 years, since I was six years old," she said. "I started working at Oakdale Cotton Mills when I was 16 and worked there until I retired at age 62. My three daughters were raised in the Mill Village too.
"My main concern is finding some place to live," McClure added. "I have lived (in this neighborhood) almost all my life and would like to stay in this area. I also hope my granddaughters can continue to attend their same school with their friends."
What remains of life as the family knew it are only memories. But the Red Cross and members of the community have already stepped up to start helping them replace needed items. Everyone concerned, however, expressed thankfulness that no lives were lost. 
Postscript
McClure and her family have found a place to live in the same neighborhood. Family, friends and community members have worked hard getting it ready for their move.