Many people have probably heard of "paint by numbers" but the Jamestown Rotary Club starts each meeting "singing by numbers."
"Let's sing number 27," said Martin Senell who leads the group in it opening song feast. There are no books or printed words, only old familiar ditties and the smiling Rotarians readily join in. 
Fellowship is a large part of the weekly meetings, but members take the Rotarian four-way test of all they say and do seriously: Is it the truth? Is it fair to all concerned? Will it build goodwill and better friendships? Will it be beneficial to all concerned?
Club members also are serious about helping the community. To do this, Jamestown Rotary sponsors two major fundraisers – an annual horse show they have hosted for 60 years and the Bow Stafford Golf Classic, which started four years ago.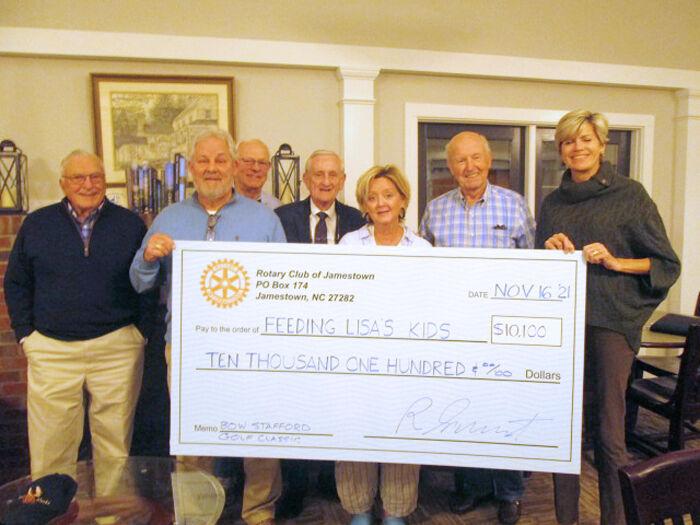 The highlight of the Nov. 16 meeting was the presentation of funds raised at the golf tournament to Lisa Hawley for her non-profit "Feeding Lisa's Kids." Jerry Brett, chairman of the golf tournament and Stephanie Johnson presented Hawley with a large check  representing $10,100, which of course was followed by a check Hawley could take to the bank. The donation will go a long way toward feeding area families for the holidays.
Geoff Swan reported on the distribution of funds earned from the horse show. Checks were mailed to 14 non-profits and community organizations. Swan personally delivered checks to Ragsdale High, Jamestown Middle, Millis Road Elementary and Jamestown Elementary schools to use for needed school supplies.
"Everyone was extremely grateful," Swan noted.
Club members are finalizing plans for the annual Jamestown Christmas parade to be held Dec. 5 at 3 p.m. This year's parade will be extra special since last year it had to be cancelled due to Covid. The parade begins at the Town Hall and continues west to Jamestown Elementary School.
A new event added to holiday festivities this year was a coloring contest, which recently ended. The winner(s) will be announce the week before the parade and receive a photo with Santa and gift certificates to Chick-fil-A at Grandover Village.
"We were very pleased at the participation," said Cliff Paddock, chair of the Christmas parade. "Ages ranged from about 3-20. The Jamestown mayor and council will select the winner."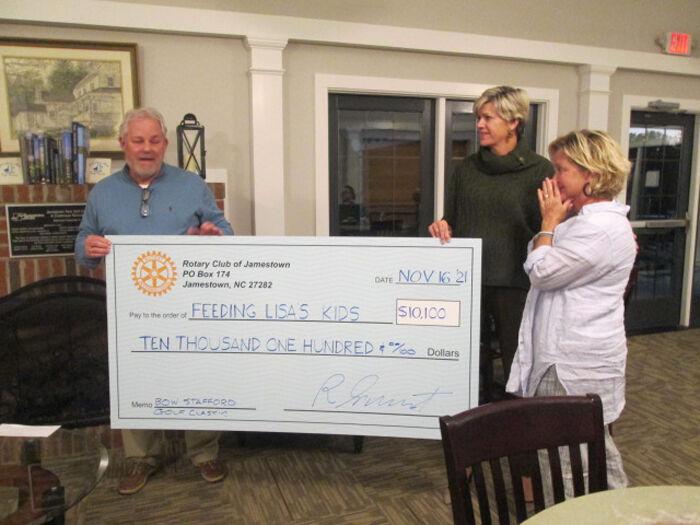 ---
Give something that means something
The Jamestown Rotary Club and Mitchell's Grove United Methodist Church will host a Red Cross Blood Drive at the church on Dec. 10 from 1-5:30 p.m. The church is located at the corner of 3511 E. Martin Luther King Jr. Drive and Harvey Road. 
The easiest way to sign up for the Red Cross Blood Drive is thru the Jamestown Rotary website at https://jamestownrotaryclub.com/blood-drive/. You can also save time by visiting RedCrossBlood/RapidPass and complete the pre-donation reading and health history questions on the day of your appointment.
For more information, contact Jeff Ardoin at www.JamestownRotaryClub.com.