On March 13, 1781, George and Judith Mendenhall opened their front door along Deep River to find that Lord Charles Cornwallis, commander of the British Forces in the Revolutionary War, was nearby.
Cornwallis and his troops were on their way to Guilford Courthouse about 11 miles away and were tired and hungry. With their supply depot all the way in Wilmington, they were pillaging the country and taking what they wanted, wherever they wanted.
After setting up camp at Deep River Friends Meeting, at what is now the Penny Road/Wendover Avenue/Hwy. 68 area, several British soldiers were dispatched to Mendenhall's Mill, about two miles away to secure grain and other supplies.
The dispatch read, "A party of one officer and fifty privates from the Brigade of the Guards to parade immediately and march to Mendenhall's Mill. A guard will attend from headquarters."
The mill was built in the 1750s by James Mendenhall and was then run by his son, George. The site is covered today by the High Point City Lake but at the time, Deep River ran along the property. (Ruins of the mill can be seen near the bridge over the lake on Penny Road when the water level is down.)
Earlier in the day, Cornwallis' soldiers had crossed Deep River near the present bridge on W. Main Street in Jamestown. A plaque was erected in 1934 at the spot in High Point City Lake Park.
On March 14, the troops left the mill and plundered the grain and food — and possibly the family's last milk cow. Several tales exist that say Judith Mendenhall demanded that the cow be saved, and it was.
George C. Mendenhall, son of George and Judith, wrote of his brother Nathan's remembrance of the time: "He distinctly remembered seeing, when some 5 years old, Lord Cornwallis with his staff of officers, encamped on Deep River on the hill within site of his father's mill and dwelling house …"
The next day, March 15, Cornwallis and his troops marched to New Garden Friends Meeting, now Guilford College, and battled the Continental Army. Later that day, there was another encounter at nearby Guilford Courthouse. There, after a battle of about two hours, the British defeated the Continental Army, commanded by General Nathanael Greene. 
Although they won the battle, 93 British soldiers were killed, 413 were wounded, and 26 were missing, totals representing about 25 percent of the British force. The Continental army lost about 6 percent. The forces were so depleted that seven months later, Cornwallis and the British surrendered at Yorktown, Va., ending the Revolutionary War.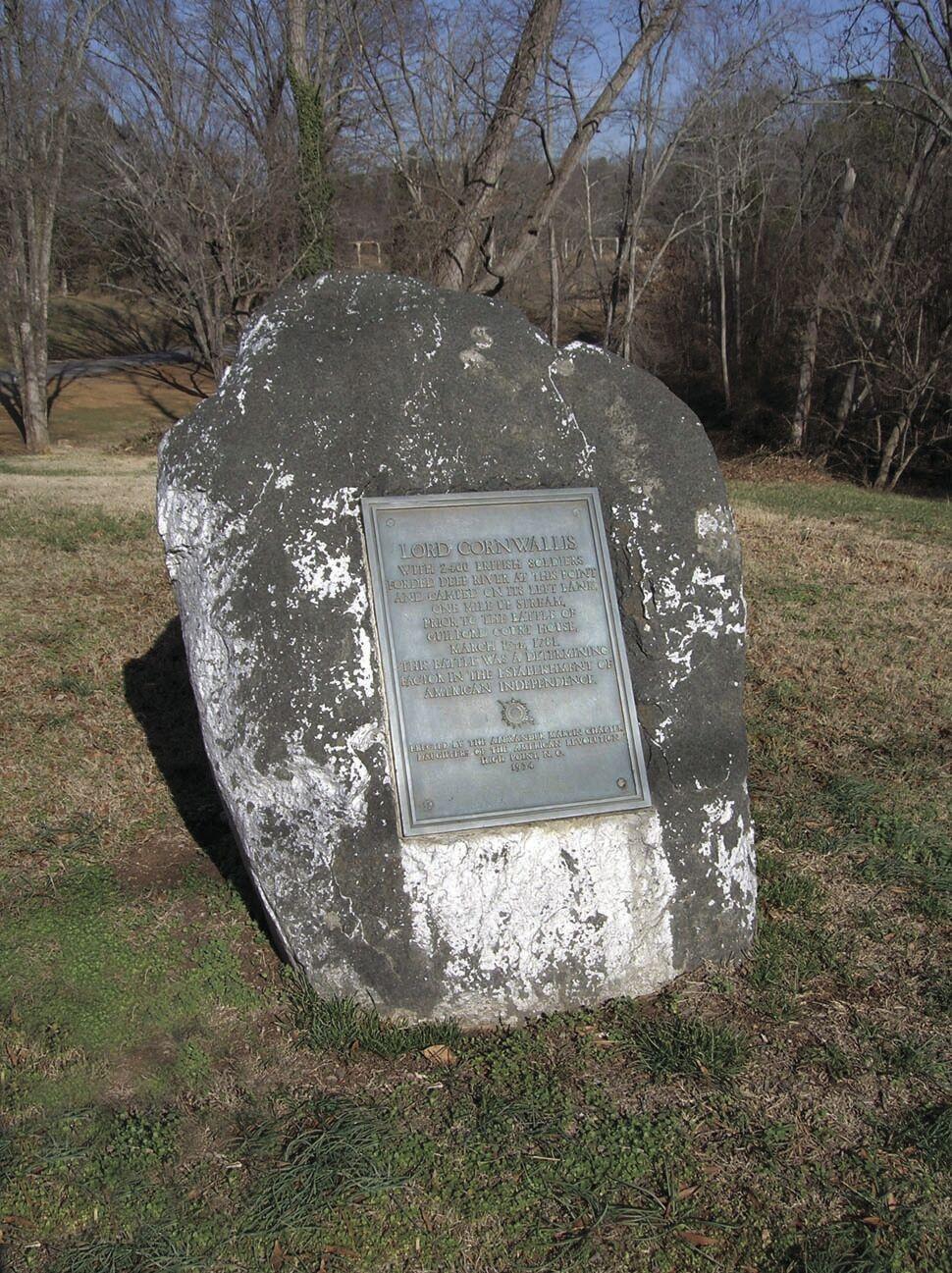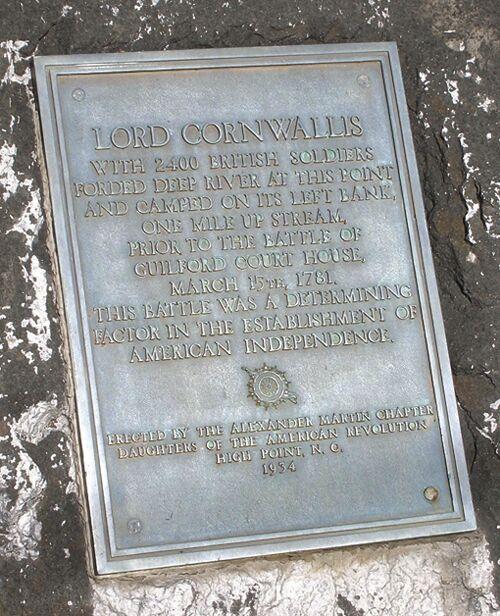 It might be noted that Gen. Greene had planned to attack Lord Cornwallis at the camp on Deep River. Green's own writings say so, according to remarks made several years ago by Tom Baker, then staff historian at Guilford Courthouse National Military Park. Cornwallis moved on to the Courthouse before Greene had a chance to attack.
While researching this article, several interesting stories were found. Whether these are substantiated, or just folk tales, they make for interesting companion pieces to the story of Cornwallis in Jamestown.
One article tells of "A large tree which stood in Jamestown for many years was called the Cornwallis tree because legend has it that it grew from a switch carried by Cornwallis to use in switching his horse. While standing talking to some men he absent-mindedly stuck the switch in the ground and it grew into a large shade tree."
Another states that "A physician from Lord Cornwallis' camp ministered to a sick child of the Mendenhalls and a beautiful holly tree was planted in a (unreadable) of cedars which marked Cornwallis' camp to commemorate the occasion."
Still another report has two of Greene's Continental soldiers climbing trees in front of a Methodist church located on Scientific Street. They supposedly could see Cornwallis' camp from there and determined that the British force wasn't as large as earlier reported.
Stories abound at Deep River Friends that British soldiers are buried around the cemetery, but not inside. British soldiers may also be buried at the cemetery at the old Jamestown Friends Meeting in High Point City Lake Park.
---
A re-enactment of the Battle of Guilford Courthouse is held each March. The previous two events were canceled due to Covid, but it returns this year March 12-13 at Country Park, 3905 Nathanael Green Dr. in Greensboro. Re-enactor camps will be open to the public from 10 a.m.-5 p.m. on Saturday and 10 a.m.-3 p.m. on Sunday.
The battle re-enactment will take place at 2 p.m. both days. Re-enactors dressed in period uniforms and carrying weapons stage the battle. Other re-enactors set up military encampments, hold firearms demonstrations, perform music of the area and more.
Parking for the event is at the Jaycee parking lot located at 3802 Jaycee Park Dr. Shuttles will be available to the event site.
The Battle of Guilford Courthouse played a major role in the American Revolution. It was fought on March 15, 1781, between the American forces under Greensboro's namesake, Nathanael Greene, and British Commander Lord Charles Cornwallis. Various parts of the battle took place on portions of land scattered along a path from Lawndale Drive eastward along what is now New Garden Road. 
Guilford Courthouse National Military Park, located at 2332 New Garden Road, will be open both days with limited programs due to staff shortages. It was the first Revolutionary War battlefield preserved by Congress.
For more information, call 336-288-1776 or 336-545-5315 336-373-3648 or visit http://www.guilfordbattlegroundcompany.org, www.nps.gov/guco or https://www.greensboro-nc.gov/departments/parks-recreation/parks-gardens/country-park/battle-of-guilford-courthouse.