(This article originally ran in the Jamestown News Sept. 7, 2011.) 
Like everyone else on that Tuesday morning 20 years ago, David Griffin, Jr. was glued to the television set at his office, watching as events unfolded in New York City after planes struck the World Trade Center. 
Little did he know that within a few days he would be in charge of the demolition of the World Trade Centers.
"As an American, you want to help," he recalled. "The more I watched on TV, (I realized) it was a demolition job. That's what we do."
Griffin is president of D.H. Griffin Wrecking Company on Hilltop Road in Greensboro.
"I decided Wednesday night that I was going up there the next day to see what I could find out," he said. "A lot of people thought I was crazy. I'd never worked in New York (City) and we didn't have any contacts there."
The 43-year-old Jamestown resident, his wife Donna, and their three children, including 10- and 12-year old girls and eight-month-old son, drove up to New York City on Thursday.
"My wife said, 'I don't want you to go by yourself,'" he remembered. "'I want to be there when you come home at night in case you need us.'"
He had no trouble getting into New York City and at 5 a.m. Friday morning, he started walking in the rain the 10-14 blocks toward ground zero, the site of the World Trade Center.
"I had my hardhat on, raincoat and boots. At the first police barricade) I just walked through. My theory is that 85 percent of the time, if you act like you know what's going on, you can skate through a lot of situations."
It wasn't as easy getting through the next barricade, however. The U.S. Army was standing patrol with machine guns and wouldn't let Griffin by without a site pass. But when a woman in a golf cart stopped to offer the soldiers breakfast, he sneaked through the barricades and down the street.
"It was the longest three blocks," he recalled. "I never looked back, but I could feel like someone was going to grab me on the back of my neck."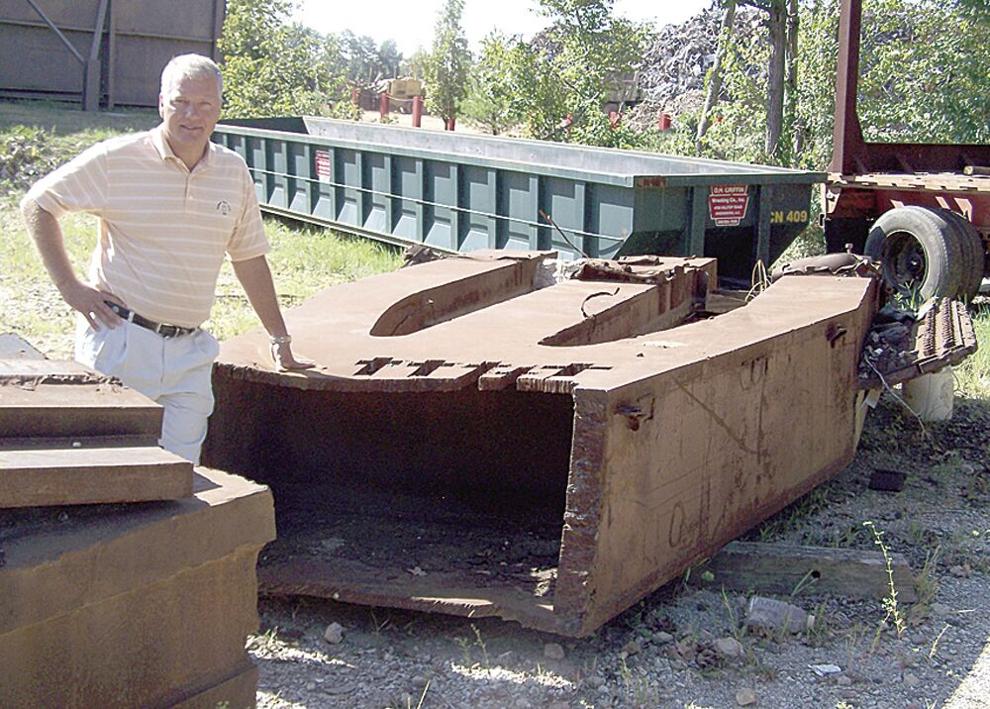 Griffin said walking around the area "was one of the scarier times there because your adrenaline's running. Not even my wife knew (exactly where I was). But I was wanting to help so bad."
During the drive from North Carolina, Griffin had worked the phone, calling everyone he knew in the construction industry who might have contacts in the city. He learned that Bovis Lend Lease had been awarded a $100 million emergency task contract, so he started looking for their area.
Griffin discovered that many of the workers on-site were construction people, not demolition. They didn't know the best way to remove dangerous debris for the search-and-rescue operation.
"They had been trying to take down a curtain wall buried into a debris pile that was hampering rescue operations, cutting it down on a crane a foot at a time from the top," he recalled. "I said, 'Why don't we just cut it at the bottom and drop it like a tree. We can have it on the ground in five minutes.'"
Officials agreed to his plan and seven minutes later, the curtain was on the ground.
That night, Jim Abadie from Bovis called Griffin's cell phone and offered to hire him as a demolition consultant for one or two weeks. Griffin accepted the assignment.
"I went initially as an American but it turned into an American who knew something about demolition."
Later, when the multi-story curtain wall from Tower 2 needed to be removed, Griffin put in a bid for D.W. Griffin Wrecking – and got the job.
"The top bid (up 'til then) was $18 million and the job would take two months," he said. "We thought we could pull it down … for $100,000 … in an hour."
Griffin planned to sway the wall with cables until the bolts sheared, weakening the structure. He gave the example of taking a drink can and wiggling it. The more the can is wiggled, the more it will go into fatigue and finally fail.
Three days after D.W. Griffin Wrecking took down that wall, Michael Burton, deputy commissioner of the City of New York who was in charge of the project, asked if the company would be the City's consultant, in charge of all demolition operations. Griffin had two hours to make a decision.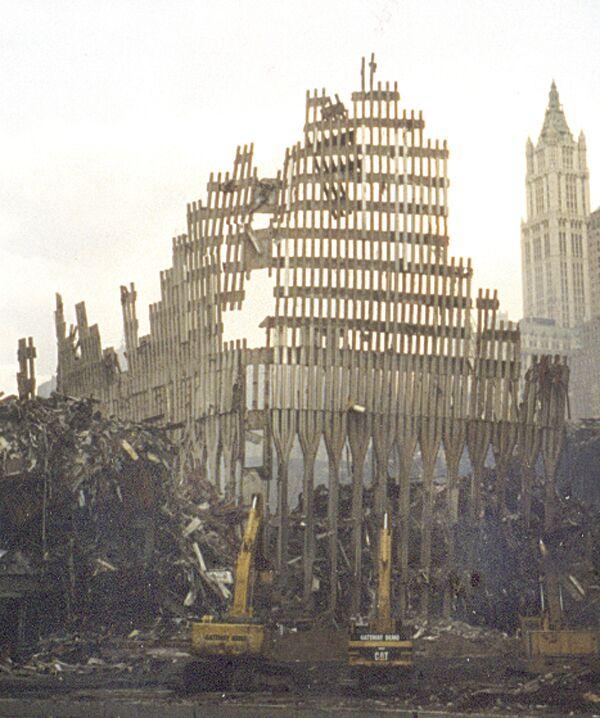 "I called my wife, called my dad (the company founder), and got both of their blessings because I knew it would be a long-term commitment," he said. "We signed up for the job and from that point forward we were in charge of all demolition operations."
Griffin stayed in New York City for seven months overseeing the operation, only coming home about 18 days in that period. The company stayed for 19 months.
In all, 17,168,000 square feet of office and retail space totalling 1,700,000 tons of debris were removed. Griffin was able to complete the project nine months ahead of schedule and $400 million under budget.
Griffin said it was the hardest project he had ever worked on and it affected him emotionally, physically and spiritually. However, it was also the opportunity of a lifetime – the largest demolition project that has ever been done in the world.
"But at the same time, it's the largest loss of life in American history," he said. "I cried numerous times."
Each day, traveling from the apartment he rented, Griffin passed hundreds of signs and letters on walls and windows – makeshift memorials and appeals for information on a loved one.
"It just broke your heart. At the same time, it would remind you of what you were there doing. It was an honor."
Although he was invited to the memorial service in New York City this year (2011), David Griffin, Jr. will stay close to home and attend the Station 1 service in Greensboro.
Just like area resident Tad Tadlock (see related story) who was actually in Tower 2 when it was hit, Griffin refrained from speaking of the most gruesome memories. But he is able to recall events in detail because he has spoken on the topic over 200 times in the past 10 years.
Ask anyone of a certain age where they were when they heard John Kennedy had been shot and you'll get an immediate response. It's something burned into the memories of this country.
The same holds true for Sept. 11, 2001.
"9/11 is our generation's Pearl Harbor – a life-changing event," Griffin solemnly mused. "It's something we'll never forget." 
Indeed, as President Franklin Delano Roosevelt said of Pearl Harbor, it is "a date that will live in infamy."
The D.H. Griffin lot on Hilltop Road is full of every kind of object fabricated from metal, from bicycles to newspaper racks to automobiles.
But it's also home to what David Griffin, Jr. calls "pieces of history," several tons of beams from the World Trade Center, just sitting off to the side among the salvage items.