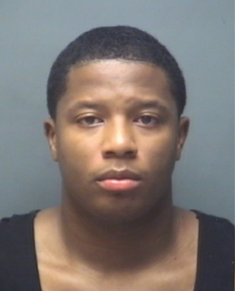 It only took six hours for the High Point Police and Guilford County Sheriff's Office to arrest Kayshawn Williams for social media posts threatening several area schools.
High Point Police Capt. Curtis Cheeks spoke to reporters Sept. 21 following Williams' arrest earlier that morning.
"Approximately 7 p.m. last night we began receiving numerous tips through Crime Stoppers from parents, teachers, community members and students about threats of violence to High Point schools, [and others] in Guilford County on the social media platform Snapchat," Cheeks said.
The schools were Southwest Guilford, Andrews, Southern Guilford, Southeast Guilford and Northeast Guilford. The first two schools serve the High Point area.
"Approximately 11 p.m., investigators identified Kayshawn Williams, who is a current student at Southwest High School, as a suspect in this investigation."
Since Williams, 18, lives in the new Magnolia on Main development in Jamestown, just inside town limits, High Point Police contacted the Sheriff's Office, which services Jamestown, for assistance. Williams was taken into custody at his home at 1:30 a.m. Sept. 22 and charged.  This charge stemmed from a previous traffic charge and failure to appear against Williams earlier in September.
"[These are] minor charges compared to felony fake report of violence on education property," Cheek said.
Williams admitted to making the threats and received a $250,000 secure bond.
"Pictures on the post featured firearms ranging from a pistol to rifles," he said, but added no firearms were found at the residence. He believes the pictures were taken from Internet websites. Cheek does not believe the incident was gang related.
"We believe this was an incident that was a personality conflict between Mr. Williams and some unidentified students," he said. "As of now we have no further concerns with the safety of our students in our High Point schools."
Mike Richey, executive director of emergency management for Guilford County Schools stressed the importance of "see something, say something" to the right persons if anyone sees suspicious activity.
"Last night was a perfect example of, "'you see something, say something,'" echoed High Point Police Chief Travis Stroud. "We got some actionable intelligence that was forwarded to us by community members.
"For all intents and purposes, we prevented a school shooting. It comes down to that."
"There are consequences to filing a false report, making a false claim or making a threat to schools," Richey said.
High Point Police increased police presence at their schools for classes on Sept. 22.
The threats by Williams came just three weeks after the fatal shooting at Mt. Tabor High School in Winston-Salem.
"That was a wake-up call for us," Stroud said.