The 82nd Wyndham Championship is only one week away and preparations are in the final stages.
Jim Herman, last year's champion, is preparing to return as well.
Herman, 43, was below everyone's radar at the start of the 2020 tournament. He barely made the Friday cut, but a career-low round of 61 in the third round, followed by a 63 in the final round, put him in a tie for the lowest weekend score by a winner in PGA Tour history. 
With the victory, he jumped from 192nd to 54th in the race for the 125 playoff spots, earning his way into the FedExCup Playoffs. He advanced to the BMW Championship and finished the season with 64 FedExCup points. 
He hopes to do as well this year. His current FedEx Cup rank was projected at 171 as of this writing so a good showing again this year is needed to make the playoffs.
Herman spoke to media via Zoom on July 25.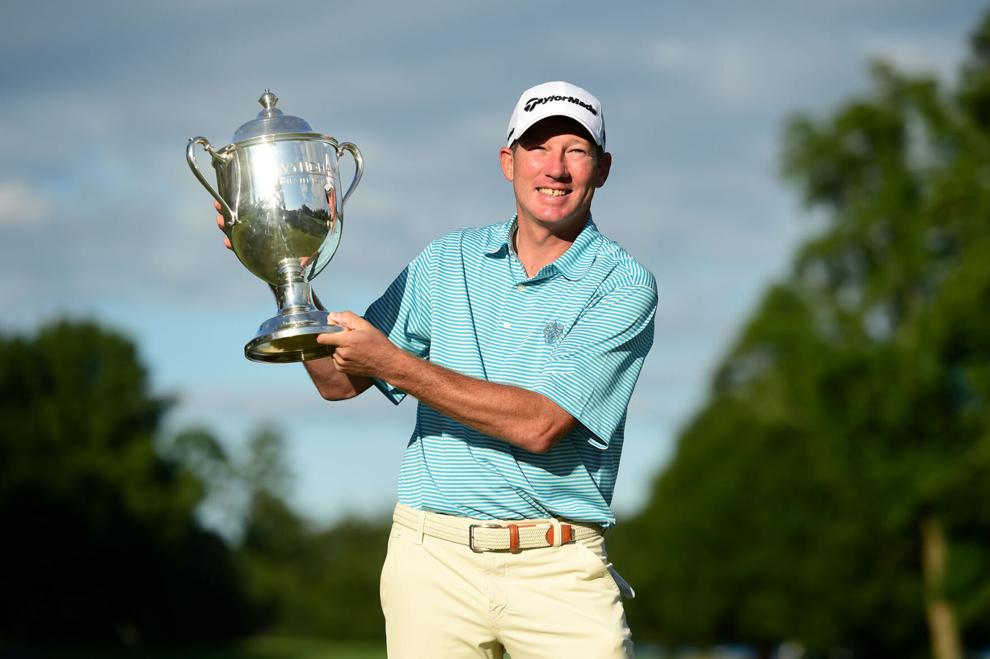 "I love Sedgefield," Herman said. "I've had some good success there. Rather than a driver, he said he uses a 3-wood on many holes. He first played the tournament in 2011, when he tied for 59th, his worst result on the course, other than being cut in 2014. The year 2013 saw him tied for 11 and he tied for 18th in 2015.
He spoke about playing the Bermuda rough in the South in August.
"You have to get in the fairway. You're just playing for par if you drive it into the rough," Herman said. "There are certain holes, 10 and 11, where you need to be in the fairway, that are tough for me. [Bermuda] is so wiry, it's unpredictable. Sometimes we guess right and sometimes we look foolish."
He's looking forward to having fans back this year at the Wyndham.
"You get instant gratification on shots, a thumbs-up. That was the biggest thing [last year] coming into 18. It was into the setting sun and we didn't have the grandstands blocking it."
His FedEx rankings last year were so low that he felt no pressure during the tournament, thinking he had nothing to lose. But as defending champion, he believes he will feel added pressure.
Herman is a friend of former President Donald Trump.
"[He is] one of my biggest fans," Herman said last year. "Whenever I play with him, I usually have some good finishes. [My] last two wins, I had played with him either the week or two weeks before. Maybe three weeks is still within the reach of his, I guess, little bit of good luck for me."
The Wyndham Championship is Aug. 12-15 at Sedgefield Country Club.
Covid Update
With the surge of Covid-19 cases and the Delta variant, the PGA Tour has updated its mask policies.
Unvaccinated individuals should wear masks in crowded outdoor areas.
Fully-vaccinated people are not required to wear masks outdoors but masks are preferred in crowds such as around tees and greens.
Masks are required for everyone in any indoor or fully-enclosed space, including, but not limited to: the clubhouse and other permanent structures; fully-enclosed structures/venues including hospitality, merchandise and concessions; and buses, shuttles and other transportation.
Social distancing is advised.
Hand sanitizer will be available at stations around the course.
Tickets
Fans wanting to attend must purchase a digital ticket in advance. No tickets will be sold on site. Your phone is your ticket and entry to the tournament grounds will be contactless, which will help everyone move through the gate more quickly. Do not print out your ticket and screenshots are not valid. To purchase your tickets, visit wyndhamchampionship.com/spectators/tickets.
Free admission is offered to youth 15 and under, Piedmont Triad teachers, first responders, current military and veterans. A current identification card is required to receive a complimentary admission wristband for themselves and a guest.
Members of the military (active duty, reservists and veterans) may receive up to two complimentary tickets for any one day of the tournament. Tickets can only be claimed at VetTix.org.