It came as no surprise that Shirley Haworth was selected as the winner of the 8th annual Mary A. Browning Historic Preservation Award. It was a well-deserved honor as Haworth has worked with the Historic Jamestown Society for many years, serving as board member and secretary several times and president five times. She also served on the Jamestown Library board for several years.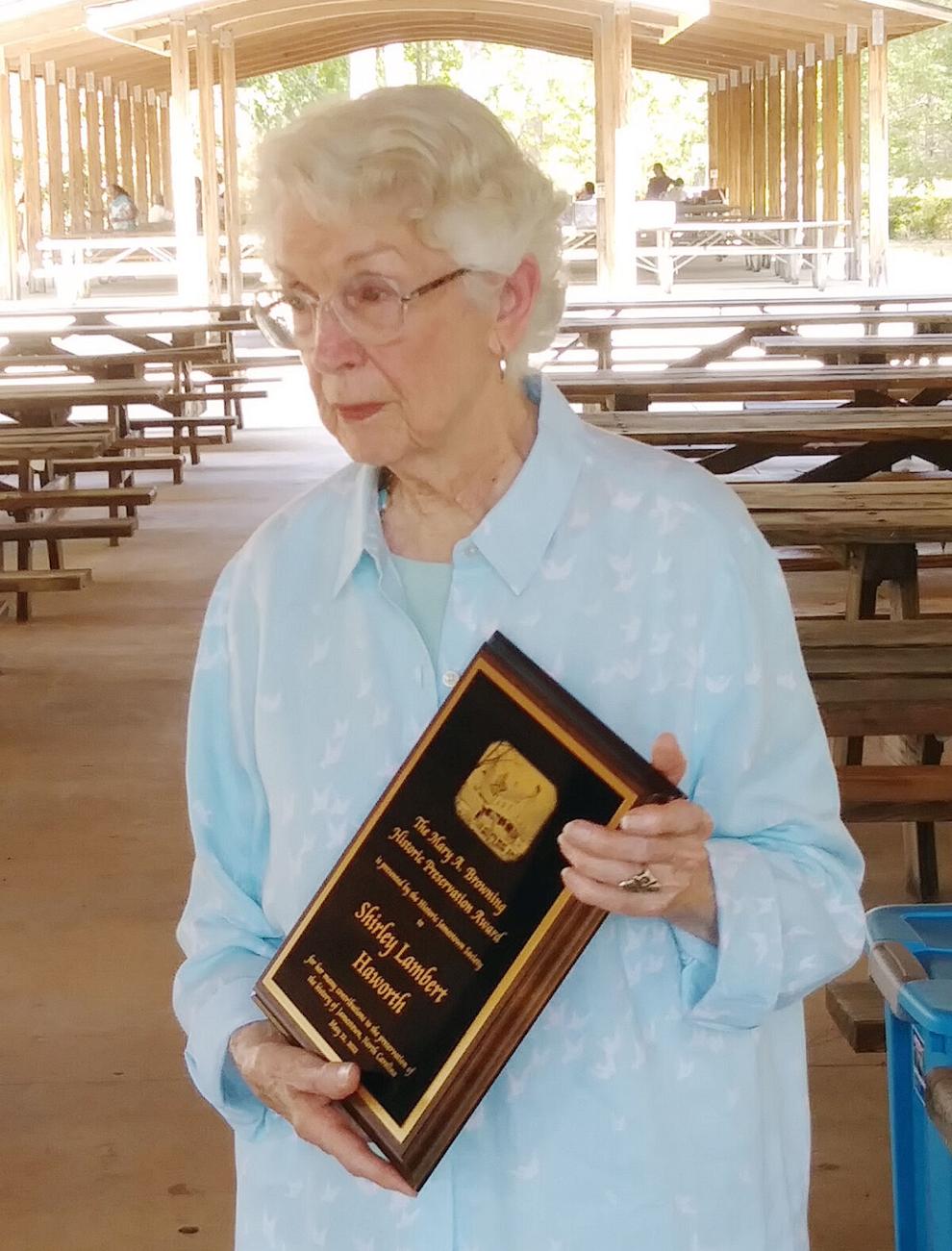 "As a lifetime member of the Historic Jamestown Society, Shirley strongly believes in and supports the mission of HJS to preserve the invaluable history of our community," said Sandra McGee in her nomination letter. "She works tirelessly to help citizens understand and appreciate the vibrant human rights heritage that has been a foundation of our community, beginning with its early Quaker settlers who actively opposed slavery, promoted universal education and labored to create a life of peace and simplicity in the midst of troubled times.
"Shirley takes great pride in working to make historic Jamestown and the Mendenhall Homeplace visible to others by donating her time, knowledge and material resources on many committees and projects."
"The award honors the many people around our extended area who make sure our rich history stayed alive and was available to be appreciated by people who visited us and for those of us who were here to gain new insight as new research came forward," Haworth said at the previous ceremony. "The annual award is in recognition of people who worked to preserve and maintain the history, tradition and stories of this area."
Other nominees for the award were Gary Haynes for his work as architect of the renovation of the old Jamestown Public School into the Public Library, Elizabeth Greeson for her work with Oakdale Methodist Church, the late Alan Johnson for his work in saving the school for the library and Carol Brooks for her historical articles in the Jamestown News and her work with HJS.
The award, given by the Historic Jamestown Society, honors Browning, a well-known local historian and genealogist. She has used census records and the National Archives as well as research in the Friends Historical Collection at Guilford College, local libraries and newspaper archives to compile her ever-expanding notes on the area.
"It's been a pleasure to participate in this award program since it began," Browning said last year. She was unable to attend this year's award presentation.
The award is presented in May, which is Preservation Month nationally.
Prior to the award presentation, Shawn Rogers, director of the Mendenhall Homeplace, shared some history of Tilghman Vestal, grandson of the Homeplace's original owner, Richard Mendenhall.
During the Civil War, Quakers were allowed to pay a fee of $500 to avoid serving in the Confederacy during forced conscription. Many Quakers took advantage of this option, but not Vestal, who said his money would go to purchasing arms and munitions for the soldiers, contrary to Quaker beliefs. He refused to pay and was conscripted into the Confederate army. Refusing to fight, even with guns tied to his hands, Vestal was sent to the Salisbury prison where things became really bad for him. He was punished to the extent of being strung up by his thumbs, stuck with bayonets, beaten and kept in unsanitary conditions.
"They used him as an example to deter other people from taking the same track he had," Rogers said.
Family members sent letters to people like Jefferson Davis, president of the Confederacy, lobbying for Vestal's release. They even offered to pay the $500 exemption fee but Vestal refused to have it paid on his behalf.
His aunts, Judith and Delfina Mendenhall managed to find alternate service for their nephew and Vestal finally was granted release from the army, thanks to the efforts of his aunts and other Quakers.