An email I received a few months ago opened up a world I never knew existed.
I've been interested in genealogy for many years. I have ancestor charts from both parents and family group sheets for individual families. Notebooks for each grandparent surname are filled. Some research I have done myself and some came from family members. If you join, websites like FamilySearch and Ancestry often send emails relating to information found about family members.
Throughout my life, I've visited my mother's aunts, uncles and cousins in Winston-Salem, where many moved from Wake County. Mom was born in Salem the year before the two cities merged. 
My father's family is from Randolph County and I have attended many family reunions near the Whynot community. I have visited Dad's sister who moved from New York City to Mississippi (culture shock!) then to Louisiana (greater culture shock!) and his brother who lived in Texas.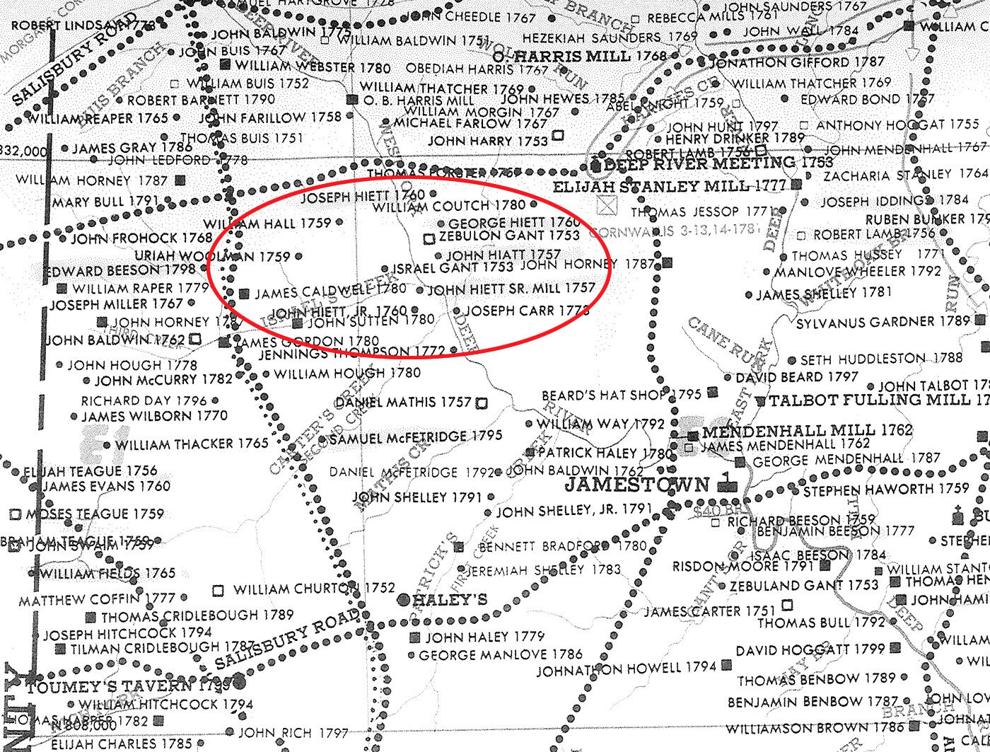 But I never thought any of my relatives from way back lived in High Point where I grew up and still live — until the email came from in June indicating John Hiatt (c. 1673-1726) and wife Mary Smith (1677-1845) are my immigrant ancestors. The family were members of the Religious Society of Friends (Quakers) in England and possibly fled to escape persecution in the latter part of the 17th century. Around 1696 they settled in what became Bucks County, Penn., part of the William Penn colony and John became one of the leaders of the colony. John Hiatt Jr. came to America with his parents as a three-year-old.
The Hiatts were farmers but also landowners. John Sr. is known to have sold 300 acres of land, then bought a 225-acre plantation. He apparently bought and sold other property in several states over the years. John Jr. also was a prolific landowner in Pennsylvania, West Virginia and Virginia. It is believed that during his lifetime he owned over 3,000 acres of land in Pennsylvania, Virginia and North Carolina.
But Pennsylvania began to be crowded to the Hiatts. They could probably see the smoke from their neighbors' chimney so they decided to move south, first to Virginia and later in 1756 settled in Rowan County, N.C., a portion of which became part of Guilford County in 1771.
The book, "John Hiatt, our Immigrant Ancestor, and His Descendents," by Jeanne Oliphant Guyman, states "In 1757 he purchased 632 acres of land on Deep River near the present town of Jamestown in Guilford County, North Carolina." A map created by Fred Hughes in 1980 for the Guilford County Historical Society shows the county in detail as it would have been in 1790. Not only are roads, rivers and creeks noted, but so are landowners — including both John Hiatts, senior and junior, with property along the west fork of Deep River. I believe that John Hiatt Sr. and John Hiatt Jr. indicated on the map are the same person as the senior Hiatt had died in 1726. The map indicates a Hiatt mill on Israel's Creek (Hiatt's Branch, today nonexistent) and other family members living nearby. Comparing the Hughes map to a current one indicates the property was near where Johnson Street in High Point crosses Oak Hollow Lake, just north of Aberdeen Road. High Point, of course, had not been settled at this time.
Shawn Rogers, director of Mendenhall Homeplace in Jamestown, helped locate the Hiatt properties. He believes a Nicholite church was located on the property. Oddly, Rogers' stepfather is also a descendent of the immigrant John Hiatt.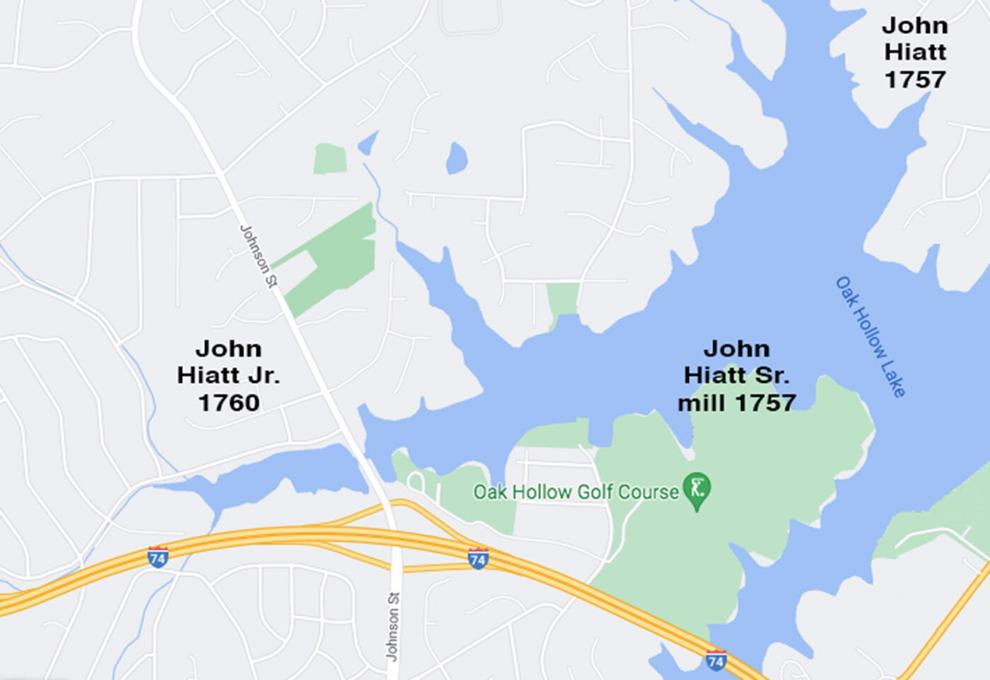 Records show the family joined New Garden Friends Meeting just outside of Greensboro. John Sr. and his wife Mary later became charter members of Deep River Friends, somewhat closer to their home. Their names are recorded in the monthly minutes of those meetings.
John Jr. only stayed in this area about four years. In 1760 he deeded the 632 acres to three of his sons and moved back to Virginia where he again purchased a quantity of land. 
I had started my research with John Hiatt Sr.'s information and was able to follow it through name changes from Hyatt to Hiett to Hiatt down thru the Harrold, Beeson and Moffitt families to my father's father, Fitzhugh Lee Brooks. My father was actually born in Moffitt's Mill in Randolph County.
There is still more research to do. While I believe I have found not only my High Point-area relative — albeit he only lived here a few years around 1757 — and traced his lineage back to the 1400s in England and my 12th great grandfather Philip Hyett, there could be errors. But, I'm happy to have found so much information from one small email.
---
Genealogy research
Anyone doing genealogy research has found that much info on genealogy websites are incorrect, often saying someone is the grandson of so-and-so when he was actually the father or grandfather. One person gets it wrong but posts it online, then others re-post the incorrect information.
A careful check of birth and death dates is important.
It is also confusing when the same names were used for several generations. For instance, John would have a son named John and another son named George. George and John Junior would both have sons named John. In my case, there are several generations of Johns, one labeled senior could actually be a junior and the one labeled junior is possibly a third. 
Apparently the use of "Sr." and "Jr." had different meanings 200 ago. "Jr." just was a younger man in the area by the same name. It did not imply a familial relationship with a man who had the same name and was labeled "Sr." However, that could be true. Also, the same man could be called "Jr." one year and "Sr." a few years later because of the arrival or departure or death of another man in the same county or the birth of a son by the same Christian name.
I have a fat file for each family I have researched labeled "to check with more information." Inside are mentions of people with surnames in my ancestry but I have not connected them to my families. I've had them so long that every now and then a glance through leads to a visit to the trash bin for the information.