The sounds of tapping drumsticks and whacking pool noodles against large, brightly-colored balls filled the room as Randi Lee led participants in a session of Drums Alive. Lively music set the stage for the recent cardio drumming activity at A Moment in Time meeting at Jamestown United Methodist Church. The meetings allow those facing memory challenges and their caregivers to enjoy mutual activities.
It did not take long to see that the drumming session was a hit with both participants and volunteers.
Lee normally conducts Drums Alive sessions at retirement communities working with residents in all levels of care. She also has open classes every Wednesday at 1 p.m. at Senior Resources of Guilford County in Greensboro.
Before the drumming session began at A Moment In Time, Shelby Kline talked briefly about Healthteam Advantage, which gave a grant to provide Drums Alive for the meeting. Participants and volunteers then took their places in front of the huge, multi-colored exercise balls and the fun began. 
"Not only does the drumming provide cardio benefits, it helps activate many areas of the brain," Lee said. "It helps with hand-eye coordination and the sessions provide socialization where individuals can come together and participate in a musical experience."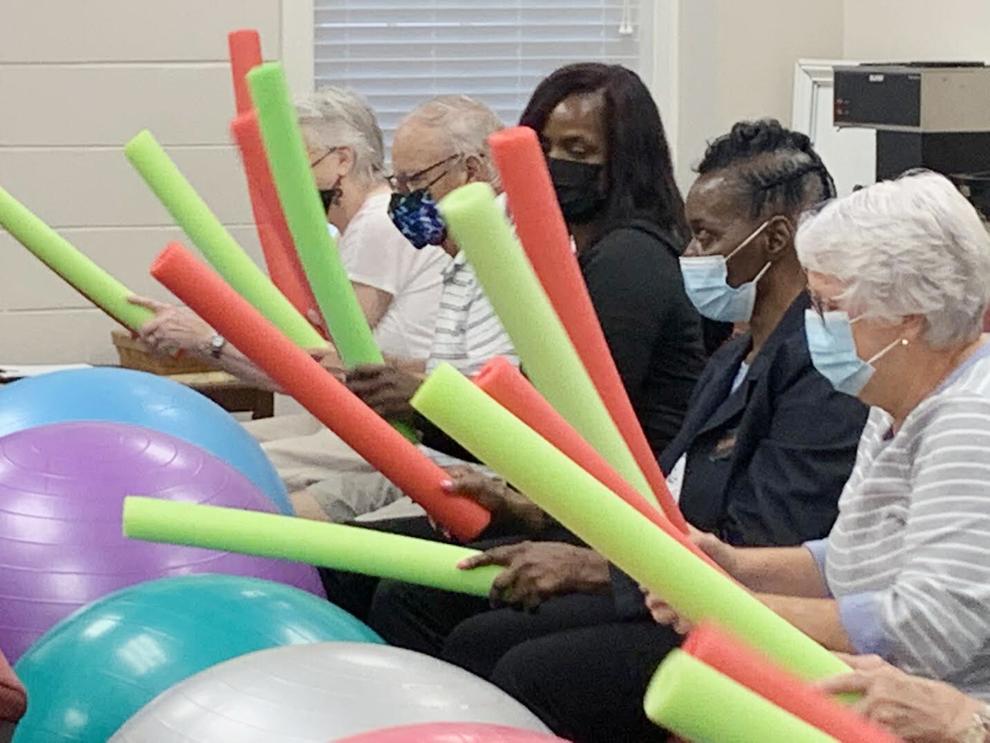 Lee, owner of Magnolia Melodies Music Therapy, is a board certified music therapist with a nationally-recognized certification in neurology music therapy and is a certified Drums Alive instructor.
Although Lee has always loved music, it was not her first career choice. She felt there were no opportunities for work in that field unless one chose to perform or teach.
"I did not want to do either," she acknowledged. "So I started college at East Carolina University as a nursing major."
When auditioning to participate in the school's choir, Lee learned that ECU was one of three schools in the state that offered a degree in music therapy.
"I fell in love with music therapy and changed my major," Lee said. "I was already at a school that taught it – it was like that was meant to be."
Lee began using cardio drumming at independent living facilities. But while attending a National Music Therapy conference, she learned about Drums Alive and saw how much more could be done with drumming. She contacted a Drums Alive master trainer to learn all the techniques and has since been using them with her work with seniors.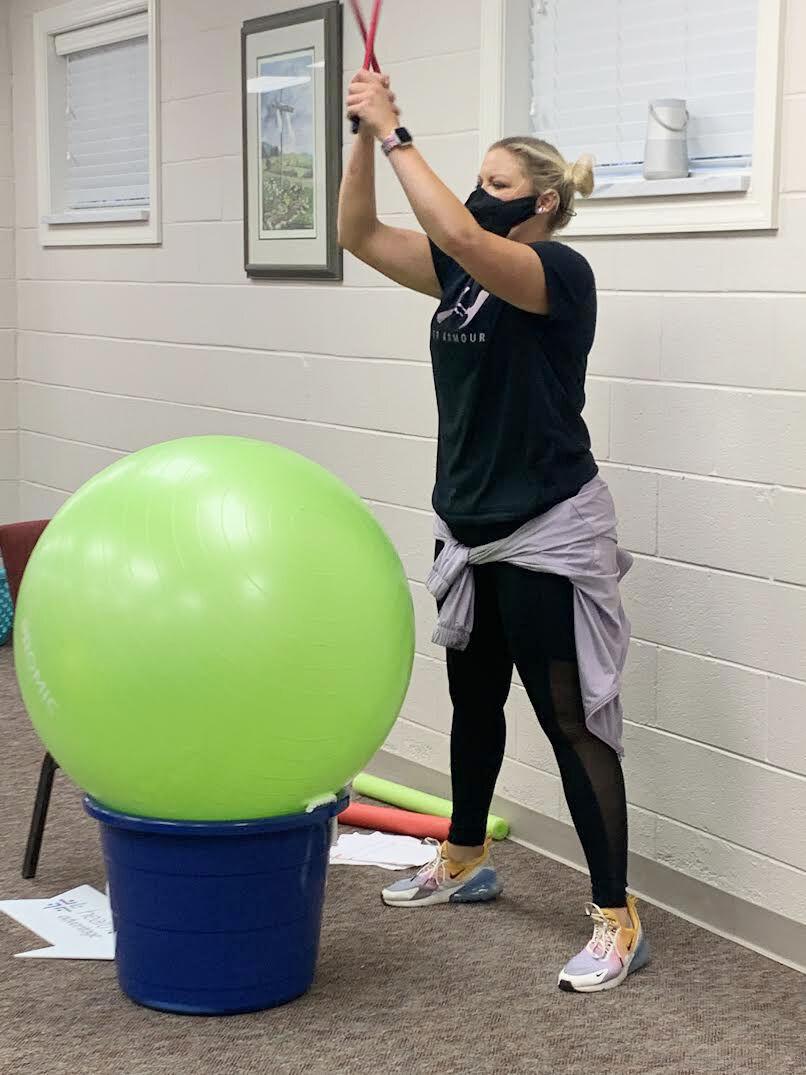 "I love being up there in front of them," Lee said. "I can see how engaged they are. Emotion is radiating from them, even from behind masks, which makes it a great experience for me as well."
Participants and volunteers at A Moment in Time liked the Drums Alive session so much, they hope to have Lee return for a future visit.
"Everyone enjoyed Randi's drumming," said Laura Gulledge, coordinator for A Moment In Time. "It didn't matter if you got it right. It just mattered if you moved and had fun. Movement and socialization is so important to brain health. Our cafe tries to feed the souls of our participants and volunteers. For a moment, we can escape from the disease of dementia and reconnect with each other."
---
Country Hoedown
A Moment in Time meetings, for individuals with memory challenges and their caregivers, are held on the third Tuesday of each month from 1:30-3:30 p.m. at Jamestown United Methodist Church. The next one will be Oct. 19. 
The theme for October is Country Hoedown and a guest musician will entertain with a guitar and singing. Participants are invited to wear plaid clothing (i.e. shirts) and a straw hat if available and get ready to have some old-fashion fun. 
Meetings are open to the community and free. Contact Laura Gulledge at 336-906-0430 for more information.