People often see a craft video on YouTube and think, "I could do that." When Charles Guyn saw someone making crosses out of bourbon barrel staves, he not only thought he could do it, he did it.
"I didn't have a table saw so I made a cross by hand and we hung it in our living room," he said. "Last Christmas I made one for my son and his wife and one for a friend in Kentucky where I am from." 
Guyn's wife Kathy bought him a table saw for Christmas 2021, but it pretty much sat unused in his garage until the fall of 2022 when he decided to create more crosses with it. His wife is well acquainted with Susan Stringer, The Soap Lady, and when Stringer saw the crosses she asked to put them in her shop on Main Street in Jamestown.
"The first weekend she sold three and my hobby/business has exploded from there," said Guyn who calls his fledgling enterprise Kentucky Gentlemen Designs. "I am making them as fast as I can, but am limited to when I can work in my garage due to the cold weather."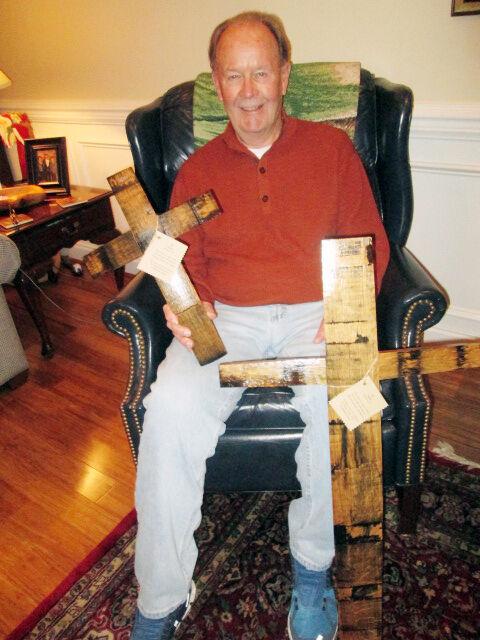 Guyn originally purchased the bourbon barrel staves, which are made of white oak, from a company in Missouri. He had to order a complete barrel of staves that included between 28-32 ranging in width from one to five inches. Each barrel has six rings, which hold the staves together. 
The natural curve of the staves is reflected in the crosses that Guyn creates. All are different depending on the coloration of the staves.   
Recently, he found a business in Fuquay-Varina, N.C., that sells barrels and staves and he can simply drive there and pick up what he wants.
Guyn and his wife moved to Jamestown from Kentucky about two and a half years ago. He says being from Kentucky he knows a bit about bourbon barrels, and what he did not know he has learned.
"People ask lots of questions about them and I had to be able to provide the answers," Guyn said. "I have learned a lot about how the barrels are made and how the taste of the bourbon is affected by the barrel. 
Until he began making crosses, Guyn had never tried his hand at woodworking. In addition to the crosses, he has made several Lazy Susans from the heads of the barrels and a few charcuterie boards from walnut that he coats with mineral oil to make food safe.
He has other ideas for items to make from barrels such as stools, end tables or benches. But he considers the cross as his signature piece.
"I want to stay in my lane – comfort zone," Guyn said. "I am most comfortable with the crosses. I am trying to keep things simple and make good products."
Guyn makes the crosses in two sizes. The larger ones are roughly 33 inches tall and sell for $65. The smaller ones are 17-18 inches high and sell for $35.
Guyn has arranged to participate in a show at Southern Junk in Jamestown before Easter and is talking to the owner of a store in Black Mountain about the possibility of selling his crosses there. 
"Making the crosses gives me something to do since I retired from my job as an accountant, and I enjoy doing it," Guyn said. "The cross and what it represents means a lot to many people. The more I make them, the more important the cross has become to me."