The Jamestown Town Council has held several special meetings recently, jointly with all candidates for Town office as well as with the Planning Board. Another meeting was for visioning. All of these meetings were over two hours long, so it was probably a relief for Council members to hold the Aug. 17 meeting to less than one hour.
Brandon Emory of Alliance Code Enforcement updated the Council as to violations he has found in the Town. On his initial drive through the town's residential and extra-territorial jurisdiction areas in May looking for Nuisance Abatement and Property Maintenance Code violations such as overgrown lots, junk vehicles, junk piles, minimum housing (abandoned, damaged, etc.), animal complaints and abandoned white goods, Emory found 289 code violations. There were also 30 minimum housing violations.
Of the remaining 289 code violations, he has spoken with most property owners and 30 cases have been opened and 22 abated, with eight going to court for settlement.
"We received numerous complaints and were able to inspect immediately," Emory said. "We spoke with numerous property owners in reference to violations and what needed to take place to abate."
"Most people have been nice and responsive," Emory said.
The majority of violations were overgrown lots, junk vehicles and junk piles.
Many of the junk vehicles have been removed and property has been cleaned up.
Sign violations included 47 that have been picked up.
In other business, the Council unanimously approved the Interlocal Agreement with Guilford County regarding funding for the Jamestown Public Library for five years. The library will receive $55,500 from the county for the first fiscal year.
The Council also unanimously approved the Interlocal Agreement with Guilford County regarding the animal shelter and animal control services for three years. Jamestown will provide $12,265 for the 2021-22 fiscal year. This is a renewal of a contract in place since 2011.
Continuing the discussion from July regarding non-profit contracting services, the Council agreed to allot $10,500 to the Historic Jamestown Society for a marketing and visitor service campaign, shelving for historic texts, humidity control and monitoring and display cases, all for Mendenhall Homeplace. The Society had requested $14,150 but the Town only budgeted for $10,500 for historic and cultural services.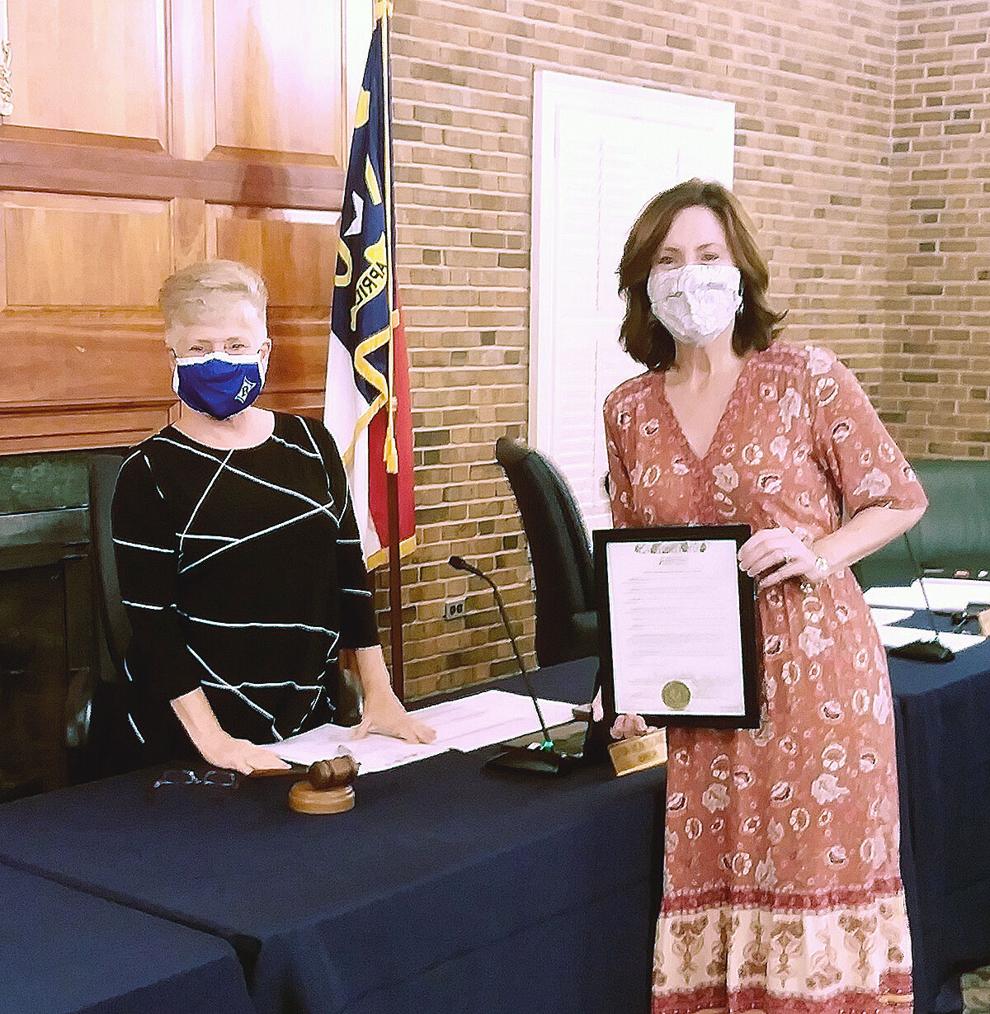 Katherine Stamey Reese was presented a resolution honoring her service as photographer of newly elected town councils for over 10 years as well as being a recent member of the Comprehensive Plan Steering Committee.
In his manager's report, Interim Town Manager Dave Treme reported the staff had met with an architect to review construction drawings for the Recreation Maintenance Facility.