The commemoration of 9-11-2001 and recognition of Constitution Week is made more meaningful with the support of many in the community. 
"The Rachel Caldwell Chapter, DAR would like to thank those who have helped keep memories of these events in place," said Deborah Beach, a member of the organization. "We are proud to hang our 9/11/01 banner on the Jamestown Town Hall property for the 18th year." 
Thanks to those who have helped recognize Constitution Week are extended to:
• Mayor Vaughn of Greensboro and Mayor Montgomery of Jamestown for providing proclamations for Constitution Week, 2021. Mayor Vaughn's 2021 proclamation is displayed at the Greensboro Historical Museum along with a trifold containing information about Constitution Week. Carol Hart, museum director, assisted with the display.
• The Jamestown Lion's Club erected 50 flags on the grounds of the Jamestown Library.  
• The DAR's two-sided banner, designed by veteran Dave Skinner, hangs on the lawn of the Jamestown Library.
• Tori White, postmaster of the Jamestown Post Office, allowed the DAR chapter to use its display case to highlight Constitution Week information.   
• Wes Parker and staff of the Hemphill Library arranged two Constitution Week displays, and Becky at Oakridge Elementary School arranged a Constitution Week display in the school's lobby display case.
• Jim McGaha of the Jamestown Public Library provided an entire bookcase dedicated to Constitution Week.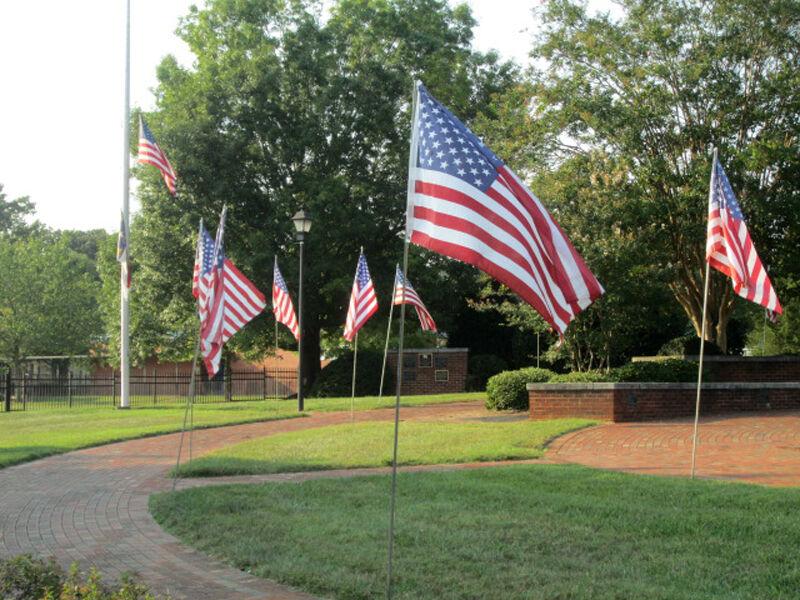 • Jim Young of the downtown Greensboro Library provided two display cases on their 2nd floor landing celebrating the occasion. 
• Chris of Tom's Place restaurant in High Point displayed table placards and posters in his restaurant.
• Rick Cecil, manager of the Piedmont Triad Farmer's Market posted "Celebrate Constitution Week Sept 17-23" on his I-40 and Sandy Ridge billboards.
Once again no visitors are permitted into Guilford County Schools where the DAR usually gives Constitution Week programs. In the past, focus for 4th graders has been on how we got our Constitution and focus for 5th graders was on our Bill of Rights.
"The Rachel Caldwell Chapter, DAR would like to wish a Happy Constitution Week to all who have the privilege of calling themselves Americans of the United States," Beach said.