There are many traditions of the holiday season but one is not only quite odd, but its origins are controversial. I'm talking about the Christmas pickle ornament.
Tradition goes that the pickle ornament is the last one placed on the tree but if you were the first child to find it on Christmas morning, you would either receive an extra present, get to pick [no pun intended] the first present or be awarded the job of handing out the presents. You would also receive good luck for the entire upcoming year.
The pickle tradition may have begun in Germany where it is called Weihnachtsgurke, or Christmas Eve Cucumber, but marketing agency YouGov conducted a poll in 2016 and found that out of 2,057 Germans polled, 91 percent were unaware of the legend. Only 2 percent actually hang a pickle on their tree. If the tradition did originate in highly-populated areas of Germany it could have been localized to a remote region of the country.
When Germans immigrated to the United States many years ago, they may have brought over the tradition, in effect, removing its use in the motherland. These Germans settled in the Midwest. The German settlement of Berrien Springs, Mich., is known as the Christmas Pickle Capital of the World and holds an annual Christmas Pickle Festival. Santa Claus hands out fresh pickles, not candy or presents.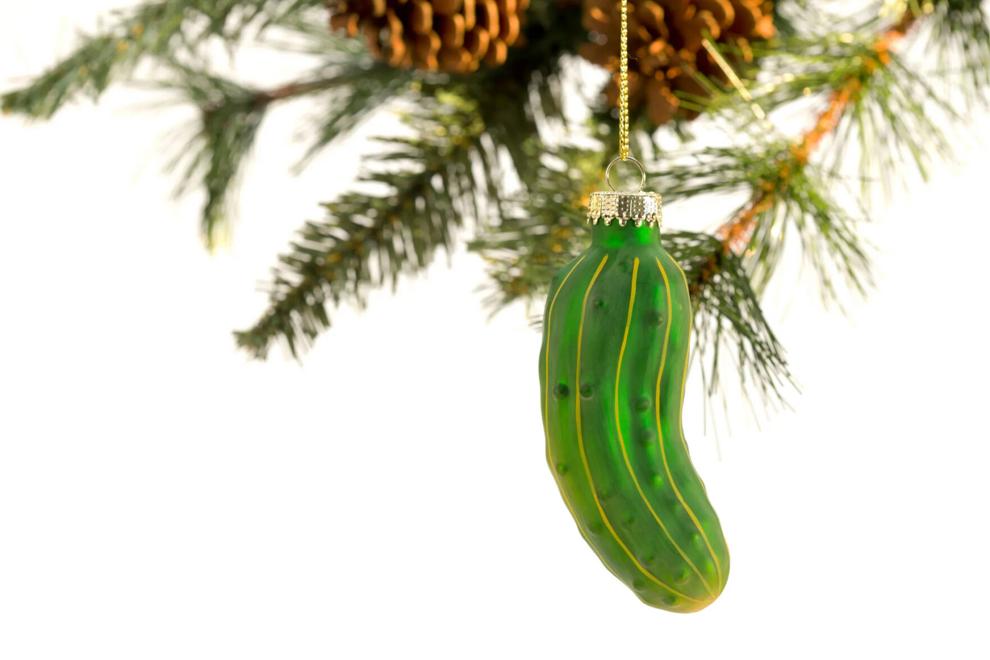 Several possible origins of the Christmas pickle ornament can be found on the Internet. In one tale, a mean innkeeper killed two Spanish boys and trapped them in a pickle barrel. Saint Nicholas set them free and brought them back to life. 
Another story tells of a German immigrant who became a soldier in the American Civil War and was held captive in Georgia. Starving, he begged for and was given a pickle, which ended up sustaining him. 
Undoubtedly the original ornament was a real pickle – if there really was an original ornament, but perhaps the most logical explanation could very well have been just a marking scheme. It is known that in the 1840s, German glassblowers made ornaments shaped like fruit and nuts, so pickles also might have been a possibility. By the 1880s, five-and-dime store giant F. W. Woolworth Co. started importing them to sell and perhaps concocted a story of its origin. 
So, do you have a pickle on your Christmas tree? It's supposed to bring good luck for the entire upcoming year so it might not be a bad idea – no matter what the origin.