Not far from Andrew White's new business is his old high school, Ragsdale, from which he graduated in 2007, as well as the Ragsdale YMCA where he swam. His wife Mary Kate can also sense she is just a couple of miles away from her former place of work, the ACC headquarters on Grandover Parkway.
For Andrew, opening the new Chick-fil-A at Grandover Village means coming home. His parents still live in Adams Farm. For Mary Kate, it's a homecoming of a sort for her as well. From the Wilmington area, she graduated from UNC-G.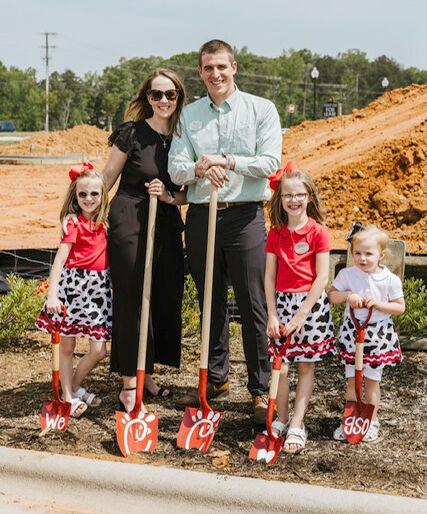 Andrew is the owner/operator of the new restaurant and Mary Kate is the marketing and community relations person.
"When Andrew shared his dream with me about becoming a Chick-fil-A owner/operator, it became our dream, not just his," Mary Kate said.
Andrew started his career with the company when he was 16, working at the Wendover store. It didn't take him long to know this was what he wanted his career to be.
"I spent about a year-and-a-half at Wendover with Ed Ayers," he said. "After about a month of working, I decided I wanted to be a Chick-fil-A owner/operator.
"When I was 8 years old, I just sensed the service and the care the staff had for the guests. It really appealed to me. I looked at my mom and said, 'I'm going to work here one day.' The supervisor overheard me say that and gave me an application, saying when I got old enough to bring it back and get a job. I kept the application and I did exactly that. 
"I really fell in love with serving people. It's something that came natural to me."
During college at N.C. State, he worked for Chick-fil-A in Raleigh.
The couple moved to Wisconsin in 2015 with Chick-fil-A, then to Iowa in 2018.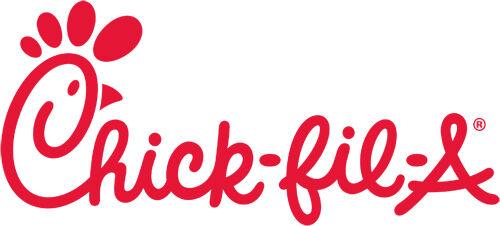 "We are so proud to be Jamestown's Chick-fil-A," Andrew said of the move back to North Carolina. "It's been fun to form relationships with the Town. We want to express our gratitude to the Jamestown community.
Drive by any Chick-fil-A and the drive-thru line will be wrapped around the building.
"I believe [the attraction] is just great service and product," Andrew said. "It's the guest experience that keeps people coming back."
For the grand opening Aug. 19, the restaurant is doing a promotion called Community Heroes. Different local organizations will be chosen to receive free Chick-fil-A for a year.
Andrew regrets the restaurant did not open the previous week, to take advantage of attendees at the Wyndham Championship held at Sedgefield Country Club.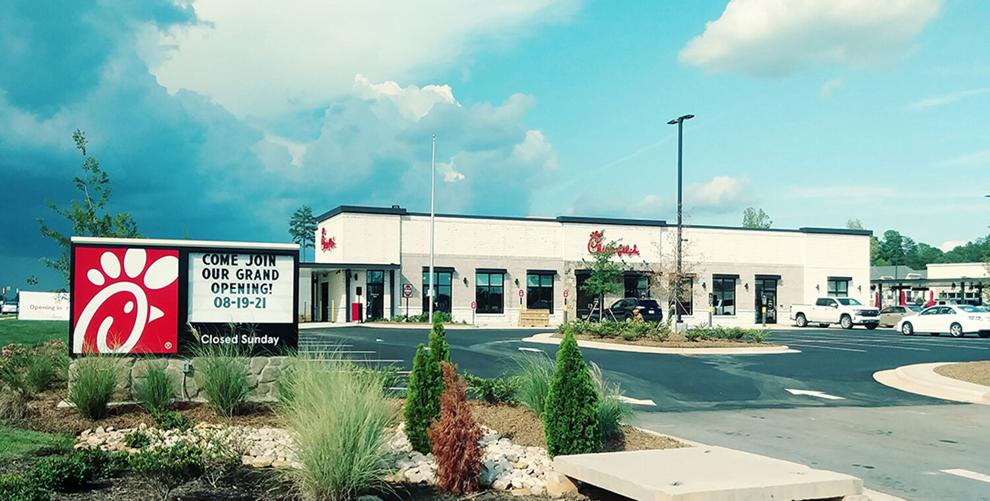 The Grandover Village location, in front of Publix at 6025 W. Gate City Blvd., is a typical Chick-fil-A restaurant, with double drive-thrus and seating for 94 inside. The only difference is there is no playroom. The restaurant will be open from 6:30 a.m.-10 p.m. Monday-Saturday.
"It is a dream come true for us to be here," Mary Kate said. "We missed home during long winter days in the Midwest. We are very close to our families. This is a full-circle story for us."
"I never thought I would be in a position to be a corporate sponsor for my old school," Andrew said of the company's sponsorship of the gym renovation at Ragsdale High School.
One of Andrew's jobs at Chick-fil-A is dressing up as the "spokescow," something he has experience with as a former N.C. State wolf. He auditioned to be one of the  top 10 cows with the company and won, receiving the opportunity to perform in 2007 at the annual Chick-fil-A Bowl in Atlanta in December. Look for him this December in the Jamestown Christmas Parade Dec. 5, promoting "eat more chikin."