You might call Derek Carson a legacy. In many organizations, a person is a legacy because their parent, sibling or other relative was also a member of that organization.
Carson, who became the ninth chief of the Pinecroft-Sedgefield Fire Department July 1, is not the only person of his family to serve that department. His great uncle, Charlie McCuiston, was a charter member of the department in 1952. Carson himself has been a firefighter with the department since his junior firefighter days as a 16-year-old in 1999. 
"I was always around the fire department as far as seeing interaction in the community. I grew up in the community a couple of miles down the road," he said. "I didn't hang out at the fire station but with family being in it, it was always something that I remember.
"When I was a kid I remember they did a train and burn like we do when someone has a house they want to burn. It was at [my] old homeplace and all the family was there. That was probably my first memory of the fire department. I thought it was really neat."
His junior firefighter days turned into a volunteer firefighter position that lasted seven years before he become full time in 2007, rising to lieutenant in 2010, captain of operations in 2014, division chief of operations in 2018, assistant chief in June 2020, and interim chief in December 2020 upon the retirement of Steve Allred. During that time, he worked at each of the five PSFD stations, including Jamestown, and still lives in the district. He now works out of headquarters on Bishop Road in Greensboro.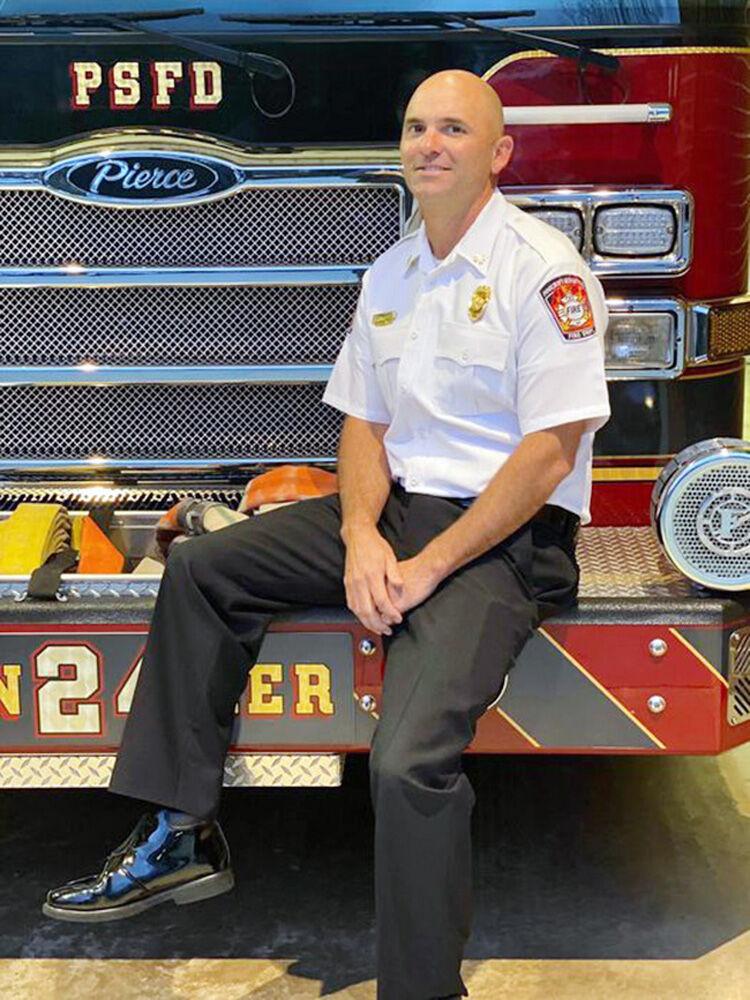 The most memorable fire during his service was one many in Jamestown will remember, Pearce Drive in Whittington Hall in 2009. There were actually two fires close together in the same cul-de-sac. Carson was working at the Jamestown station at the time and said the department was not staffed as well at the time as it is now, adding it took extra firefighters to control the burn at such a large house. 
"I learned a lot from that," Carson said.
He also was part of a team deployed to the fires in the Great Smoky Mountains National Park and around Gatlinburg, Tenn., in 2016 and learned new large-scale firefighting techniques there.
"That's changed the way we've approached brush and wood fires," he said. "Before we thought you had to put out a fire with water but we learned the way to do things in a large setting was [use] more hand tools, backpack blowers, things like that. We couldn't get water. We changed our approach [to fires] from that."
With a department covering 52 square miles, Carson feels his is very unique.
"We have a very densely populated area like Jamestown and Adams Farm but we also have the rural district too," Carson explained. "It's two different areas of fire district that are approached in two different ways, water supply-wise. We have to train our personnel how to pull up and have a hydrant in the front yard or not have a hydrant within miles. Highways and interstates offer a lot of challenges, too. Our department offers a variety of things."
Pinecroft-Sedgefield is the largest county department in Guilford County and that brings a responsibility to be a leader. The department as a whole has 50 career staff and has grown during the past five years with some of that growth in Jamestown, which had only one person each shift along with an officer during the day. Now there are three on a shift. That helps with response times as well as the ability to put out fires quicker.
"One of my goals is to see us continue to grow, be proactive as a department and meet community needs," Carson said. "The needs of the community change. We're seeing that now in Jamestown with all the development. The needs are changing and can't be approached the same way."
He said there is very preliminary discussion about moving the Jamestown station away from downtown and closer to some of the development, perhaps around Publix, but there are no plans at this time.
PSFD took over fire protection in Jamestown in 2003 and Carson is very pleased with how the Town has taken them in "as one of the family."
"Everything we do we check with the Town to make certain it falls in line with their vision," he said. "We're their voice in emergency service.
"I think it's important for the fire department to be connected with the community."
Putting out fires is not the only duty of a fire department these days.
"When we started as an all-volunteer department was because of fires," Carson said. "Due to technology and other things through the years, the fires aren't as often and the fire department is a catchall for any emergency that occurs in the community. Medical calls are the majority these days, about 60 percent. All our firefighters are EMTs."
Many firefighters and police officers have off-duty jobs and Carson has been a landscaper in the past. But his new duties don't leave him much time for hobbies or playing golf. He does take time to watch television programs and movies about firefighters, but often finds them inaccurate.
"[And] you're never really off-call," he added.
Carson has been married nine years and has two children, ages 6 and 3. 
"I really value the power of family and investing in your family and try to instill that in our people here," he said. "Being on shift takes away from family time and the responsibilities as you move up [in the department] can do the same, so it's important to balance those. That's the thing about the fire service. Everybody has two families – the family here and the one at home."