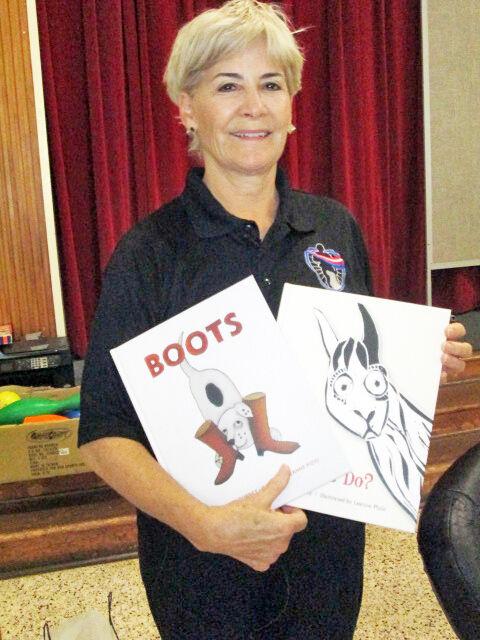 As a speech pathologist, Katy Torney never considered becoming an author. 
"I could never do that," she thought when encouraged to write a children's book about an incident involving one of the llamas she raises.
After showing the llama at a church preschool, Torney was returning the animal to her van when the llama saw her reflection wearing reindeer antlers in the van window. She got spooked, broke away and ran down the center lane of a nearby road dragging her lead rope. Four police cars that happened to be in the area helped Torney catch the scared animal so she could be returned to safety.
"I would tell people, 'You would not believe what happened,' and after hearing the story they suggested I write a book about it," Torney said. "Several years later I did write the story in the book What Do Llamas Do and self published it in 2015." 
It was her second book Boots, however, that sparked the interest of Amanda Massengale, the librarian at Millis Road Elementary School.
"The book tied in perfectly with Veterans Day," Massengale said. "I thought having Torney talk to the students would make a good program."
Students did not have school on Veterans Day, so the day before found Torney talking to them about writing in general and her books specially. Fourth and fifth graders gathered in the cafetorium to hear the author, while the rest of the grades enjoyed the program as it was live-streamed into their classrooms.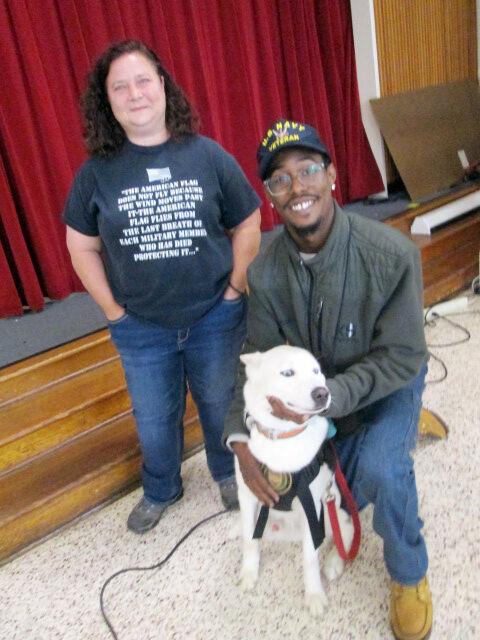 "If I can write a book, anyone can," she told the students. "It took about 20 minutes to write the story and two years to get it to the point of publishing."
In addition to the author, Torney explained the need for several others to make a book its best. An editor corrects a story and gives it back to the author to rewrite — again and again and again. The illustrator makes a book come alive with pictures that help tell the story. A graphic artist then puts words on the pages paying special attention to avoid the gutter and use appropriate fonts.
Because the book Boots tells of a soldier dealing with Post Traumatic Stress Disorder, Torney explained it to the students in simple terms. She noted it could happen to anyone, not just those in the military. Told from a dog's perspective, the story details how different Ella's person — who she called Boots because he always wore them — was when he returned home from serving in the military. It addresses anger and forgetfulness as well as love and loyalty. Ella becomes trained as a service dog, helping Boots overcome his anxieties. 
Torney's own son, Garret, dealt with PTSD after serving three tours of duty in Afghanistan and Iraq. When he later passed away from injuries sustained in a car accident, Torney, her daughters and several of his friends established the Garret Torney Foundation that provides funds to Saving Grace K9s. The organization matches rescue dogs with North Carolina combat veterans at no cost to the veterans. The veteran/dog teams attend an intensive training program facilitated by Saving Grace K9 trainers. Veterans are taught how to train their own service dogs, which makes training the dogs cost less and allows the veterans and their dogs to bond earlier. 
Following Torney's presentation, Brigette Parsons, founder of Saving Grace K9s, along with Navy veteran CJ McLaughlin and his service dog Po, surprised students with a visit to the school. Parsons explained how to act around service dogs if seen while they are working. The best thing is to never approach a service dog unless told to do so by the owner.
McLaughlin says he has three children and two dogs (including Po), which also seem like children.
"When I saw a video of Po, I immediately liked him," he said. "Now he is near me all the time and has made a tremendous difference in my life. He has calmed me down a lot and I have calmed him down too. I used to be lazy and not want to do anything. Now I have to do things."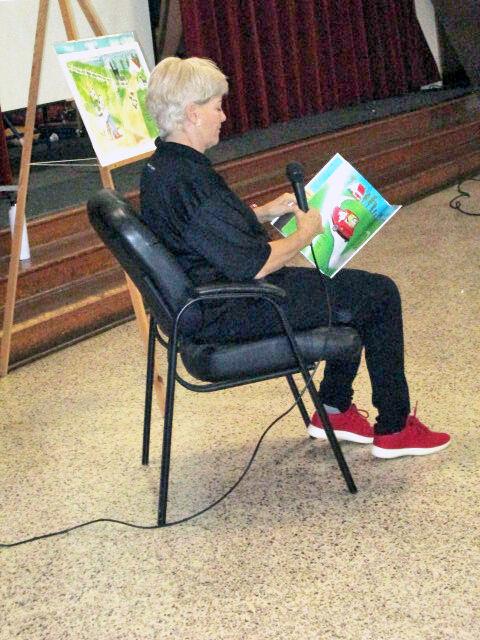 Since it was established in 2017, the Garret Torney Foundation has sponsored 40 veteran/dog teams. Part of Garret's uniform is on each dog's service vest.
Torney's book Boots is dedicated to Garret and proceeds from its sales are donated to Saving Grace K9s. 
"I do not plan to write any more books," Torney said. "I learned my lesson after two, she added, laughing. "Never in my wildest dreams would I have thought I would be writing. But it is nice to explore different things."