Upstairs, downstairs, indoors and sometimes outdoors — the annual rummage sale at All Saints Church on Wayne Road in Greensboro is too big to occupy just one space. This year's event will be held May 20 from 7 a.m. to noon and prove to have something for everyone as it has for 30 plus years.
Books, games, clothing, household items, jewelry, collectables, china, crystal, pottery, tools, electronics, medical supplies and furniture will be among the many treasures available at the sale.
"There are not many donated items that we don't take," said Linda Bedell, chair of the event. "We do not, however, take old televisions that are not flat screen. We collect items all year. It is a lot of work, but we do it to give back to the community." 
"It is like a thrift store, but only open once a year," Paula Rachal, rector and pastor at All Saints Church, added.
Bedell says the rummage sale serves three purposes — helps meet people's needs for a nominal cost, provides wants for a bargain price, and acts as a good source that allows people to part with things they no longer want or need so others can enjoy and benefit from them. Donating to the sale is an opportunity to de-clutter and feel good about it since doing so helps others.
During the last hour of the sale, the needs items found in the basement are sold for $5 a bag and the want items in the parish hall are discounted at a percentage off.
The money raised is used for church activities and for outreach projects in the community. A few items that are not sold may be held over for next year's sale, but much is given to other non-profit organizations, for example the woman's shelter and Barnabas Network or to local refugees trying to set up housekeeping.
"Our hope is that all of it finds a home," Bedell said. 
Besides the rummage sale, All Saints Church hosts many activities throughout the year to which the community is invited, including a Folkfest, book sale, mystery dinner theater, blessing of the animals, Octoberfest, and Art-A-Fair.
During the summer, the church provides meals three days a week for children in the Huntington Woods mobile home community.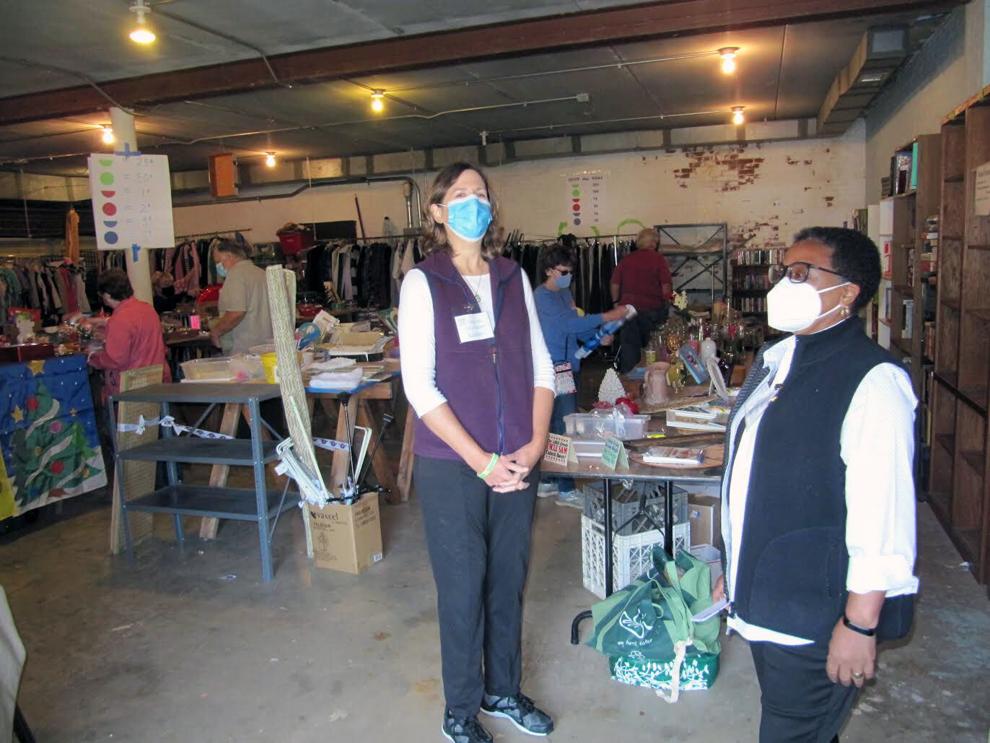 "Last year we made over 1,000 peanut butter and jelly sandwiches and had fun doing it," said Nancy Chan, one of the church volunteers.
"If we are doing something here, it has to be fun or it is not a good activity," said Bedell with a smile.
All Saints Church has an outdoor labyrinth located in a lower field at one side of the church. Created a couple of years ago by A.J. Row for his Eagle Scout project, the labyrinth offers a place for quiet reflection, prayer and meditation. The church plans to upgrade the labyrinth, which is open to the community, by creating steps and a railing to allow easier access to it. There will also be a weatherproof box containing information about the labyrinth and how to use it.
"It looks somewhat like a maze, but it is not," Bedell said. "There is one way in and one way out. You will not get lost as you follow the path. It is just for contemplation."
The church also has applied for a grant to upgrade its parish hall so it may be rented to individuals and groups in the community for classes, workshops, retreats, parties and other events. Among the planned improvements are audio and video equipment to make it more useful for groups that want to show videos or PowerPoint presentations and a larger icemaker.
All Saints Church is located at 4211 Wayne Road in Greensboro. To learn more about the church, its programs and activities call 336-299-0705 or email rector@allsaintsgreenboro.org.