Staff members of the new Adult Day & Respite Care Center on the edge of Jamestown have been busily working to prepare the facility for clients' arrival at the beginning of October. To call the care center new, however, is somewhat of a misnomer.
For 26 years, the care center was located on Groometown Road in Greensboro, but it had steadily outgrown that site. Staff used time during the pandemic shutdown to seek a new place for their business and the former bank building at the corner of Hilltop and Guilford College roads proved a good fit for their needs. Not only is the building larger, but there is also room for the business to grow.
The Adult Day & Respite Care Center serves individuals 18 and older that have developmental disabilities or mental challenges, including dementia and Alzheimer's.
Chandra Cagle has been the care center's director since 2016. Cagle's mother, Joanne, started the center in 1995 at the encouragement of her pastor.
"He approached my mother and wanted to meet with her to share his vision of the adult care center," Cagle said. "After talking to the pastor, she felt led to run the program."
Joanne, who had a master's in social work, began tackling all that was mandated by the state to make the original vision operational, from finding a location to writing grants to help support the program.
"Within 14 months, it was ready to open," Cagle said. It started with six clients and has run continuously since. At first it just served elderly clients with dementia and Alzheimer's but grew to include mentally challenged and developmentally disabled, as well as those with depression and anxiety."
Cagle began helping her mother while she was still in college at the University of North Carolina Greensboro. She assisted with grant writing and some annual bookkeeping responsibilities during school breaks and vacations.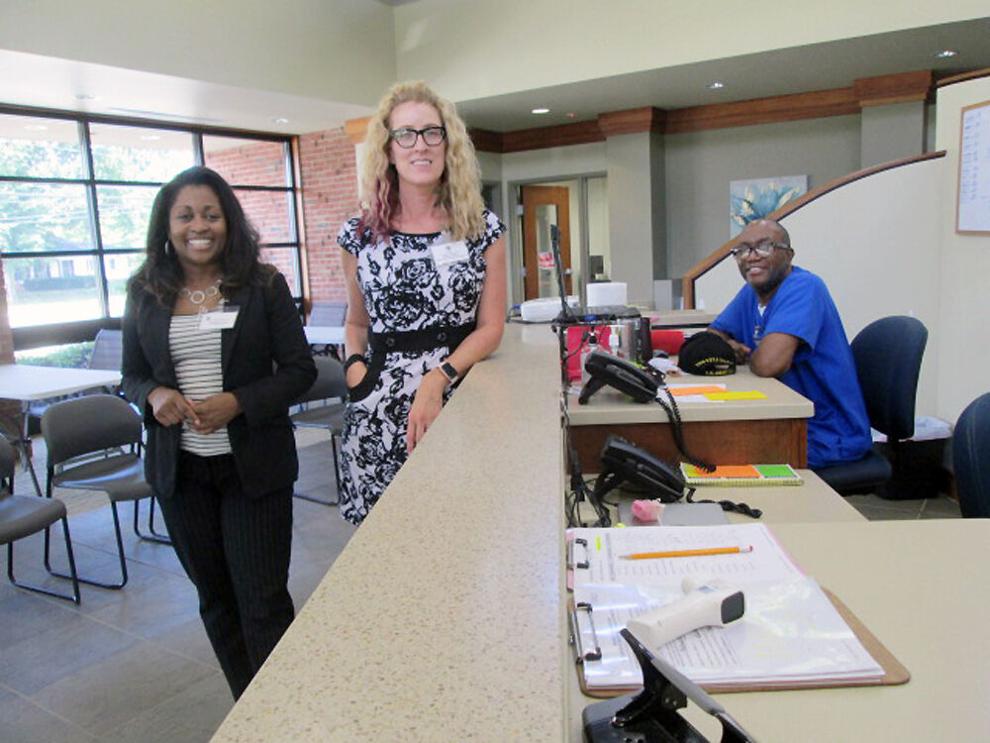 "My mother wanted me to learn all aspects of the business," Cagle said. "After college I went into banking and then worked with non-profit community service. When my mother passed away in 2016, the board pressed me to name a new director. I had the experience and education so agreed to serve as interim while they looked for someone.
"They have not found anyone yet and I don't think they are looking any more," Cagle added with a smile.
The current staff of six includes a certified nursing assistant who can provide clients with their prescribed medications and a mental health professional.
The care center is open from 7:30 a.m.-4 p.m. Two van services – SCAT from the city of Greensboro and Big Wheel from the county – are available to transport clients to and from the facility.
The morning begins with coffee and conversation and group exercise. Participants then break into groups according to their interests, for example arts and crafts or gardening, and therapies that are needed. Participants also enjoy trips and guests who come to talk or entertain.
Following lunch, which participants bring from home, there is time to relax before ending the day with group activities.
"Each month has a different theme," Cagle explained. 
The care center is funded by the state for many of the services. Those who do not qualify for state funds may participate in a private pay plan. Once registered, they join the group from 10 a.m.-3 p.m.
The facility also offers a caregiver support group that meets after the clients leave for the day. Tiffany McBride, habilitation technician, also leads that group. It will meet weekly or monthly depending on need.
Staff members are planning an open house for clients and their families on Sept. 18. There will be tours of the facility starting about 5 p.m., a movie shown outside and a bounce house for children.
"We are truly partners with the families and are caregiver supported," Cagle said.
With room to expand, Cagle hopes to make that a 3-5 year goal.
"We plan to be here another 26 years," she said smiling. "We are preparing for nothing but success. We want to come in with fresh wind and a newness of life for our community."
Adult Day and Respite Care Center is located at 5605 Hilltop Road, Jamestown. For more information, contact Cagle at 336-852-8338 or 336-897-3008.